It's time for my first batch of February books! Most of these were fabulous, so let's get to it!
Death of a Dancing Queen by Kimberly G. Giarratano
Seven Faceless Saints by M.K. Lobb
Wildblood by Lauren Blackwood
Wild Massive by Scotto Moore
Daughters of Oduma by Moses Ose Utomi
The Spite House by Johnny Compton
VenCo by Cherie Dimaline
---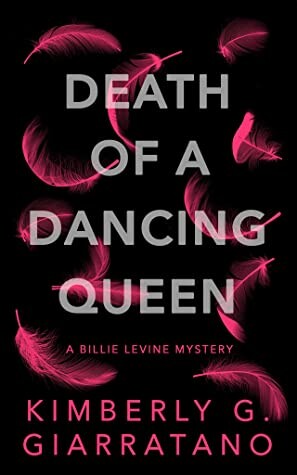 Death of a Dancing Queen by Kimberly G. Giarratano
Published by Datura Books on February 14, 2023
Pages: 344
Format:ARC
Source:Copy provided by author for review


After her mother's Alzheimer's diagnosis, Billie Levine revamped her grandfather's private investigation firm and set up shop in the corner booth of her favorite North Jersey deli hoping the free pickles and flexible hours would allow her to take care of her mom and pay the bills. So when Tommy Russo, a rich kid with a nasty drug habit, offers her a stack of cash to find his missing girlfriend, how can she refuse? At first, Billie thinks this will be easy earnings, but then her missing person's case turns into a murder investigation and Russo is the detective bureau's number one suspect.

Suddenly Billie is embroiled in a deadly gang war that's connected to the decades-old disappearance of a famous cabaret dancer with ties to both an infamous Jewish mob and a skinhead group. Toss in the reappearance of Billie's hunky ex-boyfriend with his own rap sheet, and she is regretting every decision that got her to this point.

Becoming a P.I. was supposed to solve her problems. But if Billie doesn't crack this case, the next body the police dredge out of the Hudson River will be hers.

So, I tend to shy away from PI/murder mystery books, mostly because I generally find them to be a bit formulaic. But I have loved the author's other books, so I knew I wanted to read this one, of course. And I am so happy to report that it not only met, but exceeded my expectations- not just as a murder mystery book, but as a book in general! Now, I will attempt to tell you why without spoilers. Because it's a mystery book guys, we need to keep it all unspoiled!
BILLIE. Look this needs caps, because I freaking love Billie with my whole damn heart. She is curmudgeonly at times, sure. But if you ask me, that makes her all the more likable, because she feels so real. You know she has flaws, she knows she has flaws, but she's awesome anyway. She is a tough cookie, of that there is no doubt, but I love when she finds ways to be more vulnerable. She undergoes a ton of personal growth during the book too, which I loved.
The family rep is incredible. Billie's family is like yours and mine, and by that I mean messed up but still there for each other. Billie and her brother have been sharing the increasingly heavy load of caring for their mom, who has early onset Alzheimer's. (I kind of want to make a whole bullet point about how heartwrenching the entire mom storyline is, but instead I am just going to write about it here and tell you it really gives the book an extra emotional "oomph" that I really enjoyed.) So, they bicker, as siblings do, because while they both love their mom and each other, they are also whole entire adults with jobs and lives and stuff, and that is hard. Caring for a parent is no joke. They do have some help from their grandfather, who is quite a character. I found him wildly entertaining, and even though he too has his flaws, you can tell he's one of the good ones.
The mystery(ies) is very entertaining and exciting! I was super invested in Billie and her family, it's true, but I also absolutely wanted to know what happened in our murder(s)! There are some current crimes happening, and then while investigating these, Billie finds herself knee deep in some old, unsolved cases. OH! And some mobs are involved! I don't know much about those guys but they scare the bejeezus out of me. We're lucky Billie is brave, and also has grown up with them, and also still kiiiind of maybe harbors feelings for one of them.
North Jersey is basically a whole character in the novel. While not from North Jersey myself, being a neighbor means that I have known loads of people who are from there. And it is certainly on point, from what I know of it! Not only that, the author does a fabulous job of really making you feel like you're there, no matter if you knew about it before reading or not.
There is more Billie to come! I mean, don't take my word for it, you can read a short bit about the next in the series here! I cannot wait to be back with Billie, her fam, and her (quite literal, in some cases) partners in crime(fighting).
Bottom Line: I love a badass but loveable main character. I love a good mystery. I love a heartfelt story. This has all three, in spades.
---
Seven Faceless Saints by M.K. Lobb
Series: Seven Faceless Saints #1
Published by Little Brown Books for Young Readers on February 7, 2023
Pages: 400
Format:ARC
Source:Copy provided by publisher for review


In the city of Ombrazia, saints and their disciples rule with terrifying and unjust power, playing favorites while the unfavored struggle to survive.

After her father's murder at the hands of the Ombrazian military, Rossana Lacertosa is willing to do whatever it takes to dismantle the corrupt system—tapping into her powers as a disciple of Patience, joining the rebellion, and facing the boy who broke her heart. As the youngest captain in the history of Palazzo security, Damian Venturi is expected to be ruthless and strong, and to serve the saints with unquestioning devotion. But three years spent fighting in a never-ending war have left him with deeper scars than he wants to admit… and a fear of confronting the girl he left behind.

Now a murderer stalks Ombrazia's citizens. As the body count climbs, the Palazzo is all too happy to look the other way—that is, until a disciple becomes the newest victim. With every lead turning into a dead end, Damian and Roz must team up to find the killer, even if it means digging up buried emotions. As they dive into the underbelly of Ombrazia, the pair will discover something more sinister—and far less holy. With darkness closing in and time running out, will they be able to save the city from an evil so powerful that it threatens to destroy everything in its path?

Discover what's lurking in the shadows in this dark fantasy debut with a murder-mystery twist, perfect for fans of Leigh Bardugo and Kerri Maniscalco.

Seven Faceless Saints was a really promising start to a new fantasy series! I really enjoyed most of it, and really only had some minor issues, so let's get to it!
What I Loved:
The characters were great. I loved Roz and Damian, and wow have they been through it. Roz is surly and tough as nails, while Damian is trying to find his place in the world and has a lot of heart. There is clearly chemistry between them from the start, even though some of it is hate. You can tell there was once love there (and maybe still is, deep down), but the world has really done its best to tear apart their friendship. Individually, they are both trying to figure out what is best for themselves and those they care about, and are doing their best to do what they think is right. Gotta love that.
There is a fabulous blend of action and character/relationship development. I loved that it was always exciting and entertaining, but that we also got some downtime to learn more about the characters and their friends and family, their backstories, and even get glimpses into their relationships.
The murder mystery definitely kept me intrigued. Folks are dying left and right, in some preeeetty brutal ways, all around town. The victims seem to have nothing in common but the deaths themselves, and I was very interested in finding out not only who was responsible, but why.
The stakes are obviously quite high. Not only for our main characters, or even the seemingly random murder victims, but for the whole city. Because we don't know why people are being killed, there is really no way to protect oneself. Plus, the deeper our characters delve into what is happening, the more at risk they're putting themselves.
What I Struggled With:
This might be a "me" thing, but I didn't totally get the whole fantasy aspect of the world. I didn't hate it necessarily, I just didn't love it/understand it either? But I struggle with that at times, so I think if you're a big fantasy fan, this won't be a problem. But if you struggle with wrapping your head around some fantasy concepts, this may be a bit of an issue. In fairness, I just kind of tried to gloss over those parts and focus on the stuff I did like, which was plentiful!
Bottom Line: Great characters and an exciting plot make me very excited for the second book!
---
Wildblood by Lauren Blackwood
Published by Wednesday Books on February 7, 2023
Pages: 336
Format:eARC
Source:Copy provided by publisher for review, via Netgalley


Eighteen-year-old Victoria is a Wildblood. Kidnapped at the age of six and manipulated by the Exotic Lands Touring Company, she's worked as a tour guide ever since with a team of fellow Wildbloods who take turns using their magic to protect travelers in a Jamaican jungle teeming with ghostly monsters.

When the boss denies Victoria an earned promotion to team leader in favor of Dean, her backstabbing ex, she's determined to prove herself. Her magic may be the most powerful on the team, but she's not the image the boss wants to send their new client, Thorn, a renowned goldminer determined to reach an untouched gold supply deep in the jungle.

Thorn is everything Victoria isn't - confident, impossibly kind, and so handsome he leaves her speechless. And when he entrusts the mission to her, kindness turns to mutual respect, turns to affection, turns to love. But the jungle is treacherous, and between hypnotic river spirits, soul-devouring women that shed their skin like snakes, and her ex out for revenge, Victoria has to decide - is promotion at a corrupt company really what she wants?

TW at start of book: "Some of the thematic material in Wildblood contains depictions of blood, gore, physical/sexual assault, sexual trauma, and death. For more information, please visit the author's website."
The whole premise of Wildblood is very cool. And I do love a survival story! I mostly enjoyed this one, save for a few issues, so let's break it down!
The Good:
Like I said, the premise was definitely unique and kept me entertained. I personally love a "let's survive in the messed up wilderness" story, so that was a huge win. I also liked that it was an island/jungle type setting, because it felt quite unique!
Very high stakes. I mean, I didn't know if anyone was making it out of this mess alive, let's be real. The author did a great job illustrating that the wilderness was not kind, and that this journey was going to prove harrowing at best, deadly at worst.
The atmosphere was great. Speaking of a tropical setting being great, this one was on point. The desperately terrifying wilderness, the animals, the whole thing.
I really liked Victoria as a character. Her life was far from charmed, being held captive as a guide at this messed up tour company. Every day was a struggle to survive, and she had been treated quite brutally over the years. She had her close friends and those she cared for, but she also had been betrayed by some folks and wasn't sure who she could trust. Neither could the reader, which made the journey all the more precarious.
The Not-As-Good:
I have seen some reviews saying that the writing was repetitive, and this is a good way to put it. I, on the other hand, wrote notes in my Kindle notes like "how many times can a person 'kiss their teeth'"?! Because I started highlighting them, got to seven times the phrase was used, then got bored but I promise it was a whole lot more. And I don't even really understand what it means, but please feel free to picture me trying to make faces that might look like kissing one's teeth in an attempt to figure it out. Anyway, my point is, it started to really grate on me.
I know a lot of people really liked the ending. I am not one of those people. This is absolutely a personal issue, and may not be a problem for you, so take it with a grain of salt. View Spoiler »Minor spoiler: it wasn't who she did or did not end up with that bugged me, it was WHERE she ended up. I didn't see how it would work for her moving forward, and I couldn't see any opportunity for her to like, grow as a person from it. « Hide Spoiler
Bottom Line: A really unique premise in an atmospheric setting with a strong main character made this one a win.
---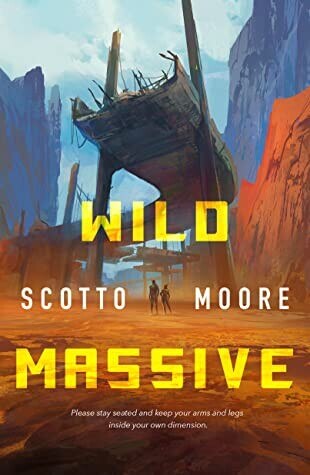 Wild Massive by Scotto Moore
Published by Tordotcom on February 7, 2023
Pages: 496
Format:eARC
Source:Copy provided by publisher for review, via Netgalley


Scotto Moore's Wild Massive is a glorious web of lies, secrets, and humor in a breakneck, nitrous-boosted saga of the small rejecting the will of the mighty.

Welcome to the Building, an infinitely tall skyscraper in the center of the multiverse, where any floor could contain a sprawling desert oasis, a cyanide rain forest, or an entire world.

Carissa loves her elevator. Up and down she goes, content with the sometimes chewy food her reality fabricator spits out, as long as it means she doesn't have to speak to another living person.

But when a mysterious shapeshifter from an ambiguous world lands on top of her elevator, intent on stopping a plot to annihilate hundreds of floors, Carissa finds herself stepping out of her comfort zone. She is forced to flee into the Wild Massive network of theme parks in the Building, where technology, sorcery, and elaborate media tie-ins combine to form impossible ride experiences, where every guest is a VIP, the roller coasters are frequently safe, and if you don't have a valid day pass, the automated defense lasers will escort you from being alive.

Wild Massive: The #1 destination for interdimensional war. Rate us on VacationAdvisor™!"This is a stand-alone novel with material enough for six...By the halfway point, it had blown my mind twice... an audacious, genre-bending whirlwind." —The New York Times on Battle of the Linguist MagesAlso Available by Scotto Moore:
Your Favorite Band Cannot Save YouBattle of the Linguist Mages

Le sigh, I so badly wanted to love this one. Was sure I would love it, frankly, because the premise is so unique and sounds incredible. It started off a little too out there for me to really understand what was happening, but I gave it some time, because obviously you can't judge a book by a few pages. But look, I was confused. I felt like.. like I was somehow simultaneously getting too much and too little information? Like there were infodumps that made it feel a bit like a slog, but also, I hadn't the foggiest idea of what was happening.
So I set it aside, as one does. Intending on perhaps trying again. But then I read some reviews, and I saw several that stated that the ending was unsatisfying/didn't tie up very many ends, and that was when I had to call it. Nearly 500 pages, I was already equal measures confused and frustrated, and then I hear the ending won't satisfy me? Nah, life is simply too short.
Bottom Line: This is not a bad book, this is just not one that worked for me. Hopefully more patient folks than me can appreciate this very creative world.
---
Daughters of Oduma by Moses Ose Utomi
Published by Atheneum Books for Young Readers on February 7, 2023
Pages: 368
Format:eARC
Source:Copy provided by publisher for review, via Netgalley


An elite female fighter must reenter the competition to protect her found family of younger sisters in this scintillating young adult fantasy inspired by West African culture, perfect for fans of The Gilded Ones and Creed.

Eat. Dance. Fight.

This is the life of the girls who compete in the Isle's elite, all-female fighting sport of Bowing. But it isn't really Dirt's life anymore. At sixteen, she is old and has retired from competition. Instead, she spends her days coaching the younger sisters of the Mud Fam and dreading her fast-approaching birthday, when she'll have to leave her sisters to fulfill whatever destiny the Gods choose for her.

Dirt's young sisters are coming along nicely, and the Mud Fam is sure to win the upcoming South God Bow tournament, which is crucial: the tiny Fam needs the new recruits that come with victory. Then an attack from a powerful rival leaves the Mud without their top Bower, and Dirt is the only one who can compete in the tournament. But Dirt is old, out of shape, and afraid. She has never wanted to be a leader. Victory seems impossible—yet defeat would mean the end of her beloved Fam. And no way is Dirt going to let that happen.

Daughters of Oduma appealed to me immediately for two reasons: I love the concept of found families and girls working together, and I love me a good competition story! And I absolutely enjoyed those aspects of the book. I'll tell you that my only real qualm with the story as a whole was that it took me a bit to get into it, and I also had a hard time picturing what was actually going on during the Bowing.
That said, it absolutely delivered, especially on the found family concept, and the girls coming together for the greater good! Dirt will do basically anything to help her sisters, and that is one of the things that makes her such a likable and admirable character. There were times that she seemed a bit judgmental of other girls' choices, but there is certainly character growth that happens during the course of the book.
Anyway, there is no way you cannot cheer for Dirt, full stop. I wanted so badly for her, and her sisters, to have all the very best of life, however they ended up choosing it to look. And one of the best parts about this story for me is that the author really gives Dirt the chance to look inside herself, to find her own power, no matter what the world around her says.
A few more things I loved: the incredible cultures and world that the author built, the use of "fat" as a compliment/strength, and just women being multifaceted in general. Also, there will be more, as the author just announced! 
Bottom Line: Loved Dirt and her sisters' journeys, as they showed that women can be warriors… or also not, because women should have choices. The whole narrative was fabulous.
---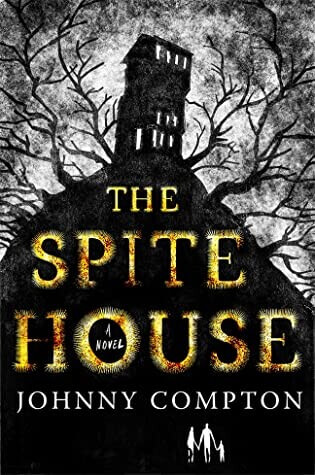 The Spite House by Johnny Compton
Published by Tor Nightfire on February 7, 2023
Pages: 272
Format:eARC
Source:Copy provided by publisher for review, via Netgalley


Eric Ross is on the run from a mysterious past with his two daughters in tow. Having left his wife, his house, his whole life behind in Maryland, he's desperate for money–it's not easy to find safe work when you can't provide references, you can't stay in one place for long, and you're paranoid that your past is creeping back up on you.

When he comes across the strange ad for the Masson House in Degener, Texas, Eric thinks they may have finally caught a lucky break. The Masson property, notorious for being one of the most haunted places in Texas, needs a caretaker of sorts. The owner is looking for proof of paranormal activity. All they need to do is stay in the house and keep a detailed record of everything that happens there. Provided the house's horrors don't drive them all mad, like the caretakers before them.

The job calls to Eric, not just because there's a huge payout if they can make it through, but because he wants to explore the secrets of the spite house. If it is indeed haunted, maybe it'll help him understand the uncanny power that clings to his family, driving them from town to town, making them afraid to stop running. A terrifying Gothic thriller about grief and death and the depths of a father's love, Johnny Compton's The Spite House is a stunning debut by a horror master in the making.

Haunted house books are hit or miss for me. I love when they delve more into the history and secrets of the place, and love it less when they are about like, anthropomorphization of the house. Luckily, this one falls very heavily into the first category, and I am pleased to report that it was wonderful! Let me tell you about the stuff I liked!
First, I love a challenge. It is even better because Eric and his daughters desperately need the house and income, but I do enjoy that it was a whole "who can outlast the house?" situation. Because that is just plain entertaining, frankly. And then, I like to wonder if I could "win". (I would win.)
 Speaking of Eric and his daughter, there's a huge focus on family. I mean really, family is the crux of this novel. Eric is clearly a devoted father who would move heaven and earth for his girls. The problem is, he has some huge secrets he's burdened with, as well as very limited resources. They're kind of in hiding, though we don't know why, and as such, he can't exactly have a legitimate job with a steady income, or other things you need a real identity for. But one thing is clear: this family loves each other deeply.
So. Many. Secrets! I think everyone in this book is harboring at least a few secrets. The secrets in this case span literal centuries in some cases, while some are happening right as the story is told. There is just so much to unfurl here, and it made the book very exciting to read.
I actually liked the paranormal aspect! I am so bad at this, in general, but this one… well, it made sense to my mind, and I did not have to really suspend my disbelief or anything, so I was good with it! Trust me, this is high praise.
Bottom Line: It's a haunted house story, sure, but it's also a familial love story, with some history and paranormal sprinkled in, and it simply all works.

---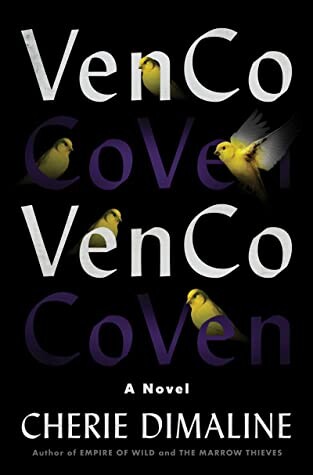 VenCo by Cherie Dimaline
Published by William Morrow on February 7, 2023
Pages: 400
Format:eARC
Source:Copy provided by publisher for review, via Netgalley


Lucky St. James, a Métis millennial living with her cantankerous but loving grandmother Stella, is barely hanging on when she discovers she will be evicted from their tiny Toronto apartment. Then, one night, something strange and irresistible calls out to Lucky. Burrowing through a wall, she finds a silver spoon etched with a crooked-nosed witch and the word SALEM, humming with otherworldly energy.

Hundreds of miles away in Salem, Myrna Good has been looking for Lucky. Myrna works for VenCo, a front company fueled by vast resources of dark money.

Lucky is familiar with the magic of her indigenous ancestors, but she has no idea that the spoon links her to VenCo's network of witches throughout North America. Generations of witches have been waiting for centuries for the seven spoons to come together, igniting a new era, and restoring women to their rightful power.

But as reckoning approaches, a very powerful adversary is stalking their every move. He's Jay Christos, a roguish and deadly witch-hunter as old as witchcraft itself.

To find the last spoon, Lucky and Stella embark on a rollicking and dangerous road trip to the darkly magical city of New Orleans, where the final showdown will determine whether VenCo will usher in a new beginning…or remain underground forever.

I fell so hard for VenCo. So. Hard. I fully admit that the first thing about it that stole my heart was that Lucky has a grandmother named Stella, who she wholly adored. I too had a grandma named Stella who I wholly adored, so Lucky had won me over from the start. Funny enough, Lucky's Stella was far more like my other grandmother, Janet- full of humor and always up for any and all shenanigans. To say I was enamored for personal reasons would certainly be valid. 

But the whole story ended up being wonderful, not just the grandma parts! Lucky had been having a rough go of things. She and her grandma were mere weeks away from being evicted, and basically life just isn't going the way she'd hoped. But when she finds out that she has been tapped to join a group of witches, it seems like it could be just the break she and Stella need.
To succeed though, they have to undergo some dangerous missions. If there is one thing Lucky is not, it's a quitter, and she is all in for her newfound sisterhood. I loved the backstories of both Lucky and the other women she encounters. They were so well developed, as were there relationships with each other. There is just so much heart to this book, and such a wonderful focus on strong female bonds that I could not help but fall in love with all of the women.
There is also certainly plenty of action, too. Lucky finds herself going up against a very powerful, very ancient, male opponent who clearly could not care less about the lives of women. So she not only has to find a nearly impossible to find item, but she has to do it while some jerk chases her down and tries to kill her and her friends. It is a great balance of plot and character development, and I didn't want it to end!
Bottom Line: I loved everything about this story, from the wonderful bonds of the characters, to the loving relationships among family, and the excitement of trying to save the coven. A huge, heartfelt win.
Have you read any of these books? Plan to? Let us chat about them!