Welcome to 2023! This year's books really started off with a bang, as three of these I fully loved-loved, and I mostly liked the rest, too!
City of Nightmares by Rebecca Schaeffer
The Stranded by Sarah Daniels
We Are All So Good at Smiling by Amber McBride
Tell Me I'm Worthless by Alison Rumfitt
Brighter Than the Moon by David Valdes
Swift the Storm, Fierce the Flame by Meg Long
Burrowed by Mary Baader Kaley
---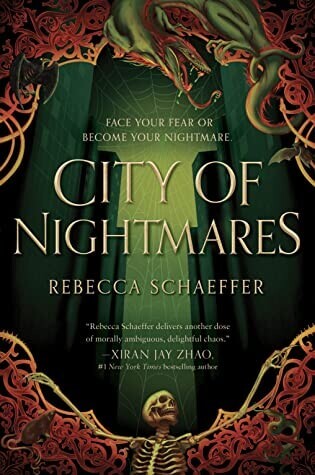 City of Nightmares by Rebecca Schaeffer
Series: City of Nightmares #1
Published by Clarion Books on January 10, 2023
Pages: 384
Format:eARC
Source:Copy provided by publisher for review, via Netgalley


Gotham meets Strange the Dreamer in this thrilling young adult fantasy about a cowardly girl who finds herself at the center of a criminal syndicate conspiracy, in a city where crooked politicians and sinister cults reign and dreaming means waking up as your worst nightmare.

Ever since her sister became a man-eating spider and slaughtered her way through town, nineteen-year-old Ness has been terrified—terrified of some other Nightmare murdering her, and terrified of ending up like her sister. Because in Newham, the city that never sleeps, dreaming means waking up as your worst fear.

Whether that means becoming a Nightmare that's monstrous only in appearance, to transforming into a twisted, unrecognizable creature that terrorizes the city, no one is safe. Ness will do anything to avoid becoming another victim, even if that means lying low among the Friends of the Restful Soul, a questionable organization that may or may not be a cult.

But being a member of maybe-cult has a price. In order to prove herself, Ness cons her way into what's supposed to be a simple job for the organization—only for it to blow up in her face. Literally. Tangled up in the aftermath of an explosive assassination, now Ness and the only other survivor—a Nightmare boy who Ness suspects is planning to eat her—must find their way back to Newham and uncover the sinister truth behind the attack, even as the horrors of her past loom ominously near.

I will post this review in its entirety after Harper Collins reaches an agreement with the union. You can (and should, because it is an awesome book!) support this author with a purchase. And sign the thing, graphic links:
Bottom Line: Pay people livable wages. Commit to hiring diversely. Support unions.
---
The Stranded by Sarah Daniels
Series: Stranded #1
Published by Sourcebooks Fire on January 3, 2023
Pages: 464
Format:eARC
Source:Copy provided by publisher for review, via Netgalley


Snowpiercer meets The Hunger Games in a gripping near-future dystopian: romances, betrayals, and fights for freedom in a world turned upside-down...

Welcome to the Arcadia.

Once a luxurious cruise ship, it became a refugee camp after being driven from Europe by an apocalyptic war. Now it floats near the coastline of the Federated States - a leftover piece of a fractured USA.

For forty years, residents of the Arcadia have been prohibited from making landfall. It is a world of extreme haves and have nots, gangs and make-shift shelters.

Esther is a loyal citizen, working flat-out to have the rare chance to live a normal life as a medic on dry land. Nik is a rebel, planning something big to liberate the Arcadia once and for all.

When events throw them both together, their lives, and the lives of everyone on the ship, will change forever . . .

A dystopian novel set at sea? We all knew this was going to be my jam, right? Well, it was. I found it very exciting and wildly entertaining, and when I found out there was to be a sequel, I was extra sold, because I cannot wait to find out more about the world at large (my one minor qualm with this book, actually- I just wanted to know all the things!)
When we meet Esther, she is living her regular life, aboard the Arcadia ship, just as she always has. And apparently, as folks before her have… for over forty-three years. This floored me, because can you even imagine, having to spend your entire life on a cruise ship? Those cabins are tiny, friends! And they're certainly not going anywhere fun- they just hang out off the coast of the former Eastern United States, and I am pretty sure if they try to go anywhere better, they'd be met with certain annihilation.
Anyway, as you can imagine, not everyone on board this ship wants to be there. In fact, pretty much no one does. There are a few options to get off though: in Esther's case, she is trying to earn her way ashore by being a top medic. The thing is, as is the case with so many political entities, this one isn't on the up and up, and Esther's dreams may be over before they begin. Nik, on the other hand, is a member of the rebellion, and he knows exactly how sketchy the Powers That Be™ are. He's under no illusion that he or anyone will be allowed to casually go work on the mainland. And via her sister, Esther gets caught up in the rebellion, even when she isn't quite sure she agrees with it.
I shan't tell you more, but know that this book is absolutely action packed! Esther is never sure who she can trust (and neither is the reader!), and the stakes could not be higher for every last person on the ship. Esther goes through a lot during the course of the story, and faces a lot of morally ambiguous decisions. I could not put this book down, and I am so very excited to get to the sequel, and learn all the things about the world!
Bottom Line: Right up my alley, with an intense, high stakes dystopian adventure with great characters and a very intriguing world.

---
We Are All So Good at Smiling by Amber McBride
on January 10, 2023
Pages: 304
Format:eARC
Source:Copy provided by publisher for review, via Netgalley


They Both Die at the End meets The Bell Jar in this haunting, beautiful young adult novel-in-verse about clinical depression and healing from trauma, from National Book Award Finalist Amber McBride.

Whimsy is back in the hospital for treatment of clinical depression. When she meets a boy named Faerry, she recognizes they both have magic in the marrow of their bones. And when Faerry and his family move to the same street, the two start to realize that their lifelines may have twined and untwined many times before.

They are both terrified of the forest at the end of Marsh Creek Lane.

The Forest whispers to Whimsy. The Forest might hold the answers to the part of Faerry he feels is missing. They discover the Forest holds monsters, fairy tales, and pain that they have both been running from for 11 years.

CW via author: "We Are All So Good at Smiling deals with topics that might be triggering to some. This book borrows from my personal experiences with clinical/major depression. It tries to articulate that feeling of living in the real world, but also totally outside of it, often feeling that a part of you has been taken away & hidden. Clinical depression, self-harm & suicide are all topics that are addressed in We Are All So Good at Smiling & if those topics are triggering for you, this might not be the best book for you to read at this time."
Being that this is a book written by Amber McBride, it is obviously lovely. After adoring (Me) Moth, I was quite thrilled to jump into We're All So Good at Smiling. Especially considering its focus on mental health, and if we are being completely honest, that stunning cover. And it was overall definitely a solid book. We follow Whimsy and Faerry as they attempt to navigate through their struggles with depression.
They are both in really bad places, frankly. They're coping with past trauma as well, and both find themselves gravitating toward each other- both for their current similarities, as well as connections from the past. It is heartbreaking and hopeful all at once, which I loved. The author definitely does a wonderful job illustrating how painful mental illness can be, but also shows the reader that there is always hope, too. There is also quite a bit of discussion of how cultural mores impact those seeking mental health treatment, which is so very important.
There is a magical portion of the story, and this is where the book lost me just a bit. While it is still beautifully written and compelling, my more logic-driven mind had some difficulty melding the fantastical with the real. Still, highly worth reading, for the fabulous mental health rep alone.
Bottom Line: Gorgeously written and wildly important, this is a magical and practical look into mental illness.
---
Tell Me I'm Worthless by Alison Rumfitt
Published by Tor Nightfire on January 17, 2023
Pages: 272
Format:eARC
Source:Copy provided by publisher for review, via Netgalley


Three years ago, Alice spent one night in an abandoned house with her friends, Ila and Hannah. Since then, Alice's life has spiraled. She lives a haunted existence, selling videos of herself for money, going to parties she hates, drinking herself to sleep.

Memories of that night torment Alice, but when Ila asks her to return to the House, to go past the KEEP OUT sign and over the sick earth where teenagers dare each other to venture, Alice knows she must go.

Together, Alice and Ila must face the horrors that happened there, must pull themselves apart from the inside out, put their differences aside, and try to rescue Hannah, whom the House has chosen to make its own.

CW Via Author: "Tell Me I'm Worthless is a book about two things, primarily, and those things are trauma and fascism. I thought it important to include a content warning here, at the start, to say that. In dealing with those topics, the novel covers racism, antisemitism, transphobia, rape (both in abstract and graphic ways), self-harm and suicide. You might disagree with the inclusion of a content warning at the start of a book. If that is the case, then you are within your rights to do so. Please do not, however, complain to my publisher about this. The choice was mine, and mine alone."
Tell Me I'm Worthless gave me a bit of The Mixed Feelings™. There were some definite positives, but also some stuff I struggled with. So let's get to it!
What I Loved:
I certainly appreciated the social commentary. Obviously, this is a huge plus, and incredibly important, too. It is also really thought provoking, in that it almost flat out asks the reader some questions that absolutely made me stop and think. Of course there are parts that will make the reader so, so angry at how society treats trans folks, and that is clearly important. It was also not lost on me that this is an ownvoices story, and that amped up my feelings, no question, to know that the author had based this on her own experiences.
I also appreciated how complex the characters' stories were. As Abby Griffin said, "maybe there are no 'good guys'", and that is how this story feels. They are obviously trying to deal with a lot of stuff here, and probably are not always going about any of it in the best of ways, but that is part of being human, right?
What I Struggled With:
I was high key confused a lot. Not just with what was happening in terms of the plot, but like… a lot of references went over my head. Like, maybe I am showing my age, but some stuff I just had no idea with. Like sometimes I thought it was a drug reference, or an internet/social media reference, or a sexual reference, but I didn't know and didn't really want to search for it because yeah. So I would just kind of make up my own (likely far more mild) substitution and move along. That said, there were points during the story that I was also more generally just like "hold on what exactly is happening?" but not in the fun way where you are excited about what comes next, in the just general being lost way.
The characters felt kind of… distant? It wasn't that I didn't like them- as mentioned above, I did really enjoy how complex their stories were. I just didn't feel like I knew them all that well. Sort of like yes, I had the basics, the facts, the background, but I didn't feel their plights as I had hoped. Sometimes that can be okay in horror, depending. In this case though, it's horror based on a very character driven plot, so it doesn't quite work without that connection.
I just wanted to like this far more than I did. I have been really struggling with this review, because I want to find more that I enjoyed about the book. But the fact is, I struggled to pick it back up every time I put it down. The pacing seemed a bit inconsistent, and as much as I tried to be invested in the characters, I simply couldn't find myself feeling a ton- besides some rage toward society as a whole, which is obviously important, but also stated above.
Bottom Line: Super appreciate that this is a trans ownvoices horror novel, though the execution didn't completely work for me.
---
Brighter Than the Moon by David Valdes
Published by Bloomsbury YA on January 10, 2023
Pages: 352
Format:ARC, Hardcover
Source:Copy provided by publisher for review


Shy foster kid Jonas and self-assured vlogger Shani met online, and so far, that's where their relationship has stayed, sharing memes and baring their souls from behind their screens. Shani is eager to finally meet up, but Jonas isn't so sure--he's not confident Shani will like the real him . . . if he's even sure who that is.

Jonas knows he's trapped himself in a lie with Shani--and wants to dig himself out. But Shani, who's been burned before, may not give him a chance: she talks her best friend Ash into playing spy and finding out the truth. When Ash falls for Jonas, too, he keeps that news from Shani, and soon they're all keeping secrets. Will it matter that their hearts are in the right place? Coming clean will require them to figure out who they really are, which is no easy task when all the pieces of your identity go beyond easy boxes and labels.

Lauded writer David Valdes offers a heartfelt, clever, and thought-provoking story about how we figure out who we want to be--online and IRL--for fans of David Levithan and Adam Silvera.

There were certainly parts of Brighter Than the Moon that I liked, especially as the book went on. But, I also found parts a bit irksome, especially at the start. Luckily, the good definitely outweighed the bad for me!
So, this is clearly a very character driven story, which I do generally enjoy. Jonas's story was particularly compelling and emotive for me, and I really felt immersed in everything going on with his life. That said, I had a much harder time connecting with Ash and Shani. At times I found them flat out unlikable (mostly Ash, though I also think this was purposeful), and other times I was just apathetic. The good news is, there is a lot of character growth in this story, so by the end, I at least felt something for all the characters. Jonas the most, though.
The relationships among the characters is another highlight of this story. There is a heavy focus on both romance and friendships throughout the book, both within the trio and with their friends outside the group. I also really enjoyed the concept of found families being lauded. Obviously, there is going to be some contemporary jargon, since Jonas initially meets Shani and Ash online, but I also felt that there were a lot of pop culture references that would likely date the book pretty quickly. (Also, I need to ask The Youths™: Do people actually still say "do you want to be my girlfriend/boyfriend?" in the year 2023? Like if you are older than 12? Did it come back around?)
Bottom Line: It was certainly a heartfelt story, and I would have found it worth reading if for Jonas's chapters alone. But I was also really glad to see some solid character development for the others, even if we started out on rocky terms.
---
Swift the Storm, Fierce the Flame by Meg Long
Series: The Edge Worlds #2
Published by Wednesday Books on January 17, 2023
Pages: 416
Format:eARC
Source:Copy provided by publisher for review, via Netgalley


A girl hellbent on finding the friend she lost. A planet on the brink of total destruction. Only one way to find answers amidst the chaos: team up with a traitor to stage a revolution, in Meg Long's Swift the Storm, Fierce the Flame.

After a mission gone awry two years ago, Remy Castell has been desperately searching across worlds to find the friend she failed to save—the friend who changed her life by helping her overcome the brainwashing she was subjected to as a genetically engineered corporate agent.

Since then, she's been chasing the only lead she has: fellow genopath Kiran Lore, the same secretive ex-squadmate who left her for dead when she compromised that mission. She nearly caught up to him on Tundar before joining the infamous sled race alongside outcast Sena and her wolf companion Iska. Now, all three of them have tracked Kiran back to Maraas, the jungle planet where Remy lost everything. But nothing on Maraas is how it was two years ago. Syndicates and scavvers alike are now trying to overthrow a megalomaniac corpo director, which Remy wants nothing to do with; fighting against corpos is as useless as trying to stay dry in the middle of the giant hellstorm that encircles the planet. But the storm—and the rebellion—are growing stronger by the minute.

When Remy finds Kiran, he doesn't run away like she expects. Instead, he offers her a deal: help with the revolution and he'll reunite her with her friend. But can she really trust the boy who betrayed her once before? With the entire planet on the edge of all-out war, Remy will have to decide just how far she's willing to go to save one girl before the impending storm drowns them all.

Did you guys know this was a sequel? I had absolutely no idea, whoops? This is fairly on brand for me, let's be honest. But I think I would almost think of it as more of a companion to Cold the Wolves, really- it follows a different main character, on a different planet, and while there are references to the first book, I don't actually think you'd have to read it. I mean you should and could, it was good, and that was a lot of rhyming and I digress, so let's just get to it.
I enjoyed this book a bit more than the first, I think. I found the planet itself really fascinating, and I think I got a bit of a better grasp of what was happening on it. Also, as much as I loved hanging out on an icy planet, the jungle is just more fun. I also think I enjoyed Remy's story a bit more, though I did enjoy both girls' characters, and we do still get to see what goes on with Sena, the main character from the first book.
I liked that Remy's character was wonderfully gray, and so was most of what happened around her, too. A pretty significant part of the plot involved a power struggle and political maneuvers, and I still don't totally understand what is going on politically in this world? But I did at least understand it more, and have a better idea of who the key players were, so there's that. I also liked that we got to explore Remy's relationships, both past and present. There were some twists, a few of which I had guessed, but it was still an entertaining story.
Bottom Line: I assume there will be another cool planet somewhere, and I am absolutely down for it.
---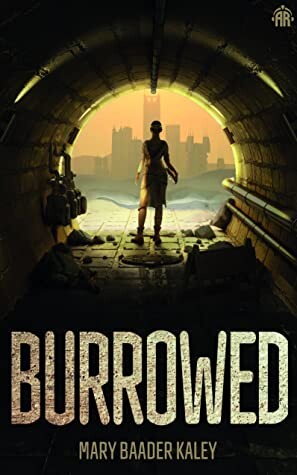 Burrowed by Mary Baader Kaley
Published by Angry Robot on January 10, 2023
Pages: 350
Format:eARC
Source:Copy provided by publisher for review, via Netgalley


If you had to endure a debilitating condition of body or mind, which would you choose? In this world, everyone suffers.

In the far-future aftermath of a genetic plague that separated human society into two different groups – sickly yet super-intelligent Subterraneans and healthy but weak-minded Omniterraneans – a brilliant Subter girl is tasked with fixing the broken genetic code to reunite the two groups in the next generation.

But when a newer plague turns fatal for the surface-dwelling Omnits, the only group able to reproduce (giving birth to both Subter and Omnit children), Zuzan must find a cure or humanity won't simply remain divided, it will become extinct.
But there's more conflict at hand than a broken genetic code. The fragile connection between Subters and Omnits has frayed to the point of breaking – to the point of war – and it will take more than genius to repair; it will take heart.

So, I fell wholly in love with Burrowed, and basically could not put it down, didn't want it to end, and devoured it completely. That is all you need to know. But probably not all I should write, so here we go. Also, I will say, that it definitely works as a standalone, but could also very easily be a series. And I am one million percent here for more.
The Characters:
Okay, so I fell in love with Zuzan from the start. She is incredibly sympathetic, even as a child in the beginning, and I simply adored her throughout. She has to go through so much, and at times is handling a lot all on her own. When she finally meets her people, I was thrilled, and I loved watching her relationships grow and evolve over time. I enjoyed the secondary characters almost as much, even when I wasn't totally sure who Zuzan could/should trust.
The World
This is such a unique world, right? I mean just from the synopsis alone, you can tell it will capture your interest. Especially intriguing is that not only are Zuzan and many of her cohorts sicker than those aboveground, but her life expectancy is significantly shorter. And that comes majorly into play. The concept was beyond thought-provoking, and I was so curious as to how the world became this way. Questions were definitely answered, but I am keeping this purposefully short because trust me, you will want to uncover them all for yourself.
The Plot
The story kept me guessing the whole entire time. Legit, I was so invested in the story that I could not stop reading. Not only was I desperate to learn more about the world and the characters, but every bit of what was taking place in the story lent itself to compulsive readability. There was a great blend of character and relationship development, world development, and action. Add to it, there were so many twists that left my jaw dropped, I seriously could not help but devour this book.
The Emotions
Oh, did I feel things! Like I said, I was very invested in the characters, so obviously their losses and joys were emotive. But even finding out information about other things happening in the world elicited huge emotional responses. I had many moments of anxiety and tears, but also a lot of smiling, hopeful moments, too.
Bottom Line: Barely a week into 2023, and already we have a new favorite.
Have you read any of these books? Plan to? Let us chat about them!