Welcome to November's
Monthly Minutes at Midnight!
 Here's the deal: I'll share the books I've obtained, posts of interest from others, giveaways I have happening, and just general random shenanigans. You know I love a shenanigan.  Also, covers all link to Goodreads, because I am awesome. As always, I link up with the Wrap Up Round Up, too! 
The Books
For Review/From Publishers: 
Thanks so much to the publisher, I've already started! 
eARCs:
Huge thanks to the publishers for these lovelies! Guys is there some kind of 12-Step program? Because I clearly need help. 
Purchased:
Remind Me How This Ends ♦ Midnight on the Marne ♦ This Might Get Awkward ♦ The Honeys ♦ The Q ♦ Gleanings ♦ Reckoning ♦ The Serpent in Heaven ♦ Wake of War ♦ The Passenger 
Won/Gifted/Traded: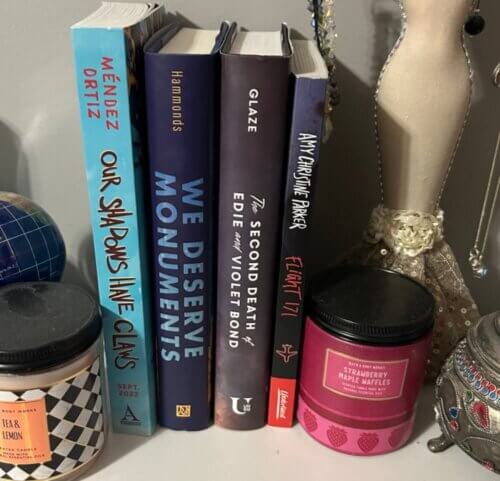 Huge thanks to the publishers for Our Shadows Have Claws and We Deserve Monuments, and thanks to Amber for The Second Death of Edie and Violet Bond and Flight 171
---
Shenanigans Since Last Time:
I read 14 books this month. Can't be mad, really.
Pretty good bunch, this.
Giveaways: Click Here, or on Sidebar
---
Blogosphere Bulletin
Here are some of the loveliest/most entertaining/super helpful/just plain interesting posts I found this month!
---
Fancy & New Since Last I Saw You!
I love looking at pretty covers! So here are some new ones that I have fallen in love with since our last update!
Pretty covers are pretty. Thanks to Tammy for putting The Infinite Miles on my radar!
---
Things we need to talk about at this juncture:
Wow this month was a freaking fever dream! Like I swear I am in some kind of time warp. I… thought the month just started? But then suddenly election day was over,  I was turning 40 (hard yikes there), Thanksgiving had come and gone, and now… boom, December. It was all fine, just… fast!

Turkeys.

Does anyone watch The Walking Dead? Cause that ended. Look, I know there are like 387 spinoffs, which lessened the emotional punch, but I think all things considered, it was a really great sendoff. Also, Manifest is back guys! Season 4 on Netflix kind of slays. 
Now we can look forward to the December Holiday Season!  I am excited for Christmas, cause that is fun, plus time off from work, woo! But it is going to be a hectic month- it just seems like we have appointments and engagements galore, so I will extra need that break. And then… the year is over! Just how? Like 2023 sounds fake, like some real sci-fi shit, yet here we are. 
Have a great December, loves! Let me know how your month was! Looking forward to anything coming up? Celebrate any holidays next month? Also in a fever dream?