Here's the books that release in the first half of July! These were hits, y'all! And… there's TWO giveaways here, too! More on that in the reviews!
Flying the Coop by Lucinda Roy
Upgrade by Blake Crouch
We Made It All Up by Margot Harrison
August Kitko and the Mechas from Space by Alex White
Who We Were in the Dark by Jessica Taylor
What Moves the Dead by T. Kingfisher
---
Flying the Coop by Lucinda Roy
Series: The Dreambird Chronicles #2
Published by Tor Books on July 5, 2022
Pages: 496
Format:eARC
Source:Copy provided by publisher for review, via Netgalley


Lucinda Roy continues the Dreambird Chronicles, her explosive first foray into speculative fiction, with Flying the Coop, the thought-provoking sequel to The Freedom Race

Dreams are promises your imagination makes to itself.

In the disunited states, no person of color—especially not a girl whose body reimagines flight—is safe. A quest for Freedom has brought former Muleseed Jellybean "Ji-ji" Silapu to D.C., aka Dream City, the site of monuments and memorials—where, long ago, the most famous Dreamer of all time marched for the same cause.

As Ji-ji struggles to come to terms with her shocking metamorphosis and her friends, Tiro and Afarra, battle formidable ghosts of their own, the former U.S. capital decides whose dreams it wants to invest in and whose dreams it will defer. The journeys the three friends take to liberate themselves and others will not simply defy the status quo, they will challenge the nature of reality itself.

Book Two of the Dreambird Chronicles

The Dreambird ChroniclesThe Freedom RaceFlying the Coop

**CW, via author's note: "Because the most deep-rooted hope is honed by suffering, and because oppressive systems premised on prejudice demand an honest depiction, this book contains difficult subject matter, including but not limited to violence, abuse, suicide, rape, and lynching. Please read this survival narrative when you feel ready to enter the challenging world it depicts."
Okay friends, in an effort to stop literally all of you from sleeping on this series, I am giving away three Kindle copies of the first book, which you can read my review of here. You don't even have to do anything, just enter, because I just need people to read this series.
Can you tell I loved the sequel? Honestly- I don't even know if "loved" is the right term here, because there is a lot of awful that happens. But I appreciate this book beyond measure, that is certain. And I am so completely invested in the characters and the world that I was legitimately bummed when the book ended. And am desperate for the next one.
Like I said, I really was a fan of The Freedom Race. Like, a lot. But this sequel? Blew it right the heck out of the water. Honestly, the emotional journey I had while reading this novel simply cannot be overstated. My heart of course broke for the characters, many times over, but there was also so much hope and love and friendship woven through the pages that though my heart hurt, it was constantly being mended along the way.
I don't want to talk too much about the plot or characters, mostly because I am imploring you to read the first book and therefore don't want to give anything away. But the characters you will unequivocally come to love in The Freedom Race will certainly be back to recapture your hearts in this one. The immensely important commentary is obviously still present, and feels more relevant than ever. The author does such an outstanding job of weaving both the past history of slavery and current injustices together into a story that feels horrifically plausible and closer than ever.
Truly, I was consumed by this book. The whole world drew me in, and I found myself thinking about the characters and story all day- whether I was reading it at the time or not. If you need any more reasons to read, it features a ton of morally complex questions, along with incredibly high stakes. When I tell you I couldn't put the book down, I mean it.
Bottom Line: This series is such a gem, complete with incredible characters, brilliant plotting and worldbuilding, and extremely necessary social commentary and relevance.
---
Upgrade by Blake Crouch
Published by Ballantine Books on July 12, 2022
Pages: 352
Format:eARC
Source:Copy provided by publisher for review, via Netgalley


"You are the next step in human evolution."

At first, Logan Ramsay isn't sure if anything's different. He just feels a little . . . sharper. Better able to concentrate. Better at multitasking. Reading a bit faster, memorizing better, needing less sleep.

But before long, he can't deny it: Something's happening to his brain. To his body. He's starting to see the world, and those around him—even those he loves most—in whole new ways.

The truth is, Logan's genome has been hacked. And there's a reason he's been targeted for this upgrade. A reason that goes back decades to the darkest part of his past, and a horrific family legacy.

Worse still, what's happening to him is just the first step in a much larger plan, one that will inflict the same changes on humanity at large—at a terrifying cost.

Because of his new abilities, Logan's the one person in the world capable of stopping what's been set in motion. But to have a chance at winning this war, he'll have to become something other than himself. Maybe even something other than human.

And even as he's fighting, he can't help wondering: what if humanity's only hope for a future really does lie in engineering our own evolution?

Intimate in scale yet epic in scope, Upgrade is an intricately plotted, lightning-fast tale that charts one man's thrilling transformation, even as it asks us to ponder the limits of our humanity—and our boundless potential.

I really need to go ahead and read everything Blake Crouch has ever written, don't I? I absolutely devoured Recursion last year, and while I didn't *quite* love Upgrade as much, I still really really liked it and found it to be a solid, thought-provoking, and entertaining novel.
"The future was here, and it was a fucking mess."
I mean, is anyone surprised? In this plausible, nay, probable future, humans have basically destroyed the planet. So that tracks. Then, this genius lady thought she could mess with DNA and whoopsie, annihilated millions of people. Our main character is her son, who, to atone for his role in his mother's mess, works for an agency created to police the tampering with of genetics. Sounds good. Until… he ends up having his genes messed with, and finds himself with this titular upgrade.
As you can imagine, this book asks a lot of great questions on morality, especially in terms of science and technology. Just because we can do something, should we? The majority of Logan's life has been spent answering this with a resounding "no", after seeing the results of his mother's handiwork. The problem is, the world is headed toward implosion, and people are doing nothing at all to stop it.
So we the reader journey alongside Logan as he is forced against his will to answer these most impossible questions of humanity. If I had any qualms, and they're ever so slight, it would be that I wanted to feel a bit more connected to Logan, but the truth is, I probably couldn't. I could never imagine what it would be like to not only be in his situation, but have the actual processing power far beyond that of a typical human. Frankly, I am just not smart enough to hang out with Logan.
I don't want to say much else, because this is a journey you're going to want to take for yourselves, and going into any more detail about the plot will ruin things. I will say that Logan will face more morality based decisions than any human should have to face, and he will have to sacrifice a lot to try to do what he feels is right. And the stakes simply could not be higher- it's the whole world's fate in his hands.
Bottom Line: Such an amazing and thought-provoking premise, I thoroughly enjoyed this ride!

---
We Made It All Up by Margot Harrison
on July 12, 2022
Pages: 384
Format:ARC, eARC
Source:Copy provided by publisher for review, via Netgalley


Celeste is the talk of the town when she moves to Montana from Montreal, but the only friend she makes is Vivvy, the heir to the town's name and a social pariah. Inspired by a passion-fueled school incident, they begin writing a love-story fan fic between the popular guy and the school stoner, one that gradually reveals Celeste's past. While their bond makes Celeste feel safe and alive again, Vivvy keeps prodding Celeste to turn fantasy into reality. When they finally try, one drunken night on a dark mountainside, Celeste is the one who ends up kissing golden boy Joss. And Joss ends up dead.

Celeste doesn't remember the end of that night and can't be sure she didn't deliver the killing blow. Could she still be that scared of getting close to a boy? Secrets are hard to keep in a small town, and even Vivvy seems to suspect her. Exploring the winding passages of the cave where Joss died, Celeste learns he had his own dark secrets, as does Vivvy. The town isn't as innocent as it appears.

We Made It All Up tells a story in several parts: Present, Past, and through a story that Celeste and Vivvy alternated writing about a guy from school, Joss, who has been found dead. I really enjoyed the mystery part of the story, and Celeste's backstory. I wasn't a huge fan of the writing bits, but we'll get to all that.
Celeste is new in town, and she's not having a particularly great time making friends. She ends up becoming friends with Vivvy, and they begin writing a… well, I guess it is referred to as a "fanfic" but can it actually be a fanfic if it is about real people in their school? I mean ,to each their own I guess, but it seems a little squicky that they are writing romances about a real human being who they see every day? Honestly, it weirded me out a little, and I don't think I fully understood the motivation behind it. Why not write actual fanfic about something else you could both enjoy? I digress. I just didn't love those chapters, personally.
But I did enjoy the actual mystery/story, both past and present! I was eager to learn what secrets Celeste was keeping, and also, what the heck (or who the heck) happened to Joss. Obviously I can't get too into that part, for spoiler reasons, but Celeste has no idea what might have happened to Joss, even though she does know that she must be one of the last people to see him alive. Also, this Montana town is… well, there's more to the whole town than meets the eye, which of course will be a problem for Celeste, because who can she trust? Can she even trust herself, since she has no recollection of the events? Makes for quite an interesting mystery, and one I was eager to find out about.
Bottom Line: While I didn't fully love the "fanfic", the mystery parts of the story were definitely on point and worth the read!
---
August Kitko and the Mechas from Space by Alex White
Series: The Starmetal Symphony #1
Published by Orbit on July 12, 2022
Pages: 464
Format:eARC
Source:Copy provided by publisher for review, via Netgalley


When an army of giant robot AIs threatens to devastate Earth, a virtuoso pianist becomes humanity's last hope in this bold, lightning-paced, technicolor new space opera series from the author of A Big Ship at the Edge of the Universe.

Jazz pianist Gus Kitko expected to spend his final moments on Earth playing piano at the greatest goodbye party of all time, and maybe kissing rockstar Ardent Violet, before the last of humanity is wiped out forever by the Vanguards--ultra-powerful robots from the dark heart of space, hell-bent on destroying humanity for reasons none can divine.

But when the Vanguards arrive, the unthinkable happens--the mecha that should be killing Gus instead saves him. Suddenly, Gus's swan song becomes humanity's encore, as he is chosen to join a small group of traitorous Vanguards and their pilots dedicated to saving humanity.

Where on Earth do I begin with August Kitko and the Mechas From Space? Between the title and the cover, you have to expect you're in for a wild time, yeah? Well, you are. But I do know literally where on Earth I should begin, and that is Monaco. I won't pretend that I wasn't wholly sold from the first page based solely on the fact that this book is set in Monaco. I've never before read a book set here, but I do want to again. I love Monaco- it's gorgeous, it has a fascinating history, and it's absurdly fancy! What's not to love? I digress.
I will say, the book starts out slow. That is probably my biggest complaint, but I got past it. And once I did, I was definitely rewarded! So we meet Gus at the end of the world. Literally, everyone is aware that the world is ending, and they have basically been told to bend over and kiss their asses goodbye. Gus spends his last hours engaged in an Apocalypse Love Story™ with the very famous pop star Ardent Violet, which he figures is a great way to go out. I assumed Gus would not die immediately though, for that would be a very short book. And he doesn't! Because when the alien mechas come to kill all of humanity, one of them notices that Gus is a talented musician and decides to keep him. Not to steal all his mind and discard his human form, which is what the Vanguards have been doing, but to basically team up with Gus (against his will or consent, but alas) to try to not kill everyone.
Because some of the Vanguards think that maybe killing an entire species is not a great plan, some of the humans live, not just Gus. Ardent lives, which makes Gus positively thrilled. But they're all informed that if they don't  get to work with the Good Aliens, the Bad Aliens will be back in no type to finish the wiping out of humanity. No one wants that. Gus is being pulled in different directions. Greymalkin, his Vanguard pal, has plans. Whatever is left of the government has plans. But Gus isn't really keen on worrying about the government when humanity is at stake, so he and Greymalkin have work to do.
For me, this is when the book really hits its stride. The other folks Gus encounters bring a ton of levity and camaraderie into the story, and I loved the excitement and adventure of Gus and Greymalkin trying to get to them, too. Ardent and their agent play a huge role too, in that Ardent is clearly willing to move heaven and earth, quite literally, for Gus. I really loved their romance as the book went on, too. It was clear that it may have begun as an end of the world "last hurrah", but they truly did build a bond and care for each other.
Overall, I ended up finding myself quite invested in the story- both Gus's and Arden's stories, as well as the Vanguards'. I look forward to the next installment, where I do hope we find out a bit more about the Vanguards, and why they do what they do- and what led to the fracture. The moments of levity made the story so readable, because yeah the stakes were high, but it was quite palatable with both the touches of humor, romances, and friendships.
Bottom Line: Quirky and fun while still high stakes and exciting, I will be looking forward to the next installment!
---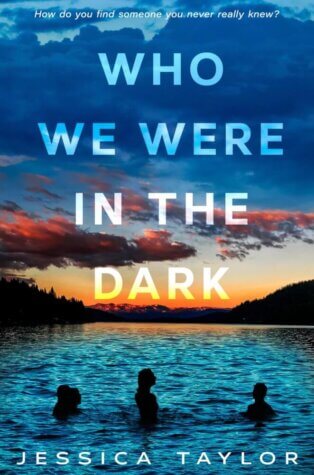 Who We Were in the Dark by Jessica Taylor
Published by Penguin Teen on July 5, 2022
Pages: 368
Format:eARC
Source:Copy provided by publisher for review, via Netgalley


For fans of Suicide Notes from Beautiful Girls and Genuine Fraud, this coming-of-age story with a dash of mystery/thriller asks, How do you find someone you never really knew?

Donner Lake is famous for its dazzling waters, dramatic mountains, and the travelers trapped there long ago who did unspeakable things to survive. But for lonely Nora Sharpe, Donner was where a girl named Grace glided into her life one night and exploded her world.

After that, every summer, winter, and spring break, Nora, her brother Wesley, the enigmatic Grace, and their friend Rand left behind their real lives and reunited at Donner Lake. There, they traded truth and lies. They fell in love. They pushed each other too far. They came to know each other better than anyone in some ways, and not at all in others.

But two years later, something has happened to blow their world apart. Grace is missing. And Nora must find her way through the unspoken hurts and betrayals of the last two years—and find her way back to Wesley and Rand—to figure out what exactly happened to Grace, the girl she thought she knew.

I went to Goodreads to grab the book info for this post, and I see this book getting positively lambasted, and I don't really know why? I mean, I get that everyone has opinions obviously, but I am here to provide you with a different one, because I really liked this book!
We first meet Nora and her brother Wesley when they are quite young, Nora not even in high school if memory serves. They've been told their whole lives that their biological dad was dead, only surprise, he's not. And he wants to hang out! He has a family cabin at Donner Lake, which is obviously cool, but Nora is understandably hesitant. Her mom is in poor health, and she certainly doesn't trust this father that was suddenly thrown into the picture. But since she's like fourteen, she has no choice.
While she and Wesley are there, they meet Grace and Rand. We know from the start that something has happened to disrupt this foursome, since they are no longer the happy group they once were. At the present, Nora, Wesley, and Rand are cold to each other, but accounted for. Grace, however, is not.
So we switch between the past summers and winters and springs that the group had spent together, and the present time when they are seemingly fractured beyond repair. There are several mysteries happening, though. The obvious being Grace's whereabouts, but the less obvious being what happened over the past few years that lead to this once close-knit group to now be unable to stand the sight of each other. Also, what has lead to the point where Nora is packing up their cabin, never to return?
While I found the book a bit slow to start, I became really invested in the story once it did get started. Grace's actions were so off the wall from the beginning, that I figured it would be even more difficult to discern when or how things went off the rails. Grace was always trying to be a little… extra, for lack of a better word, but her intentions seemed to be for the benefit of her friends, always. So yeah, I did find myself really invested in the outcome of all of the stories.
And all the while Nora is focusing on the big mysteries around her, she is coping with a lot in her own life. Her first love, her mother's illness, having a father appear in her life,  and her ever changing relationship with her brother all play huge roles in the story. Also, I'm legit never going to turn down Donner lore being part of a story, so added bonus there.
Bottom Line: I became quite invested in all of the mysteries of this story, both the huge and the subtle, and the growth and changes all its characters underwent.
---
What Moves the Dead by T. Kingfisher
Published by Tor Nightfire on July 12, 2022
Pages: 176
Format:eARC
Source:Copy provided by publisher for review, via Netgalley


From the award-winning author of The Twisted Ones comes a gripping and atmospheric retelling of Edgar Allan Poe's classic "The Fall of the House of Usher."

When Alex Easton, a retired soldier, receives word that their childhood friend Madeline Usher is dying, they race to the ancestral home of the Ushers in the remote countryside of Ruritania.

What they find there is a nightmare of fungal growths and possessed wildlife, surrounding a dark, pulsing lake. Madeline sleepwalks and speaks in strange voices at night, and her brother Roderick is consumed with a mysterious malady of the nerves.

Aided by a redoubtable British mycologist and a baffled American doctor, Alex must unravel the secret of the House of Usher before it consumes them all.

This was my first T. Kingfisher book. I assure you, it won't be the last. I truly didn't know what to expect going in, since I did read the source material, but by "read", I mean "skimmed enough to take a test 20 years ago", so I can't imagine that really counts. Anyway, we encounter retired soldier Alex Easton who is travelling to the home of childhood friends, the Ushers. Things aren't going great for the Ushers, and Alex wants to help them out, as good friends do.
Only… things are not okay here in this town. Alex finds many unsettling facets, not the least of which is the very ill (near death's door, really) Madeline Usher. And her brother Roderick isn't doing a whole lot better. Frankly, there are so many things wrong with this place, it's hard to tell what the actual culprit might be. There are questionable mushrooms, rabbits that are… well like the ones on the cover of this book- just not okay. Is it the water? The house itself? An illness?
Alex wants to get to the bottom of this, and hopefully remove the Ushers from the whole situation. Only, they refuse to go. They have a fairly incompetent American doctor who I enjoyed, though he can't exactly help them. Alex also finds a mycologist who is quite interested in the fungi around town to help with the cause. She is a gem too.
The writing of this story is an absolute dream. I fell into this world wholly and completely, with the author's incredibly atmospheric prose and witty dialogue. I truly can't recall having read a story that could be so sinister, yet so delightful. Yes, everything was a terrifying mess, but also yes, I adored Alex and the other characters, enjoyed their interactions, and could not put the book down.
Bottom Line: I positively devoured this story, with its incredible atmosphere, gorgeous writing, and wonderful characters.
---
I promised two giveaways, so here we are! Unfortunately these are US only (though I have an international one going on right now!)
Have you read any of these books? Plan to? Let us chat about them!