The rest of my March books that didn't fit in March posts proper, plus a few new April books releasing today!
Survive the Dome by Kosoko Jackson
Trigger by N. Griffin
Dead Girls Can't Tell Secrets by Chelsea Ichaso
Braking Day by Adam Oyebanji
Dreams Bigger Than Heartbreak by Charlie Jane Anders
---
Survive the Dome by Kosoko Jackson
Published by Sourcebooks Fire on March 29, 2022
Pages: 352
Format:eARC
Source:Copy provided by publisher for review, via Netgalley


Jamal Lawson just wanted to be a part of something. As an aspiring journalist, he packs up his camera and heads to Baltimore to document a rally protesting police brutality after another Black man is murdered.

But before it even really begins, the city implements a new safety protocol...the Dome. The Dome surrounds the city, forcing those within to subscribe to a total militarized shutdown. No one can get in, and no one can get out.

Alone in a strange place, Jamal doesn't know where to turn...until he meets hacker Marco, who knows more than he lets on, and Catherine, an AWOL basic-training-graduate, whose parents helped build the initial plans for the Dome.

As unrest inside of Baltimore grows throughout the days-long lockdown, Marco, Catherine, and Jamal take the fight directly to the chief of police. But the city is corrupt from the inside out, and it's going to take everything they have to survive.

**Content Warning, via author: "This book contains death, police violence, and slur words toward Black and brown minorities."
I knew this book would be both incredibly important and extremely heartbreaking from the first page. Because on said first page (and several subsequent pages) the author lists Black people whose lives were taken by the police. I really think it is important to read each name, and pause to remember them. And then keep them in mind when you read this story, yes, but also after you finish the story and go out in the world.
The story begins Jamal, an aspiring journalist, wanting to attend a Black Lives Matter rally. Not just for the journalistic side, but because he wants to stand up for what is right. But he never expects to end up trapped inside a dome, encasing the attendees of the rally (plus other people who just happen to be living or working or existing in an area the government deemed "unsavory") inside a military state, basically.
So, since he is a journalist in search of answers, and also not particularly wanting to be trapped, he and his new friend Marco set out to find out what is going on. Things get even dicier as secrets are found out, and people in power become more desperate.
That's all I'll say about the plot of the book, but suffice it to say it's very exciting and action packed. But there are also a lot of wonderful reflective moments among the characters, where we get to learn more about who they are, and also, their reactions to what is happening in their city, and to them on both a personal and group level. Obviously there is a lot of incredible societal commentary woven into the story, which is done really well through thoughts and conversations between Jamal and his new friends. I did maybe want a bit more from the ending, but overall, this was a really solid book.
Bottom Line: Exciting and very readable, this book provides both entertainment and really important analysis on current events.

---
Trigger by N. Griffin
Published by Atheneum/Caitlyn Dlouhy Books on March 29, 2022
Pages: 256
Format:eARC
Source:Copy provided by publisher for review, via Netgalley



The Queen's Gambit meets The Hunger Games in this harrowing novel about a teen girl whose abusive father teaches her the finer points of chess and hunting, all for his own sinister ends…drawn from the author's own experiences.

For forever, Didi has had to be the best at anything her father demanded of her—the fastest runner, the master at chess, able to take down a deer with a bow and arrow at a dead sprint. If she fails, he denies her food. Clothes. Kindness. Yet he claims he loves her—he says he does—it's why he pushes her. To be ready. Prepared. For anything. Ready to fight. Ready to…
…Didi is terrified of what he may one day ask.

But she might be more prepared than her father ever expected.

First thing: I don't know who came up with the comps here, but they just don't fit for me. At all. So before you read this, and are let down because it is neither THG or (from what I can surmise) The Queen's Gambit, throw those right out the window. They don't apply. Then go into the book fresh, you'll be fine.
Second, this book focuses pretty heavily on abuse. Didi's life with her father has been no picnic, not by a long shot, and he is the absolute worst. So if child abuse, especially at the hands of a parent, is triggering for you, best pass on this one.
The story itself was very quick, focusing on Didi's life growing up with her father via flashbacks, up until the present time, when he is being extra awful, which is saying a lot considering how awful he's always been. And that… kind of sums it up? Obviously, I don't want to get too into the details of the plot, because this is a thriller. But also, that kind of is the whole plot? Like I said, this is very quick- I read it in a few hours- and since it is a thriller, it's obviously got a lot of fast-paced action.
Bottom Line: Minimal chess. Zero dystopian starving kid murder shows. A lot of action, and a lot of terrible "parenting". But overall, a quick and exciting read.
---
Dead Girls Can't Tell Secrets by Chelsea Ichaso
Published by Sourcebooks Fire on April 5, 2022
Pages: 204
Format:eARC
Source:Copy provided by publisher for review, via Netgalley


Piper's fall was no accident. Did someone want her dead? It's up to her sister to discover the truth in this shocking new thriller with an unreliable narrator, from the acclaimed author of Little Creeping Things.

Piper Sullivan was in a strange hiking accident last month and has been in a coma ever since. Her older sister, Savannah, can't pretend to be optimistic about it; things look bad. Piper will likely never wake up, and Savannah will never get any answers about what exactly happened.

But then Savannah finds a note in Piper's locker, inviting Piper to a meeting of their school's wilderness club...at the very place and on the very day that she fell. Which means there was a chance that Piper wasn't alone. Someone might've seen something. Worse, someone might've done something. But who would want to hurt the perfect Piper Sullivan...and why?

To discover the truth, Savannah joins the club on their weekend-long camping trip on the same mountain where her sister fell. But she better be careful; everyone in the club is a suspect, and everyone seems to be keeping secrets about that tragic day.

And Savannah? She's been keeping secrets, too...

This was a very readable story! I love a thriller, but I also really love a survival story, so when you mix those together, it's a win! And that is exactly what we have in Dead Girls Can't Tell Secrets. Savannah, at the start, isn't all that likable, frankly. I was annoyed that her main reason for trying to figure out what happened to Piper was to absolve herself of guilt. Which, ma'am, this isn't about you, right?
Well, she does exhibit some growth during the story, which is good. And I did genuinely want to know what happened to Piper, because I agreed with Savannah that this was not a suicide attempt. Anyway, Savannah ends up joining Wilderness Club to follow the clues. Sidenote: why exactly do schools have "Wilderness Club"? Actually do schools have such a thing? They really should skip it if so, sounds like a lawsuit waiting to happen, even if no one in the group is particularly murdery. I digress.
This was certainly an entertaining story, and very fast moving as Savannah not only has to solve this whodunit, but also watch out for her own self. I loved the complex relationships that were featured, too, as I thought it gave the book a good balance between action and character-driven parts. Overall, a quick and readable win!
Bottom Line: Don't join Wilderness Club, I think?
---
Braking Day by Adam Oyebanji
Published by Daw Books on April 5, 2022
Pages: 368
Format:eARC
Source:Copy provided by publisher for review, via Netgalley


On a generation ship bound for a distant star, one engineer-in-training must discover the secrets at the heart of the voyage in this new sci-fi novel.

It's been over a century since three generation ships escaped an Earth dominated by artificial intelligence in pursuit of a life on a distant planet orbiting Tau Ceti. Now, it's nearly Braking Day, when the ships will begin their long-awaited descent to their new home.

Born on the lower decks of the Archimedes, Ravi Macleod is an engineer-in-training, set to be the first of his family to become an officer in the stratified hierarchy aboard the ship. While on a routine inspection, Ravi sees the impossible: a young woman floating, helmetless, out in space. And he's the only one who can see her.

As his visions of the girl grow more frequent, Ravi is faced with a choice: secure his family's place among the elite members of Archimedes' crew or risk it all by pursuing the mystery of the floating girl. With the help of his cousin, Boz, and her illegally constructed AI, Ravi must investigate the source of these strange visions and uncovers the truth of the Archimedes' departure from Earth before Braking Day arrives and changes everything about life as they know it.

I quite enjoyed Breaking Day! We're introduced to Ravi, who is living on a generation ship that has almost reached its destination, after more than a hundred years. Things have been far from easy for the generations of people who have migrated from Earth in the hopes that their descendants will one day reach a new planet. So people are getting pretty excited to finally be about to get off the ship- for the first time in their whole lives.
But Ravi starts seeing things that he should not be seeing. And as he delves deeper, he starts to figure out that there are way more secrets on this ship than he ever imagined. Obviously, there are some pretty big time constraints to figuring out what is happening, and that helped to keep the action coming. But I also really loved learning about the characters, too. There were a ton of lighthearted moments, and funny banter among the characters which helped the story feel very readable.
I will say, there are some parts in the middle that did lag a bit for me. Perhaps a few things could have been pared down, but overall, I really enjoyed the story. There's a ton of great commentary about humanity as a whole, and how no matter where/when we are, we seem to keep making the same mistakes. It's really thought-provoking. I also was really invested in finding out what the secrets the ships were hiding, and finding out more about what drove them from Earth, and to parts unknown.
Bottom Line: Enjoyable characters, a great space mystery, and some great commentary far outweigh the bit of a mid-book lull.
---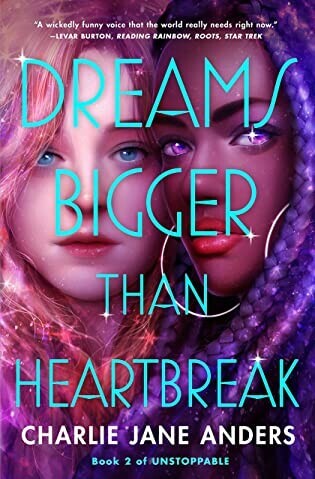 Dreams Bigger Than Heartbreak by Charlie Jane Anders
Series: Unstoppable #2
Published by Tor Teen on April 5, 2022
Pages: 320
Format:eARC
Source:Copy provided by publisher for review, via Netgalley


From internationally bestselling author Charlie Jane Anders (All the Birds in the Sky) comes the sequel to Victories Greater Than Death in the thrilling adventure Unstoppable series, set against an intergalactic war.

They'll do anything to be the people they were meant to be ― even journey into the heart of evil.

Rachael Townsend is the first artist ever to leave Earth and journey out into the galaxy ― but after an encounter with an alien artifact, she can't make art at all. Elza Monteiro is determined to be the first human to venture inside the Palace of Scented Tears and compete for the chance to become a princess ― except that inside the palace, she finds the last person she ever wanted to see again. Tina Mains is studying at the Royal Space Academy with her friends, but she's not the badass space hero everyone was expecting. Soon Rachael is journeying into a dark void, Elza is on a deadly spy mission, and Tina is facing an impossible choice that could change all her friends lives forever.

This was such a great sequel! Well- I should say, it was such a great sequel as soon as I remembered what the heck happened in the first book, but that is at least partly on me. The book does pick up immediately, without a ton of reminder of what happened, so just a heads up. Otherwise, I thought it was fabulous!
The characters were my absolute favorite part of the first installment, and this one was no different. In fact, we are treated with an even more in depth look at all the characters- and a look at how their new lives have changed them. Most of our main characters were just your basic (albeit very capable) Earth kids, who were thrust into the middle of a universal fight among various species, so that is… a lot for a person to take in, yeah? They not only have to deal with the fact that they are on intergalactic spaceships, which in itself is a lot, but so much more. They've all had to make choices they'd never dreamed of making, they're still all in very precarious positions, and they have the regular every day life and relationship stuff to deal with. Frankly, it's impressive that these folks can get out of bed most mornings!
The stakes are, just as in the prior book, extremely high. They not only strive to save themselves, but the whole of the universe, basically- including all their loved ones on Earth. Talk about pressure, right? And to do so requires a lot of "no good choices", as you can imagine. But the author does a wonderful job infusing serious and dire moments with wonderful bits of humor and banter and friendship and love. It makes for such an enjoyable story, and a really well-balanced read.
Bottom Line: Can't wait for Book 3, not only to find out what happens next, but to get to spend more time with this wonderfully unique and diverse cast of characters!

Have you read any of these books? Plan to? Let us chat about them!