Here are some books from the beginning of October, yay! It's a pretty heavily sci-fi/fantasy group, and all get thumbs up from me!
A Spindle Splintered by Alix E. Harrow
City of Shattered Light by Claire Winn
Destroyer of Light by Jennifer Marie Brissett
The Gilded Cage by Lynette Noni
Any Sign of Life by Rae Carson
---
A Spindle Splintered by Alix E. Harrow
Series: Fractured Fables #1
Published by Tordotcom on October 5, 2021
Pages: 128
Format:eARC
Source:Copy provided by publisher for review, via Netgalley



USA Today bestselling author Alix E. Harrow's A Spindle Splintered brings her patented charm to a new version of a classic story.

It's Zinnia Gray's twenty-first birthday, which is extra-special because it's the last birthday she'll ever have. When she was young, an industrial accident left Zinnia with a rare condition. Not much is known about her illness, just that no one has lived past twenty-one.

Her best friend Charm is intent on making Zinnia's last birthday special with a full sleeping beauty experience, complete with a tower and a spinning wheel. But when Zinnia pricks her finger, something strange and unexpected happens, and she finds herself falling through worlds, with another sleeping beauty, just as desperate to escape her fate.

I'd not read an Alix E. Harrow book before. I've got several of them on my TBR, but this one spoke to me louder, I suppose, and here we are. And wow, did I love this story. I wasn't totally sure what to expect from it, but whatever I did, my expectations were exceeded. It's a feminist twist on Sleeping Beauty, which the author fully acknowledges as one of the crappiest fairytales.
So you know from the start that it's going to be fabulous. We meet Zinnia, who is such a charming and entertaining main character, full stop. Sure, I could go into more detail I guess, but I can't do her justice so just read the thing for yourself. I promise, you'll love her. She's got a rare and fatal disease from some humans messing up the environment, and she feels like she's on her last legs. But when she's thrown into another universe and it isn't just her fate at risk, she has to take action.
Her best friend Charm is also incredible, and I loved how well developed all the characters are in such a short novella. I also really enjoyed the relationship Zinnia has with her family, and how she has to navigate that with her illness in the mix. The story is great, basically amounting to women reclaiming their agency, with some powerful messages mixed in. And the writing! The writing has such a lovely quality to it- it just feels smart and emotive and clever.
And the best news? There's to be a sequel! I am a million percent here for it, and cannot wait to jump back into whatever world Zinnia ends up in next!
Bottom Line: I was able to care so much about Zinnia, her relationships, and her story in such a short number of pages. A huge win!
---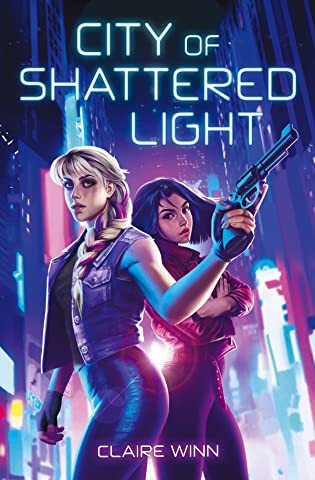 City of Shattered Light by Claire Winn
Published by Flux on October 19, 2021
Pages: 400
Format:eARC
Source:Copy provided by publisher for review, via Netgalley



As darkness closes in on the city of shattered light, an heiress and an outlaw must decide whether to fend for themselves or fight for each other.

As heiress to a powerful tech empire, seventeen-year-old Asa Almeida strives to prove she's more than her manipulative father's shadow. But when he uploads her rebellious sister's mind to an experimental brain, Asa will do anything to save her sister from reprogramming—including fleeing her predetermined future with her sister's digitized mind in tow. With a bounty on her head and a rogue A.I. hunting her, Asa's getaway ship crash-lands in the worst possible place: the neon-drenched outlaw paradise, Requiem.

Gun-slinging smuggler Riven Hawthorne is determined to claw her way up Requiem's underworld hierarchy. A runaway rich girl is exactly the bounty Riven needs—until a nasty computer virus spreads in Asa's wake, causing a citywide blackout and tech quarantine. To get the payout for Asa and save Requiem from the monster in its circuits, Riven must team up with her captive.

Riven breaks skulls the way Asa breaks circuits, but their opponent is unlike anything they've ever seen. The A.I. exploits the girls' darkest memories and deepest secrets, threatening to shatter the fragile alliance they're both depending on. As one of Requiem's 154-hour nights grows darker, the girls must decide whether to fend for themselves or fight for each other before Riven's city and Asa's sister are snuffed out forever.

I quite enjoy a space romp, and was pretty excited to get into this one! I'll tell you my gripe early, since it came pretty early: I had some trouble getting into it, at the start. We're sort of thrown right into the action, and I was lacking the world building to make it make sense, at least in the beginning. But as I got into the story, things picked up quite significantly, and I ended up really enjoying it.
The main characters were both delightful, tough in their own ways, and willing to do just about anything to achieve their goals. I read quite a few reviews that stated that the side characters were underdeveloped, which yeah, I concur. But what we do see of them, I loved, if that helps. I also enjoyed how delightfully messed up the actual plot of Asa's family was. I mean, stealing people's minds is pretty intense! And of course, there is nothing like a space adventure/"fleeing the baddies" story to bring the excitement!
Once we got to know the worlds more, I was so intrigued! They were very well done, and learning about the various space settings became half the fun of reading, frankly. I also really enjoyed how the characters all had to navigate relationships among themselves, and learn how to come to terms with some of the awful stuff that they've gone through.
Bottom Line: Space adventures are fun. Space adventures with a good plot and characters are even more fun. This book is the latter.
---
Destroyer of Light by Jennifer Marie Brissett
Published by Tor Books on October 12, 2021
Pages: 304
Format:eARC
Source:Copy provided by publisher for review, via Netgalley



The Matrix meets an Afro-futuristic retelling of Persephone set in a science fiction underworld of aliens, refugees, and genetic engineering in Jennifer Marie Brissett's Destroyer of Light20 Must Read Space Fantasy Books for 2021—Bookriot

Having destroyed Earth, the alien conquerors resettle the remains of humanity on the planet of Eleusis. In the four habitable areas of the planet—Day, Dusk, Dawn, and Night—the haves and have nots, criminals and dissidents, and former alien conquerors irrevocably bind three stories:

*A violent warlord abducts a young girl from the agrarian outskirts of Dusk leaving her mother searching and grieving.
*Genetically modified twin brothers desperately search for the lost son of a human/alien couple in a criminal underground trafficking children for unknown purposes.
*A young woman with inhuman powers rises through the insurgent ranks of soldiers in the borderlands of Night.

Their stories, often containing disturbing physical and sexual violence, skate across years, building to a single confrontation when the fate of all—human and alien—balances upon a knife's-edge.

**Content warning: I could not find an official content warning, but this book includes quite a bit of violence and murder, including sexual violence and violence against children.
Destroyer of Light is a brutal, yet powerful book set on an alien-inhabited planet where humanity proves that the more things change, the more they stay the same.
What I Liked:
It's incredibly thought provoking. Because wow, humans will never change, will they? Doesn't seem to matter where in the universe we find ourselves, there is still always a faction of humanity that insists on being the worst. There will always be those who want more money, more power, and of course, need to feel superior to some other group. The way we see this phenomenon play out in this book is more brutal than many, but certainly not unheard of in the arc of human history.
While the story is often bleak, there are many hopeful moments. And really, the overall story centers on hope- the hope that each character holds within themselves that they can get out of certain circumstances, that they will be able to defeat their oppressors. It made the harder bits much easier to handle, when you could tell that there was truly hope.
It's the hope for the characters that makes it incredibly readable, too. You want to keep reading, because you have to know if good can prevail, frankly. I absolutely yearned for the characters to find themselves in better situations, to find what they are looking for, etc. And I think that in this case, the non-linear timeline helps. If we'd had to go through all the horror the characters had faced at once, I don't know that it would have been particularly readable. But breaking things up helped quite a bit.
What I Want to Mention:
The brutality is really rough at times. I mean, I understand that it's kind of the point, but I have always had a hard time reading about children being hurt- especially when it is so evil. If you have trouble with violence, death, sexual abuse, etc, this is not going to be the book for you.
What I Wanted More Of:
World Building. I loved what worldbuilding there was, don't get me wrong! But I also would have liked more of it? There were times that I was kind of confused, not just about the setup of the planet, but the aliens in general. Kind of hard for me to wrap my head around them, honestly.
Connection to the characters. Perhaps this is because there are quite a few characters to focus on, but I never felt as strong a connection as I'd have liked. While I certainly felt sympathetic, I just wished I could have gotten a better sense of them as people. Also, this ties into both this point and the one above it, but I didn't fully get the "powers" bit either- not as it related to aliens or humans. Maybe that's on me, but it's still a thing.
Bottom Line: Powerful, brutal, and showcasing some of the best and worst of humanity.
---
The Gilded Cage by Lynette Noni
Series: The Prison Healer #2
Published by Clarion Books on October 12, 2021
Pages: 448
Format:eARC
Source:Copy provided by publisher for review, via Netgalley



Kiva Meridan is a survivor.

She survived not only Zalindov prison, but also the deadly Trial by Ordeal. Now Kiva's purpose goes beyond survival to vengeance. For the past ten years, her only goal was to reunite with her family and destroy the people responsible for ruining their lives. But now that she has escaped Zalindov, her mission has become more complicated than ever.

As Kiva settles into her new life in the capital, she discovers she wasn't the only one who suffered while she was in Zalindov—her siblings and their beliefs have changed too. Soon it's not just her enemies she's keeping secrets from, but her own family as well.

Outside the city walls, tensions are brewing from the rebels, along with whispers of a growing threat from the northern kingdoms. Kiva's allegiances are more important than ever, but she's beginning to question where they truly lie. To survive this time, she'll have to navigate a complicated web of lies before both sides of the battle turn against her and she loses everything.

Kiva trades one cage for another when she leaves behind a deadly prison for a deceptive palace in this dark and dangerous sequel to The Prison Healer, which Sarah J. Maas called "a must-read."

I love when a sequel delivers, don't you? I'll admit, I get scared every time I love a first book in a series, because, well, you know how series can be! But The Gilded Cage was just as engaging and entertaining as its predecessor, and I am quite pleased!
In an attempt to make this vague, because if you haven't read the first book you really should, I won't go into much, if any plot detail. Basically all you need to know is that it is still exciting, with twists abound, and kept me on the edge of my seat throughout. It did take me a second or two to get back into the world, back into the swing of things, but that's just on me and my terrible memory.
Kiva and her cohorts are delightful as ever. In this installment, Kiva has a lot of very difficult choices to make- perhaps even more difficult than the first book. I figure, at least in the first book, while her options were dire, she at least felt sure of who/what she was fighting for. In this book, it's far murkier. And I must be honest, even though I understood Kiva's waffling, its incessance did bug me a bit at times. Especially since we the reader can see the best options, it becomes a bit repetitive when Kiva cannot. But again, it does make complete sense in context, so I can't actually be mad.
I know I mentioned that there are a lot of great twists, but honestly I need to mention it again because they made the book so full of adventure! The twists are a bit different in nature- quieter, perhaps, than what we see in the first book, but not at all lower stakes. If anything, the underlying politics of this book make for higher overall stakes, even if the immediacy may be lesser. And just as Kiva wonders who she can trust, the readers wonder as well. Sure, we know who she should probably not trust, but with so many players, there're likely to be more untrustworthy groups along the way.
And now, after a fairly bananas ending that had me typing into my Kindle "ommggg noooo you can't end there!" (true story), I am going to need the next book absolutely immediately. (June. How can I make it until June!?)
Bottom Line: Absolutely no Middle Book Syndrome™ detected here. A huge win, just as exciting as its predecessor, leaving me beyond excited for the finale!

---
Any Sign of Life by Rae Carson
Published by Greenwillow Books on October 12, 2021
Pages: 384
Format:eARC
Source:Copy provided by publisher for review, via Netgalley



When a teenage girl thinks she may be the only person left alive in her town—maybe in the whole world—she must rely on hope, trust, and her own resilience.

Paige Miller is determined to take her basketball team to the state championship, maybe even beyond. But as March Madness heats up, Paige falls deathly ill. Days later, she wakes up attached to an IV and learns that the whole world has perished. Everyone she loves, and all of her dreams for the future—they're gone.

But Paige is a warrior, so she pushes through her fear and her grief. And as she gets through each day—scrounging for food, for shelter, for safety—Paige encounters a few more young survivors. Together, they might stand a chance. But as they struggle to endure their new reality, they learn that the apocalypse did not happen by accident. And that there are worse things than being alone.

So I loved this book. Because of course I did, it's the end of the world, for goodness sake! And the opening of the story is wild. We jump right in as Paige finds herself sick and emaciated, with nothing but an IV bag keeping her alive. Everyone in her house, everyone in her world is dead, and she hasn't a clue what is happening because she's been unconscious for the apocalypse thus far.
I think what I loved the most about this book is that it does such a great job of portraying the way people would feel at the end of the world. Like sure, Paige is running for her life, trying to not get zapped by aliens (who are a little salty about the few people that escaped their deadly disease). But it's more than that. It's trying to navigate the guilt of living when almost no one else did. It's trying to figure out what makes her new life worth living, when all the things she'd had are gone. Her family, basketball, the promise of college and beyond, her friends… wiped out. Luckily, she finds a few fellow survivors along the way, namely Trey and Tanq, the former of whom I absolutely loved, and the latter who generally was untrustworthy of humans (for good reason) and I also adored.
They have to then set out to find others, with a promise from a radio broadcast their only lead. I loved that Paige takes humanity in general so seriously. Every deceased person whose supplies or wisdom help her along the way, she acknowledges. When she can, she takes their identification as a way to remember them. She retains her humanity, even when it would be easier not to. And she finds new family in her friends, while never forgetting those who came before.
There are lighthearted moments too, which is crucial in a book like this. Otherwise, it would have been perhaps too dark. There is a lot of action, but not overwhelmingly so, and I thought the pacing was done quite well. A great balance of character and world development and excitement. I will say, I really feel like the ending sets up a sequel, and I will probably cry if there is not one, just saying.
Bottom Line: I fell in love with this book and its characters. Just the "end of days" fare I was looking for, frankly.
Have you read any of these books? Plan to? Let us chat about them!