Ah, blogoversaries. I've had a few. Very little seems to change around here these days, I'm afraid, though I did rewrite the into for you. I'm nice like that. I do want to spice this place up a little- maybe a new look? I have been saying that for years, so who knows. Truly, at this point I am just kind of glad I have the wherewithal to keep on keepin' on, so we'll leave it at that, pat ourselves on the back- heck, if you've been blogging eight years or eight days, or just reading/commenting/lurking, pat yourselves. Life is hard and you are killing it!
Let's talk about 8 Random Blogging Truths*:
* For me, anyway
Review books motivate me to read. True story, I doubt I'd read even half as much as I do if not for review books. Which is likely why I keep on reviewing, if I am being honest. Reviewing, while not wildly popular nor my favorite part of blogging, keeps me in the loop, and I suppose, relevant. It works for me, anyway.
Blogging kind of becomes a lifestyle.  Like, it is built into my schedule now, I know I have at least a certain part of each night carved out for blogging/commenting/pretending to do those things and procrastinating instead. And then reading, of course, takes up a certain chunk of time. And it's become so usual now that I barely even think about it, I just do.
I find myself shocked that everyday people I encounter have no idea about books whatsoever. This boggles the mind, frankly, as I have been reading since like, the womb. And my parents have always been avid readers, too. But when I tell people about book blogging… they look at me like I have horns or something. Not in a mean way, mind! Just… that they had no idea books were such a big thing. (Incidentally, almost no one knows about The 100 either, which saddens me, and I then not only have to explain how obsessed I am, but what the heck it is that I am obsessed about.) Perhaps it is because we spend so much time immersed in the bookish world, it seems almost alien that people don't at least know of popular books or authors, even if they don't read a lot.
I do not read anything I buy. I mean this is perhaps just me, but wow is this true.  Annemieke did a post about reading the books she hauls, and wow, I need to do one so I can show myself just how epically I fail. I read, at most, 10 books that I have precured via purchase or gift or whatever. So out of 150+, that's just a shit ratio, frankly.
Maybe I enjoy writing about shows more than books? Oof, right? Why am I even here? I mean look, books are fun too! But. I haven't really found as much love for anything as I have found writing about The 100– and even other shows!
Blogging is exhausting! I said this last year, too, but wow, it got more accurate. I mean I won't lie, this post barely got thrown up on time. I am mostly just proud that I remembered my own blogoversary this year ?
If you think you will not be approved for books and request too many, you will be approved, but only at the most inopportune times. I mean sure, you are still grateful for the book, right? But the day before publication when you have 2938 other review books that week? Not ideal. (And if you're anything like me, you'll make darn sure you read the thing immediately anyway!)
People often do not claim giveaway books. Obviously, this is a clear segue to my giveaway below, but honestly, why does this happen? And not just once, but often? Here's the thing: I usually try to keep picking winners 'til I get a response. But for a few giveaways, I have forgotten, frankly. And sometimes I have gotten so frustrated, I gave up. However, their loss is your gain, as I shall persevere and try, try again!
Can we all make it through another year, meet back here for a 9th year at It Starts at Midnight? Great!  ??
Guys I miss them so much. 
Two winners win a prize pack! One YA, one adult! US Only because money.  Ends 11/15 at 11:59EST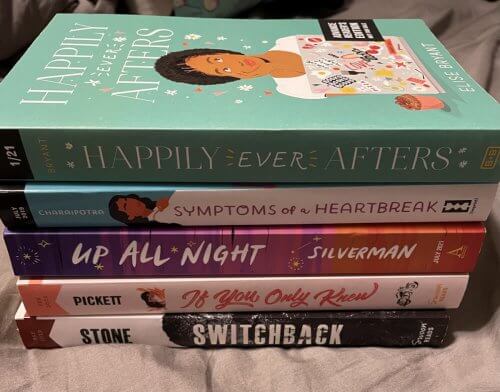 And because I feel bad not including my international faves, I will do a stubby giveaway for a Book Depository book, too! Under $12 I must say, for I am poor, but that should get you just about any paperback! Ends 11/15 at 11:59EST
For funsies, tell me something random that you did in the past eight years! Or, a random blogging truth for you. Or really, any old thing you want to share!