Here are some lovely books for the beginning of September!
The Inheritance of Orquídea Divina by Zoraida Córdova
The Bones of Ruin by Sarah Raughley
Dare To Know by James Kennedy
White Smoke by Tiffany D. Jackson
Never Saw Me Coming by Vera Kurian
Your Life Has Been Delayed by Michelle I. Mason

---
The Inheritance of Orquídea Divina by Zoraida Córdova
Published by Atria Books on September 7, 2021
Pages: 336
Format:eARC
Source:Copy provided by publisher for review, via Netgalley



The Montoyas are used to a life without explanations. They know better than to ask why the pantry never seems to run low or empty, or why their matriarch won't ever leave their home in Four Rivers—even for graduations, weddings, or baptisms. But when Orquídea Divina invites them to her funeral and to collect their inheritance, they hope to learn the secrets that she has held onto so tightly their whole lives. Instead, Orquídea is transformed, leaving them with more questions than answers.

Seven years later, her gifts have manifested in different ways for Marimar, Rey, and Tatinelly's daughter, Rhiannon, granting them unexpected blessings. But soon, a hidden figure begins to tear through their family tree, picking them off one by one as it seeks to destroy Orquídea's line. Determined to save what's left of their family and uncover the truth behind their inheritance, the four descendants travel to Ecuador—to the place where Orquídea buried her secrets and broken promises and never looked back.

This story is beautiful, full stop. It's such a rich family tapestry, woven in past and present, through generations, and I positively adored it. It's magical realism done right, and incredibly full of culture. Not only are the characters complex on their own, but their entire family unit is so well developed that it's a main element of the story in itself.
When they learn that polarizing matriarch Orquídea is dying, and requests their attendance at her homestead one last time, there are understandably mixed feelings. Orquídea's personal history is long and complex, and she wasn't always the most comforting figure, though it is certainly clear that she loved for and cared for her family. Some family members can see the good in her, and some can't look past their own feelings that she wronged them with her unorthodox life.
But as family reunites to say goodbye, they are in for far more than they'd bargained for. It leads them down roads of magic, and all the way to Ecuador, to learn the history of prior generations. Not everything is as cut and dry as they may have thought, and both Orquídea and her descendants find themselves making some truly rough decisions, both in the name of family and survival.
Bottom Line: This story includes phenomenal writing, complex and well-developed characters who I fell in love with, and just such a beautiful and moving story of generations of women struggling to save themselves and their loved ones.
---
The Bones of Ruin by Sarah Raughley
Series: The Bones of Ruin #1
Published by Margaret K. McElderry Books on September 7, 2021
Pages: 496
Format:eARC
Source:Copy provided by publisher for review, via Netgalley



An African tightrope walker who can't die gets embroiled in a secret society's deadly gladiatorial tournament in this thrilling historical fantasy set in an alternate 1880s London, perfect for fans of The Last Magician and The Gilded Wolves.

As an African tightrope dancer in Victorian London, Iris is used to being strange. She is certainly a strange sight for leering British audiences always eager for the spectacle of colonial curiosity. But Iris also has a secret that even "strange" doesn't capture…​

She cannot die.

Haunted by her unnatural power and with no memories of her past, Iris is obsessed with discovering who she is. But that mission gets more complicated when she meets the dark and alluring Adam Temple, a member of a mysterious order called the Enlightenment Committee. Adam seems to know much more about her than he lets on, and he shares with her a terrifying revelation: the world is ending, and the Committee will decide who lives…and who doesn't.

To help them choose a leader for the upcoming apocalypse, the Committee is holding the Tournament of Freaks, a macabre competition made up of vicious fighters with fantastical abilities. Adam wants Iris to be his champion, and in return he promises her the one thing she wants most: the truth about who she really is.

If Iris wants to learn about her shadowy past, she has no choice but to fight. But the further she gets in the grisly tournament, the more she begins to remember—and the more she wonders if the truth is something best left forgotten.

The premise of The Bones of Ruin hooked me instantly- Victorian London, a Hunger Games-esque competition, throw in a circus, some mystery, and magic? Yes please! I just had trouble with it, and I can't even wholly pinpoint why. So at twenty percent, I put it down, but perhaps not forever? Usually, by the time I have let a book sit until it's time to review, I have decided to not finish, or give it another go. This time, I haven't.
See, like I said, the premise is awesome. And I really did feel for Iris! I mean, how could I not? But even twenty percent in, I didn't feel like I could connect to her. And that makes sense! Because she doesn't even know who she is! But I also found things to be moving quite slowly, which compounded the situation. Perhaps a bit too much description about things that didn't seem particularly important?
And even though part of me did want to see what was going to become of Iris, I just could not muster the motivation to keep on keepin' on. So my new plan is, wait for some more reviews, see if things pick up, and then maybe I will give it another go.
Bottom Line: I genuinely think this is a case of "it's not the book, it's me" so read it! And then tell me if I should!

---
Dare to Know by James Kennedy
Published by Quirk Books on September 14, 2021
Pages: 304
Format:eARC
Source:Copy provided by publisher for review, via Netgalley



Dark Matter meets Annihilation in this mind-bending and emotional speculative thriller set in a world where the exact moment of your death can be predicted–for a price.

Our narrator is the most talented salesman at Dare to Know, a prestigious and enigmatic company in the death-prediction business. While he has mastered the art of death, the rest of his life is an abject failure. Divorced, estranged from his sons, and broke, he's driven to violate the cardinal rule of his business by forecasting his own death day. The problem: apparently he died 23 minutes ago.

The only person who can confirm his prediction is Julia, the woman he loved and lost during his rise up the ranks of Dare to Know. As he travels across the country to see her, our narrator is forced to confront his past, the choices he's made, and the terrifying truth about the company he works for--and his role there.

Highly ambitious and totally immersive, this adrenaline-fueled thriller explores the destructive power of knowledge and collapses the boundaries between reality, myth, and conspiracy as it races toward its stunning conclusion.

Dare To Know is such an incredibly thought provoking and mind bending novel, and it really worked for me, save a few minor issues. On the whole, it was compulsively readable as I was kind of needing all the answers, even if our main character was sort of The Worst™.
What I Liked:
So thought provoking! Look, there is no actual way you could read this book and not wonder what you would do. Would you shell out the cash to find out when you'd die? I say no way, but there were even cases of employers checking on employees! Talk about a world I'd not want to live in. But it's so interesting, to read not only about people's reasons for wanting to know, but their responses when they do. Because regardless of how it shakes out, I think you'd be disappointed? Like, even if it tells you you'll live to 100, aren't you low key pissed that you won't be a supercentenarian? I digress, the whole concept is beyond fascinating.
I was super invested in the outcome. We'll talk about the character more later, but despite his shortcomings, it's such a curious situation that I couldn't help but need to know how it would turn out. Not even just for him at that point, but for humanity at large.
The business and psychology behind Dare To Know was endlessly fascinating. Like, can you even imagine? Meeting some random businessperson in a Starbucks to find out when you'd die? I found the whole business aspect so great, because it's obviously not always going to be a popular business model (and you never have repeat customers!) so I loved those intricacies. They also of course had to deal with the psychological (and societal) fallout of having such information, which intrigued me immensely.
There are a lot of great twists! Some I loved and some I was more confused by, but I loved that in no way could I predict the outcome of this story, and it constantly kept me guessing!
The narrator was just… a dude. He wasn't anything particularly special, other than a bit of a knack for mathematics. Thing is, he could have been anyone, and was, in a sense. He was down on his luck (and also down because he made terrible life choices and now was handling the fallout) and in a dying (no pun intended heh) industry, and now he has to reconcile with the choices he's made, the folks he's alienated, and is forced to cope with his ever-changing situation essentially by himself, as he's got no one left to care what happens to him.
What I Didn't:
The end was a little… iffy for me. I hate when the ending is the thing I don't like, because how can I explain it?! Look, the book concludes in a fashion that is at least satisfactory, so I am not talking about an unsatisfying ending. It was more like, at a certain point, the book took a very different turn than I'd expected, and I had a hard time following that transition.
Maybe our guy was a little too unlikable? Look, like I said above, I think that was part of the point. That dude could be "any man", you know? And he was, to an extent, but also I hated him. Again, I truly think that this was a purposeful choice, and I am mostly fine with it, I just think that some of the story would have had a bigger impact if I felt anything other than pity that this man chose to live his life this way? But truly (and oddly for me), it didn't impact my enjoyment of the story too much. But please be aware that this man sucks.
Bottom Line: I kept thinking about the concepts this book presented long after it was finished. Though I may not have quite understood it all in the end, it was still worth the ride.
---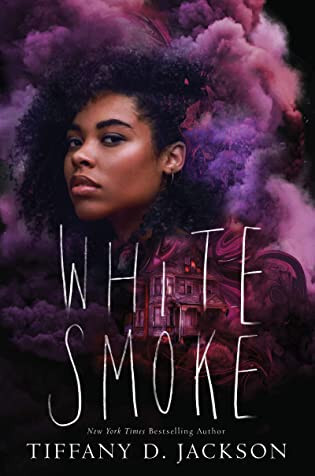 White Smoke by Tiffany D. Jackson
Published by Katherine Tegen Books on September 14, 2021
Pages: 384
Format:eARC
Source:Copy provided by publisher for review, via Netgalley



The Haunting of Hill House meets Get Out in this chilling YA psychological thriller and modern take on the classic haunted house story from New York Times bestselling author Tiffany D. Jackson!

Marigold is running from ghosts. The phantoms of her old life keep haunting her, but a move with her newly blended family from their small California beach town to the embattled Midwestern city of Cedarville might be the fresh start she needs. Her mom has accepted a new job with the Sterling Foundation that comes with a free house, one that Mari now has to share with her bratty ten-year-old stepsister, Piper.

The renovated picture-perfect home on Maple Street, sitting between dilapidated houses, surrounded by wary neighbors has its . . . secrets. That's only half the problem: household items vanish, doors open on their own, lights turn off, shadows walk past rooms, voices can be heard in the walls, and there's a foul smell seeping through the vents only Mari seems to notice. Worse: Piper keeps talking about a friend who wants Mari gone.

But "running from ghosts" is just a metaphor, right?

As the house closes in, Mari learns that the danger isn't limited to Maple Street. Cedarville has its secrets, too. And secrets always find their way through the cracks.

White Smoke was so very readable, I enjoyed it immensely. We meet Mari, who is moving with her family to some creepy house in a Middle America town. From the start, things seem "off", but Mari is going through a lot of her own stuff, and her family sort of brushes off her concerns. Mari has some mental health issues (including a pretty serious fear/panic of bed bugs) and has used drugs in the past to self-medicate. As such, there are some tensions within her family, especially when it comes to their trust of her.
The book does a great job of being a commentary on some big issues. Racism, including gentrification and clear overimprisonment of Black residents (for extremely minor "offenses" like marijuana possession) plays quite a big role in the story, as does mental illness. And I loved that the story focused just as much on Mari's growth as it did the mystery! So often, mystery/thriller novels neglect the characters for the sake of the thrills, but this book absolutely delivered on character development. Also, Mari has a brother named Sammy who reminded me so much of my own Sammy that he was impossible not to fall in love with. I loved Mari's love for him, too.
I really enjoyed the twists in this story too. My only minor qualm would be that there were some loose ends left untied at the end. I had been hoping for a few plot points to have been resolved, and they weren't quite. But it's an otherwise awesome book with a really well developed main character, and I was very invested in the outcome.
Bottom Line: Very readable and full of great characters, important messages, and awesome twists, White Smoke is definitely a great addition to the mystery/thriller genre!
---
Never Saw Me Coming by Vera Kurian
Published by Park Row on September 7, 2021
Pages: 400
Format:eARC
Source:Copy provided by publisher for review, via Netgalley



Meet Chloe Sevre. She's a freshman honor student, a leggings-wearing hot girl next door, who also happens to be a psychopath. Her hobbies include yogalates, frat parties, and plotting to kill Will Bachman, a childhood friend who grievously wronged her.

Chloe is one of seven students at her DC-based college who are part of an unusual clinical study for psychopaths—students like herself who lack empathy and can't comprehend emotions like fear or guilt. The study, led by a renowned psychologist, requires them to wear smart watches that track their moods and movements.

When one of the students in the study is found murdered in the psychology building, a dangerous game of cat and mouse begins, and Chloe goes from hunter to prey. As she races to identify the killer and put her own plan into action, she'll be forced to decide if she can trust any of her fellow psychopaths—and everybody knows you should never trust a psychopath.

Never Saw Me Coming is a compulsive, voice-driven thriller by an exciting new voice in fiction, that will keep you pinned to the page and rooting for a would-be killer.

Never Saw Me Coming is a wonderfully mind-bending book that I really enjoyed. There is the usual tension and excitement filled "whodunit" and survival, yes. But the extra fun bit is, everyone is a psychopath, so who exactly can be trusted? Not the narrator, certainly. Not her classmates in the psychopath program, that is for sure. And since the whole program is so sketchy and secret, not anyone in charge either.
And sure, Chloe is plotting to kill this huge asshat named Will, but it's really fine. In fact, you'll probably hope she succeeds, if you're anything like me. The thing is, I think this is why the book is so fresh and readable: because we, the reader, get to experience the sort of person we aren't, the sort of person we can't even wrap our minds around properly. (At least, I hope, for most of us anyway.)
It also is unsettling because Chloe and her fellow 'paths are quite charming! They are smart, too, and know what society expects from them, and as such, are able to fit that mold. And because of their diagnosis, they're seen as less sympathetic murder victims, which is kind of crap, but also very thought provoking. Basically, this is a wild ride that I thoroughly enjoyed, and one that made me think while I was being entertained.
Bottom Line: Rooting for psychopaths is fun, who knew?
---
Your Life Has Been Delayed by Michelle I. Mason
Published by Bloomsbury YA on September 7, 2021
Pages: 304
Format:ARC
Source:Copy provided by publisher for review



Past and present, friends and crushes collide in a YA debut about a girl who takes off on a flight and lands 25 years later.
Jenny Waters boards her flight in 1995, but when she lands, she and the other passengers are told they disappeared . . . 25 years ago. Everyone thought they were dead.

Now contending with her family and friends fast-forwarding decades, Jenny must quickly adjust to smartphones and social media while being the biggest story to hit the internet. She feels betrayed by her once-best friend and fights her attraction to a cute boy with an uncomfortable connection to her past. Meanwhile, there's a growing group of conspiracy theorists determined to prove the whole situation is a hoax. Will Jenny figure out how to move forward, or will she always be stuck in the past?

Just in time for Manifest's 828 Day Resurrection, we have a lovely YA offering in the same vein. And it did not disappoint! Your Life Has Been Delayed follows mid-90s kid Jenny, who is on her way home from visiting her grandparents in New York. Only, whoopsie, her plane takes a little detour and winds up in 2020. You can imagine how jarring that would be, on many levels!
Jenny has to try to navigate a lot here. Not only is her personal life a mess, but she has to deal with authorities who flat out do not believe that her plane is from 1995. Add to it, the world has changed a lot since then, and Jenny's never even seen a cell phone, let alone used one. My point is, it's a lot. The initial changes she encounters are predictable, I suppose. Her baby brother is now decades older than her, with a wife and kids of his own. Her parents are now basically elderly, and all but one of her grandparents are dead. And that is just the tip of the iceberg!
It's a really wholesome and heart warming story about Jenny finding her identity after hers has kind of been stripped away by time. She's forced to do all this while navigating a new world, and vastly different relationships with the loved ones she left behind. And for Jenny, she's seen these people only days ago, while for them it has been twenty-five years. I really loved watching Jenny take back control over her life, even as so many seem dead set on making it hard.
Bottom Line: It's fascinating, thought-provoking, and just a genuinely uplifting story about finding the power to overcome even the most extreme circumstances.
Have you read any of these books? Plan to? Let us chat about them!