Welcome to April's
Monthly Minutes at Midnight!
 Here's the deal: I'll share the books I've obtained, posts of interest from others, giveaways I have happening, and just general random shenanigans. You know I love a shenanigan.  Also, covers all link to Goodreads, because I am awesome. As always, I link up with the Wrap Up Round Up, too! 
The Books
For Review/From Publishers:
Hugest of thanks to the publishers for these (pics link to Goodreads for more info!) two hugely anticipated books!
eARCs:
Huge thanks to the publishers for these lovelies! (SO many most-anticipated books here!) 
Purchased: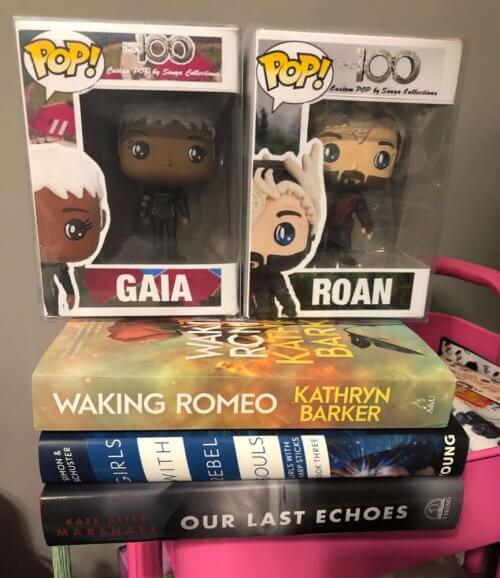 I wasn't too bad this month. I feel like I have a few pre-orders and such coming next month though, whoops. 🤷‍♀️
Waking Romeo by Kathryn Barker ♦ Girls With Rebel Souls by Suzanne Young ♦ Our Last Echoes by Kate Alice Marshall ♦ Haihefa Roan kom Azgeda & Gaia kom Trikru Funkos by Sonya Collections
Won/Gifted/Traded:
None this month! 
---
Shenanigans Since Last Time:
I read 16 books this month. Not bad, considering I got really sick in the middle of the month and basically read nothing!
Gah, there were some good books here! A couple of "meh"s, but nothing totally abysmal, yay! (Confession: I did DNF one of these, but I think it was me, not the book.)
Giveaways: Click Here, or on Sidebar
---
Blogosphere Bulletin
Here are some of the loveliest/most entertaining/super helpful/just plain interesting posts I found this month!
---
Fancy & New Since Last I Saw You!
I love looking at pretty covers! So here are some new ones that I have fallen in love with since our last update!
Pretty covers are pretty. (Also I know I double-dipped with Iron Widow, but in fairness, I'd made the post before I got approved for it and didn't have time to find a new pretty cover.)
---
Things we need to talk about at this juncture:
April was weird.  I got fully vaccinated (yay!) but the kids each spent half the month in quarantine (boo!) which meant that someone was always on lockdown. This is probably because their classmates refuse to listen to the rules and regale the class with tales of their trips to the indoor water park (fucking really?), slumber parties, and other activities that probably should be avoided during the pandemic. Just a thought. 🤷‍♀️
As such, we spent Easter, the first time I should have been able to see my extended family in literally a year, by ourselves. My aunt did still do a mini-egg hunt for the kids, but we did it alone hah 😂 It was nice of her, regardless! So anyway, pictures are limited, but here you are!
Have a great May, loves!