Happy (belated*) book birthday to these glorious gems! (Guys seriously, why have I been reading so many freaking incredible books? Am I jinxing myself right now? Idk probably, but these are all awesome!)
*I really, really intended for these to all be up by their actual book birthday, but life had other plans and I was literally too sick to move for a few days, so. At least you can buy them all immediately, right?!
Dustborn by Erin Bowman
Everyone Dies Famous in a Small Town by Bonnie-Sue Hitchcock
Kate in Waiting by Becky Albertalli
Where Secrets Lie by Eva V. Gibson
The Last Watch by J.S. Dewes

---
Dustborn by Erin Bowman
Published by HMH Books for Young Readers on April 20, 2021
Pages: 432
Format:eARC
Source:Copy provided by publisher for review, via Netgalley



Delta of Dead River sets out to rescue her family from a ruthless dictator rising to power in the Wastes and discovers a secret that will reshape her world in this postapocalyptic Western mashup for fans of Mad Max and Gunslinger Girl.

Delta of Dead River has always been told to hide her back, where a map is branded on her skin to a rumored paradise called the Verdant. In a wasteland plagued by dust squalls, geomagnetic storms, and solar flares, many would kill for it—even if no one can read it. So when raiders sent by a man known as the General attack her village, Delta suspect he is searching for her.

Delta sets out to rescue her family but quickly learns that in the Wastes no one can be trusted—perhaps not even her childhood friend, Asher, who has been missing for nearly a decade. If Delta can trust Asher, she just might decode the map and trade evidence of the Verdant to the General for her family. What Delta doesn't count on is what waits at the Verdant: a long-forgotten secret that will shake the foundation of her entire world.

Okay so Dustborn is a "Shannon" book, no question. And just when I thought it couldn't be any more "me", it did. So I'll preface with this: If this sounds up your alley, it quite likely will be wholly satisfying.
Here's the thing: I was pretty sure, as I started reading, that it was going to be a sort of "run of the mill" dystopian situation. I was enjoying the characters and the world, but I thought I knew how things were going to turn out. And without giving anything away, I am going to tell you this: I thought I knew, but I had no idea. And that is the most delightful reading experience for me, frankly.
As it was, I really enjoyed Delta's journey. I am a sucker for a survival trip, and Delta certainly had some of those. The world she lived in was so bleak, so desolate, so dry, it was quite a miracle she'd survived thus far. The author does a phenomenal job of nailing the atmosphere and making the reader feel how rough things are. And of course, not only is the world trying to kill her and her people, other humans are too.
Because look, dire straights will bring out either the best or the worst in people. Delta has seen both, frankly. And as such, she doesn't know if there is anyone she can trust. She has a lot of things to figure out, with pretty much zero good choices remaining. And when she does start to figure things out… well, the answers are much, much more than she bargained for.
While the first half of this book is solid, it was the second half that blew my mind. And the ending? It's one of those perfect ::chef's kiss:: endings that feels both realistic, yet wholly satisfying. I wish I could tell you more about the book, but I am so desperate for you to go into it as blind as I was, and hopefully as thrilled by the outcome as I was!
Bottom Line: A strong story with a fabulous main character that only gets better (and more exciting) as it goes along!

---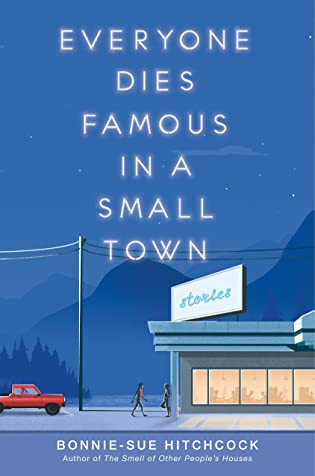 Everyone Dies Famous in a Small Town by Bonnie-Sue Hitchcock
Published by Random House/Lamb on April 20, 2021
Pages: 208
Format:eARC
Source:Copy provided by publisher for review, via Netgalley



A lyrical and heartfelt collection by an award-winning writer that connects the lives of young people from small towns in Alaska and the American west. Each story is unique, yet universal.

In this book, the impact of wildfire, a wayward priest, or a mysterious disappearance ricochet across communities, threading through stories. Here, ordinary actions such as ice skating or going to church reveal hidden truths. One choice threatens a lifelong friendship. Siblings save each other. Rescue and second chances are possible, and so is revenge.

On the surface, it seems that nothing ever happens in these towns. But Bonnie-Sue Hitchcock shows that underneath that surface, teenagers' lives blaze with fury, with secrets, and with love so strong it burns a path to the future.

Can we, as a community, agree to stop sleeping on Bonnie-Sue Hitchcock please? Her books are wonderfully quirky and thoughtful, and no one can title better. This book is more an anthology, and how I was able to care so deeply about every last character (so much that the mentions in later stories made me squeal with delight) is beyond impressive, frankly. (Also, she lives in a yurt, and if that isn't the coolest thing ever, Idk what is.)
(Sidenote: I'd probably look up trigger warnings more in depth, but I will say that there is sexual abuse involved, among other things)
So, yes it's an anthology, but it's a connected anthology, so all the stories have at least one tie to one of the other stories. Which is kind of brilliant. Also, we get introduced to so many different people in so many small towns in America. And some of these stories are straight up heartbreaking, no question. A lot of them are attempts to rebuild after said heartbreak. It's definitely an emotive book, but also really charming and thoughtful, so you won't be drowning in misery. Yes, there are dark situations, but there is also tons of light.
Bottom Line: I loved how the stories connected to each other, and how the characters often had impacts on each other without always knowing. It's thoughtful, it's lovely, and it's definitely worth reading.

---
Kate in Waiting by Becky Albertalli
Published by Balzer + Bray on April 20, 2021
Pages: 400
Format:eARC
Source:Copy provided by publisher for review, via Netgalley



Contrary to popular belief, best friends Kate Garfield and Anderson Walker are not codependent. Carpooling to and from theater rehearsals? Environmentally sound and efficient. Consulting each other on every single life decision? Basic good judgment. Pining for the same guys from afar? Shared crushes are more fun anyway.

But when Kate and Andy's latest long-distance crush shows up at their school, everything goes off script. Matt Olsson is talented and sweet, and Kate likes him. She really likes him. The only problem? So does Anderson.

Turns out, communal crushes aren't so fun when real feelings are involved. This one might even bring the curtains down on Kate and Anderson's friendship.

I keep reading this as "Katie In Waiting". That isn't the title. But here we are. I was so concerned, when no one was referring to the titular Kate as "Katie", until finally, several chapters in, I realized… it's because her name is Kate. Whoops? I stand by the fact that "Katie" would be more lyrical sounding, but also, sorry I suck at paying attention. This review will be a little backwards, because I want to tell you what I didn't like first, mainly because it had turned me off so much in the very beginning of the book. And then I'll go on to explain exactly why I am glad this didn't stop me from finishing it.
What I Didn't:
At the start, Kate and her friends kept calling like, half the class "fuckboys" and "fuckgirls". It was a huge turnoff, I am not going to lie. At first, it was irritating, but as time went on, it just felt so completely judgmental and wrong! Hey maybe this is a term youths use on the regular? I honestly hope not but I have no idea, but I think I can safely say that I hated the way Kate et. al. lumped people together in a "holier than thou" way. And again, I know this is part of growth (which I'll cover more in depth later- Kate did grow, don't misunderstand!) but I cannot help that it felt akin to fingernails on a chalkboard when the characters used it. Which was often. Very often.
What I Loved:
I thought I hated Kate but the truth is, I hated that I related to her so much. Okay, look. I might have had my own "morally superior" complex in high school. I cried when one of my best friends drank at a party. (In fairness, I was significantly younger in both chronology and emotional stability, but I have to admit my shortcomings.) Ironically, I'd never call someone a "fuck-anything" because I didn't say bad words. Ever. I'd mumble "hell" in religion class rather than say it. And I have no idea why! My parents were/are fairly free cursers. I digress.  Some of what pissed me off about Kate is stuff that pisses me off about how I was (and in some cases, perhaps can still be, no one is perfect).Kate is basically unable to function without her bestie, Anderson. If he doesn't like the same guy she does? Welp, that's doomed, they both have to have crushes. She's more than a bit dependent on him, and you're currently reading a review from someone who literally picked the college she went to based on how many friends from high school would be at it. So while I was, at first, a little annoyed by her absurdity… it was only because I related so completely and thoroughly to it. I often feel like Becky Albertalli got her hands on my high school diary, and this is no different. It's one of the things I love most about her books- how completely I feel "seen".
Speaking of Kate and her flaws, she does grow a ton throughout the book. So, I am now cognizant of some of the messier traits I share with Kate. Good news, so is Kate! She realizes that she and Anderson can still be the closest of pals without like, being in a throuple situation neither of them wants. And much, much more, but you'll have to read all about that!
Noah is just such a fun and funny character, he made the whole book! He cracked me up so many times- and his humor was clearly my humor (like, dude straight up wondered why Daniel Tiger wears a sweater and no pants and HARD same my man- especially because he wears pants to BED, but not out in public? I digress.) I loved him beyond words, is what I am saying.
I know nothing about theater, but wow it seems fun! These kids had such a great time, it seemed! And it's impressive as hell, too! Like- I wasn't allowed to do theater (or any activity, per my coach, who would have had an actual aneurysm if we missed practice) but I would never have had the guts regardless. Theater kids always seem to have such a great time, all while being pretty badass! Always here for a theater book!
Bottom Line: As I closed the book, I said "wow, I actually loved this" and thought, as always, that High School Shannon could have used this in a major way!
---
Where Secrets Lie by Eva V. Gibson
Published by Simon Pulse on April 20, 2021
Pages: 384
Format:eARC
Source:Copy provided by publisher for review, via Netgalley



Told in two interwoven timelines—the summer when everything changed, and the summer that changes everything—Where Secrets Lie is a seductive thriller as dark as it is enthralling.

Amy Larsen has spent every summer with her cousin Ben and their best friend Teddy in River Run, Kentucky, loving country life and welcoming the break from her intensive ambitions and overbearing mother—until the summer she and Teddy confront the changing feelings and simmering sexual tension growing between them, destroying the threesome's friendship in a dramatic face-off.

One year later, Amy returns to River Run dreading what she might find. But when Teddy's sister disappears, Amy, Ben and Teddy agree to put aside their differences to search for her. As they dig deeper into the dark history of their small town, all three friends must unearth the truths that tie their families to tragedy, cope with their own toxic upbringings and beliefs, and atone for the damage done to each other and themselves.

Content warning provided by the author (gosh I love when people do this!): "This story contains content that might be troubling to some readers, including, but not limited to, depictions of and references to death, kidnapping, serial murder and forensic evidence, child abuse, domestic violence, poverty, homophobia, mental health conditions, and childhood trauma."
Whew, so that is a lot, and I will say, this book was rough at times, to my emotions. Knowing the author's last book, I wasn't particularly surprised, but the missing sister really did a number on me. I think because she was not just a child, but such a well-written, delightful child at that, made it so much more difficult. It did, however, also make the characters' responses seem all the more authentic.
Anyway, the book is told in two timelines- last summer, and the current summer. And last summer, things got pretty messy with Amy, her cousin Ben, and her bestie/crush Teddy (the brother of the aforementioned missing sister). So when they first meet back up in the current summer, things are awkward from whatever happened last summer. Only, that all gets pushed to the back burner when Teddy's sister goes missing. So not only do we need to figure out what went on there, we need to understand what led up to it.
I will say this: I figured out what had happened fairly early in the book. I don't necessarily think it was super obvious, so I was pretty proud of myself. (And if you figure it out early too, let's just pretend we're both really really smart people, and not that it's obvious, okay? Great.) But I still was eager to learn some other things, and ultimately to see the characters figure out what was happening. Because wow.
Amy is kind of clueless and very spoiled. Her mom is kind of the worst, so I get it to some extent, but I felt like her cousin and friend were kind of dealing with more here? To be fair, I don't think Amy tried to compare her struggles to theirs, and tried to be cognizant of the fact that she needed to not make these things about her. Which shows growth to me, at least. Her family in general is a whole yikes. And most of the town. I guess what I am saying is there is a lot going on in this book, and most of it spoilery, so I'll leave it at that. But if you are here for the drama, you've found it!
Bottom Line: It's definitely quite an emotional story, and I was absolutely pulled in to the mystery and what would become of Amy and her loved ones.
---
The Last Watch by J.S. Dewes
Series: The Divide #1
Published by Tor Books on April 20, 2021
Pages: 480
Format:eARC
Source:Copy provided by publisher for review, via Netgalley



The Expanse meets Game of Thrones in J. S. Dewes' fast-paced, sf adventure The Last Watch, where a handful of soldiers stand between humanity and annihilation.

The Divide.

It's the edge of the universe.

Now it's collapsing—and taking everyone and everything with it.

The only ones who can stop it are the Sentinels—the recruits, exiles, and court-martialed dregs of the military.

At the Divide, Adequin Rake, commanding the Argus, has no resources, no comms—nothing, except for the soldiers that no one wanted.

They're humanity's only chance.

When you compare a book to The Expanse, my hopes are going to be sky-high, right? So how, pray tell, did J.S. Dewes write something that wildly exceeded my already bananas expectations? I don't know but I'll try to explain why I am in love with this book and apparently going to have to go into hibernation until the second book comes out in August.
Okay but the premise! The edge of the universe!? That is so mind-bogglingly awesome. And the execution absolutely lived up to the premise, no question. I, of course, from close to the first page, wanted to know "but what is on the other side!?" because that is how minds work I guess. Luckily, the characters also had these questions! And yes, they'll be explored, no doubt.
I looooved the characters. They're all quite different and complex, especially considering they're the group that was sent out to basically die standing guard at the edge of all matter. That's kind of a crap assignment, yeah? Some didn't mind, some did, but none really had a choice. And for the most part, it had been more "boring" than "dangerous". But nothing lasts forever.
Little moments of levity were everything. This could have been a really depressing novel, frankly. But it wasn't! Not at all! There was so much wonderful character development, and mystery, and even lighthearted moments that made the story so very readable. Yes, there were of course darker moments, and isolation, and fear, and sadness. But I loved how extremely well-rounded, from an emotional perspective, it was.
The story pulled me in from the start. I was so captivated by the story, I needed to know all the things. I loved that the author would answer some of my questions, while then providing a whole new set of mysteries and questions! Which meant that I was always engaged, always eager for the next chapter.
Obviously very high stakes. Not just for the characters I fell in love with, but likely for every creature in the universe. So that ups the ante even more, as you'd imagine.
Bottom Line: I could not put The Last Watch down, and I will be eagerly awaiting my pre-order of The Exiled Fleet to see what happens next in this incredibly engaging, perfectly paced, and wildly emotive series!
Have you read any of these books? Plan to? Let us chat about them!