These books all came out on Groundhog Day! That is fun, as are these books, yay!
This Is Not the Jess Show by Anna Carey
The Project by Courtney Summers
Muse by Brittany Cavallaro
Yesterday Is History by Kosoko Jackson

---
This Is Not the Jess Show by Anna Carey
Series: This Is Not the Jess Show #1
Published by Quirk Books on February 2, 2021
Pages: 304
Format:eARC
Source:Copy provided by publisher for review, via Netgalley



Black Mirror meets My So-Called Life in this fast-paced, timely YA thriller about separating fact from fiction--and how far we'll go to create our own version of reality.

Like any other teenager, Jess Flynn is just trying to get through her junior year without drama ... but drama seems to keep finding her. Between a new crush on her childhood best friend, overprotective parents cramping her social life, and her younger sister's worsening health, the only constant is change--and her hometown of Swickley, which feels smaller by the day.

Swickley is getting weirder by the day, too. Half the population has been struck down by a mysterious flu. Conversations end awkwardly when Jess enters the room. And then one day, a tiny, sleek black device--with an apple logo on it--falls out of her best friend's backpack and lands at Jess's feet.

Do yourself a favor: If you have not yet read the synopsis, don't. I went in mostly blind, as always, and I am so very glad I did! This book surprised me in the very best of ways. As such, I will be keeping my review purposely vague, because I want you to enjoy it just as much as I did.
At the start of the book, we meet Jess, the titular main character who is living in what can only be described as an idyllic, small-town, middle class late 90s existence. Frankly, it was so spot on that it mirrored my own late 90s experience, complete with being desperate to get onto AOL so you could IM your crush. The stroll down memory lane was a highlight, no doubt.
But this isn't a rom-com about Jess's dial-up internet woes. That's really all I am going to say. Things start to get weird… then weirder, then straight up wild. The book takes turns I genuinely never saw coming, and I frankly could not put it down. I adored Jess, and could not wait to see what was going to happen next, and uncover all the mysterious things.
There were maybe a few points that things may have been a wee bit too easy for Jess, and that is my only very minor qualm with the story. Otherwise, I loved it wholly, and am basically begging for the sequel immediately because I need to know all the things.
Bottom Line: This book thrilled and surprised me, and I genuinely cannot wait to dive back into Jess's story!

---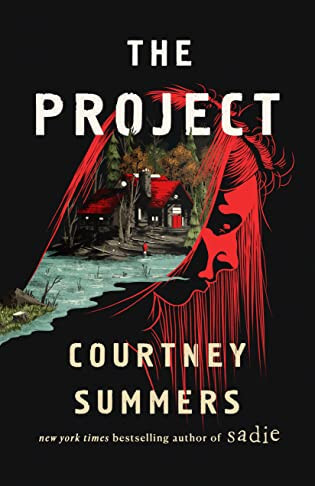 The Project by Courtney Summers
Published by Wednesday Books on February 2, 2021
Pages: 352
Format:eARC
Source:Copy provided by publisher for review, via Netgalley



Lo Denham is used to being on her own. After her parents died, Lo's sister, Bea, joined The Unity Project, leaving Lo in the care of their great aunt. Thanks to its extensive charitable work and community outreach, The Unity Project has won the hearts and minds of most in the Upstate New York region, but Lo knows there's more to the group than meets the eye. She's spent the last six years of her life trying—and failing—to prove it.

When a man shows up at the magazine Lo works for claiming The Unity Project killed his son, Lo sees the perfect opportunity to expose the group and reunite with Bea once and for all. When her investigation puts her in the direct path of its leader, Lev Warren and as Lo delves deeper into The Project, the lives of its members it upends everything she thought she knew about her sister, herself, cults, and the world around her—to the point she can no longer tell what's real or true. Lo never thought she could afford to believe in Lev Warren . . . but now she doesn't know if she can afford not to.

I do love a cult book, and one with an added layer of mystery is sure to entice! In this book, we meet Lo, whose life is kind of the definition of tragedy. After she and her parents are in a brutal car accident, of which she is the only survivor, she must spend ages recovering, physically and mentally. While she begins this tedious process, her beloved sister Bea just… vanishes, into the cultiness of The Unity Project. You know they're a cult because the first thing they say is that they're not a cult. That is like, the official cult motto, right?
And it is beyond easy to see how the cult got to Bea. They basically made her believe that they, via divine miracle/Lev, saved Lo's life. And Bea's whole world is in shambles, so yeah, you'll believe some sketchy stuff, because nothing makes sense anymore. And as the story delves deeper, we begin to see exactly how a group evolves.
Lo starts out on a mission to uncover Unity Project as a cult after the son of an acquaintance ends his life, seemingly using the Project's slogans as his final words. But the deeper Lo gets into her story, the more danger she is in of falling into their grip. It's such a comprehensive look into the inner workings of cults, as well as the life cycle of one. For that alone, I loved it, but I was also anxious to find out what the fates of these sisters would be, especially after life had been so cruel to them.
Bottom Line: A look into both cults, and how a person can find themselves caught up in one. Emotive and thought provoking, it's another win for Courtney Summers.
---
Muse by Brittany Cavallaro
Series: Muse #1
Published by Katherine Tegen Books on February 2, 2021
Pages: 352
Format:eARC
Source:Copy provided by publisher for review, via Netgalley



American Royals meets The Winner's Curse in the first book of bestselling author Brittany Cavallaro's new duology, set in an alternate history American monarchy where a girl grapples for control of her own life in the middle of a looming war.

The year is 1893, and war is brewing in the First American Kingdom. But Claire Emerson has a bigger problem. While her father prepares to reveal the mighty weapon he's created to showcase the might of their province, St. Cloud, in the World's Fair, Claire is crafting a plan to escape.

Claire's father is a sought-after inventor, but he believes his genius is a gift, granted to him by his daughter's touch. He's kept Claire under his control for years. As St. Cloud prepares for war, Claire plans to claim her life for herself, even as her best friend, Beatrix, tries to convince her to stay and help with the growing resistance movement that wants to see a woman on the throne. At any cost.

When her father's weapon fails to fire on the fair's opening day, Claire is taken captive by Governor Remy Duchamp, St. Cloud's young, untried ruler. Remy believes that Claire's touch bestows graces he's never had, and with his governing power weakening and many political rivals planning his demise, Claire might be his only and best ally. But the last thing that Claire has ever wanted is to be someone else's muse. Still, affections can change as quickly as the winds of war. And Claire has a choice to make: Will she quietly remake her world from the shadows—or bring it down in flames?

I quite enjoyed Muse, once I got into it. I do love a historical book, even better when it's alternate history and I can see all the Easter eggs from the real history. I definitely liked more than I didn't in this one, so let's break it down!
The Yays:
Very cool setting!  I mean, 1893 World's Fair but like, Alt-World's Fair, in Alt-Chicago? Yes please! That is pretty great, frankly. Even more exciting because so much was happening from a technological perspective, with the invent of both auto and air travel, it must have been something special. Also, Tesla is involved. It's just fascinating, even as alternative history (perhaps because it's alternative history, even).
Couldn't help but root for Claire. Wow does Claire need a better life, stat. I mean, things weren't great for women in the 1800s anyway, but they're even worse in Alt-merica. Women are still property, and Claire finds that her only options are living under her abusive father's rule, or marry some rando and live under his rule. Those sound like absolute trash choices, so you can see why Claire was desperate. I loved her having the chance to get out from under that oppression and finally make her own choices, at least a bit.
Claire's father can go float himself. Idk why this is a positive, perhaps mostly that I just need to read the sequel in the hopes that this guy meets a tragic end? I hate him. He not only treats Claire like utter garbage, but he neglected her after her mother died, and is basically abusive to her now. Claire finally working against him is my favorite and that's the tea on that.
I liked the political messiness. This is what happens when you just let whoever happened to genetically spawn first be in charge. It's a disaster, and only a mere 100 years into their little experiment, looks like the American Kingdom is facing a coup. It was a bit confusing at first, trying to figure out who was who (and why, see below), but I enjoyed all the backstabbing and plotting nonetheless.
Beatrix. Claire's bestie Beatrix is kind of everything.
The Nays:
Okay but George Washington didn't have any sons. Look, I get that it is alternate history, but when you say that the Washington kingdom is passed on from father to son… and George historically had no biological offspring… I am going to need an explanation at least. Make up a son, Idk. (I guess technically there is a made up grandson, but no details as to the why/how.) But it irked me the whole time, because dude was bummed he couldn't reproduce and now we have a whole kingdom based on him reproducing, so. You can see my distress. Admittedly, this is probably something that won't bother you even a fraction of as much as it did me, so take it with a grain of salt.
Also, a map would have been solid. Basically just a little more fleshing out of the world in general, is what I am saying. I loved the basic idea, but I just kind of wanted a little more information, and perhaps a look into how places became the way they were. See, the thing that, coupled with the above bulletpoint, made it hard for me to believe was that the entire premise of the world is so wildly different from how our country actually formed. Don't get me wrong, it's plausible with the right backstories and explanations, but with just a couple pages giving me some barebones facts, I had to suspend my disbelief quite a bit.
'Twas a bit slow in places. I did enjoy the story, but it took me a bit to get into it, I admit. But, it also picked up quite a bit as the story went on, so if you find yourself struggling for the first quarter, it did improve significantly for me.
I felt like the story should have been narrated in first person, perhaps? This is why: in many, many places in the story, we get little glimpses into Claire's thoughts, little bits that are in first person- her inner monologue, basically. Problem was, sometimes these weren't italicized or really given any indication that there was a change in narration, so that lead to me being confused. And also, if you're going to use the inner thought process that much, might as well just go all-out and do first. That is just my own personal opinion, and I am hopeful that the confusion will be corrected in the finished copy, so it hopefully won't be an issue in that regard!
Bottom Line: An enjoyable alternate history which perhaps required a bit more development, still a solid and entertaining book with a sympathetic main character. I'm definitely curious enough to want to read the sequel.
---
Yesterday Is History by Kosoko Jackson
Published by Sourcebooks Fire on February 2, 2021
Pages: 320
Format:eARC
Source:Copy provided by publisher for review, via Netgalley



A romantic, heart-felt, and whimsical novel about letting go of the past, figuring out what you want in your future, and staying in the moment before it passes you by.

Weeks ago, Andre Cobb received a much-needed liver transplant.

He's ready for his life to finally begin, until one night, when he passes out and wakes up somewhere totally unexpected...in 1969, where he connects with a magnetic boy named Michael.

And then, just as suddenly as he arrived, he slips back to present-day Boston, where the family of his donor is waiting to explain that his new liver came with a side effect—the ability to time travel. And they've tasked their youngest son, Blake, with teaching Andre how to use his unexpected new gift.

Andre splits his time bouncing between the past and future. Between Michael and Blake. Michael is everything Andre wishes he could be, and Blake, still reeling from the death of his brother, Andre's donor, keeps him at arm's length despite their obvious attraction to each other.

Torn between two boys, one in the past and one in the present, Andre has to figure out where he belongs—and more importantly who he wants to be—before the consequences of jumping in time catch up to him and change his future for good.

Goodness, this book was fabulous! The premise alone sounded phenomenal to me, I love a time travel story, and I was eager to see how the author would weave it into a liver transplant. And it was magical. The story captured me from the very first page and never let go. This is one of those books that when I was not able to be reading it, I'd think about reading it. I shall try to do it justice with my review, but you really should just go read it for yourselves.
Andre was incredibly likable and empathetic. Oh I just wanted to hug him! I mean, he's obviously been through it, having a liver transplant as a teen. And now he found out that a side effect is that he now hops to 1969 on the reg? Yeah, that is a lot. And Andre has flaws, of course, but he also goes through so much growth during the book.
Yes, it's a time travel book, but it's more an Andre book. Time travelling certainly shapes Andre, there's no doubt. Michael, the young man he meets from his house forty plus years prior shapes who he will become. Seeing the way the LGBT+ community was treated back then obviously has a huge impact. But the thing is, at its core, this story is Andre's, not just time travel, or his transplant, or his identities. It's all of that mixed together, to form this wonderful young man who is navigating coming of age and figuring out what he wants and who he wants to be and it is lovely.
The emotions, they are strong! I laughed, I cried, I cried a little more, I smiled. I felt so connected to the characters and the story that it was genuinely difficult to close the book and be done. That is a rarity for me lately, and Yesterday is History gave me that gift.
Huge focus on all facets of Andre's life– his family, his friends, his interests and future, and yes, his romantic relationships. The thing I loved is that the author was able to make each aspect of Andre's life fully fleshed out. So the reader was obviously interested in who Andre will choose to be with, but also what career path he'll choose, how he and his family will cope with all the changes, what his friends are thinking about this, how the heck time travel will fit into his busy schedule. It was all important, because it was all part of Andre's story.
It's so incredibly thought provoking. This is a bit of spoiler territory, so I won't go beyond that, but I will promise you that more times than not, you'll be asking yourself exactly what you'd do if you found yourself in Andre's situation. Which frankly, makes his story all the more relatable.
Bottom Line: Yesterday is History is such a lovely gem of a book with one of my favorite main characters in a long time. I fell in love with Andre's journey, and I've no doubt that you will too.
Have you read any of these books? Plan to? Let us chat about them!