These are January 2021 releases, and if you are looking for good books to start your year off with, look no further, as this batch was great!
Every Single Lie by Rachel Vincent
The Effort by Claire Holroyde
A Complicated Love Story Set in Space by Shaun David Hutchinson
This Will Be Funny Someday by Katie Henry
Last Night at the Telegraph Club by Malinda Lo

---
Every Single Lie by Rachel Vincent
Published by Bloomsbury YA on January 12, 2021
Pages: 336
Format:eARC
Source:Copy provided by publisher for review, via Netgalley



In this gripping YA novel about social media bullying and half-truths, one girl's discovery of a dead baby in her high school locker room rocks an entire community.

Nobody in Beckett's life seems to be telling the whole story. Her boyfriend Jake keeps hiding texts and might be cheating on her. Her father lied about losing his job before his shocking death. And everyone in school seems to be whispering about her and her family behind her back.

But none of that compares to the day Beckett finds the body of a newborn baby in a gym bag-Jake's gym bag -on the floor of her high school locker room. As word leaks out, rumors that Beckett's the mother take off like wildfire in a town all too ready to believe the worst of her. And as the police investigation unfolds, she discovers that everyone has a secret to hide and the truth could alter everything she thought she knew.

This book was straight up unputdownable for me. From the minute I started, I knew I was hooked. The story gets dark almost immediately with the main character, Beckett, finding a deceased newborn baby in her school's locker room. I won't lie, it is tough to read. But the story was so compelling that I was able to handle it.
Obviously, the town is up in arms over the discovery. And many people point the finger immediately at Beckett herself. The author does a phenomenal job of illustrating how positively vile a social media ambush can be. Even if Beckett was the mother, the vitriol spewed at her from complete strangers (and perhaps worse, non-strangers) will break your heart.
Beckett must deal with this discovery and its aftermath while she is already struggling with some pretty heavy familial issues, boyfriend and friend issues, and just being a teen in general, and I certainly don't envy her. She also cannot seem to let the investigation go. She feels a sort of connection to the baby, since she found her, and vows to find the child's parents, and figure out what happened to her. It makes for a page turning mystery to add to the already incredibly emotive story. And while I did predict parts of it, that didn't lessen my enthusiasm for the story one bit.
Bottom Line: Part mystery, part heartbreaking commentary, part coming of age, Every Single Lie hooked me from the start and never let go.

---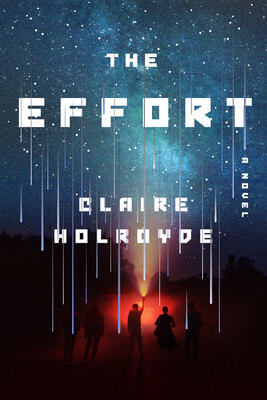 The Effort by Claire Holroyde
Published by Grand Central Publishing on January 12, 2021
Pages: 368
Format:eARC
Source:Copy provided by publisher for review, via Netgalley



When dark comet UD3 was spotted near Jupiter's orbit, its existence was largely ignored. But to individuals who knew better — scientists like Benjamin Schwartz, manager of NASA's Center for Near-Earth Object Studies — the threat this eight-kilometer comet posed to the survival of the human race was unthinkable. The 150-million-year reign of the dinosaurs ended when an asteroid impact generated more than a billiontimes the energy of an atomic bomb.

What would happen to Earth's seven billion inhabitants if a similar event were allowed to occur?

Ben and his indomitable girlfriend Amy Kowalski fly to South America to assemble an international counteraction team, whose notable recruits include Love Mwangi, a UN interpreter and nomad scholar, and Zhen Liu, an extraordinary engineer from China's national space agency. At the same time, on board a polar icebreaker life continues under the looming shadow of comet UD3. Jack Campbell, a photographer for National Geographic, works to capture the beauty of the Arctic before it is gone forever. Gustavo Wayãpi, a Nobel Laureate poet from Brazil, struggles to accept the recent murder of his beloved twin brother. And Maya Gutiérrez, an impassioned marine biologist is — quite unexpectedly — falling in love for the first time.

Together, these men and women must fight to survive in an unknown future with no rules and nothing to be taken for granted. They have two choices: neutralize the greatest threat the world has ever seen (preferably before mass hysteria hits or world leaders declare World War III) or come to terms with the annihilation of humanity itself.

Their mission is codenamed The Effort.

I find that these days, I enjoy being prepared for all the possible apocalyptic scenarios, as one does. But The Effort went ahead and reminded me that we needn't bother, because human nature is to devolve into chaos and anarchy and frankly, the author is right. This is the commentary that is less hopeful, but more rooted in reality, and I am here for it.
The book opens with news of a comet that appears to be heading toward Earth. A team is to be assembled to try to save mankind, but no one is sure what the chances of success are, even the experts. The Effort, as it is dubbed, brings the best and brightest from all over the world to a base in French Guiana where the great minds will have to work basically nonstop, leave behind everything and everyone they know, and devote what remaining time is left to saving humanity.
Meanwhile, back in civilian territory, society is straight up devolving. It's interesting, how humanity would approach such an event. I am not sure if I agree that we'd shut down- I'm more inclined to think that as we have with the pandemic (especially in the United States), we'd remain woefully in denial. Either way, it would be a mess, so the author sure got that right. And in a third locale, scientists and a few artists find themselves on an Arctic sea voyage, trying to study the climate before its gone. I mean, finding out the world may end while you're stuck in the arctic? Not ideal.
As you may have gathered, we have quite a few points of view in this story. Some, I flat out loved. Some… I maybe could have lived without? But mostly I found them great. My personal favorite was the female Chinese scientist who is the actual best and also has a cleft lip/palate (I think the author perhaps confused a lip and palate repair, as the latter doesn't leave a scar but the former does, but it's an advanced copy, so I shall digress). Finally, finally, seeing a hero with a cleft instead of a villain, for the win! The female characters are especially strong and well-developed, and I was invested in both what happened to the characters and what would become of humanity as a whole.
Bottom Line: In the end, does it even take a disaster to undo mankind? Or will we just do it ourselves? These are the incredibly thought provoking questions The Effort asks, with a great cast of characters trying to prevent the apocalypse.
---
A Complicated Love Story Set in Space by Shaun David Hutchinson
Published by Simon & Schuster Books for Young Readers on January 19, 2021
Pages: 464
Format:eARC
Source:Copy provided by publisher for review, via Netgalley



Black Mirror meets What If It's Us in this gripping, romantic, and wildly surprising novel about two boys lost in space trying to find their way home—while falling in love—from the critically acclaimed author of We Are the Ants.

When Noa closes his eyes on Earth and wakes up on a spaceship called Qriosity just as it's about to explode, he's pretty sure things can't get much weirder.

Boy is he wrong.

Trapped aboard Qriosity are also DJ and Jenny, neither of whom remember how they got onboard the ship. Together, the three face all the dangers of space, along with murder, aliens, a school dance, and one really, really bad day. But none of this can prepare Noa for the biggest challenge—falling in love. And as Noa's feelings for DJ deepen, he has to contend not just with the challenges of the present, but also with his memories of the past.

However, nothing is what it seems on Qriosity, and the truth will upend all of their lives forever.

Love is complicated enough without also trying to stay alive.

Trigger Warning: Sexual assault
This is a such a quirky but emotional book, all while still being adventurous and entertaining! Noa wakes up in space, with no idea how he got there. We, the reader, also have no idea why Noa is in space. Seems sketchy, right? Well, it is. Especially since one of the first things he finds himself tasked with is saving it from exploding. Soon, he finds DJ, who talks him through the whole "not blowing up thing", and things get… more bananas from there, really.
What I Loved:
Oh this was just fun. The other spaceshipmate, Jenny, is so beyond funny. But DJ and Noa also have their own brands of humor that are delightful. Basically, if you have to be trapped in space, this is the trio you'd like to accompany you. There's also a wacky AI named Jenny Perez (and yes, that confused me a bit but alas) who was so completely glib and infuriating to the characters that I could not help but enjoy her because of it. She was apparently a failed actress at some point, and the only entertainment on board was starring or made by… you guessed it, Jenny Perez. Cracked me up, frankly.
I was so confused! I mean- this probably will go in the negatives section a wee bit too, but as a reader, we're clearly supposed to be confused. Noa is lost, and as such, so are we! I liked it in the sense that it was definitely a trip- and the more we learned, the more we realized we had no idea, same as Noa. I appreciated that approach.
The relationships of the characters were really compelling. Obviously, they're stuck on this ship together trying to figure out how to get home, they're probably going to become important to each other. DJ and Noa of course fall in love. Jenny is a great friend to them both. But tugging at Noa's brain is his memories of his past relationship, which was incredibly troubling and horrific. I don't want to go into too much detail in a review for fear of spoiling other aspects, but be aware that there is talk of past sexual violence.
Tons of great commentary throughout the book. Again, I don't want to give much away, and a lot of the points I'd love to discuss I worry would spoil stuff as they happen later in the book, but just be aware that it is there, so you look for it!
It's a great mix of action and character development, of fun and seriousness. The bits of humor and general wackiness are fabulous, but the book is also really heartfelt and emotive, so you really get the best of both worlds.
What I Didn't:
Back to the confusing bits! So again, this isn't anything terrible, I just thought the ending was kind of quick- in fact, I wondered if there was a possibility of a sequel because of it (from what I can tell, there doesn't seem to be). For such a complex story (and one in which bits are revealed piece by piece), I wanted a little more closure, perhaps. But that could also just be a "me" thing, so take it for what it's worth.
Bottom Line: A perfect balance between fun and emotive, I was hooked on finding out both why the characters were in space, and what would happen to them next.
---
This Will Be Funny Someday by Katie Henry
Published by Katherine Tegen Books on January 19, 2021
Pages: 400
Format:eARC
Source:Copy provided by publisher for review, via Netgalley



A girl walks into a bar… then onto a stage, and up to the mic.

Sixteen-year-old Izzy is used to keeping her thoughts to herself—in school, where her boyfriend does the talking for her, and at home, where it's impossible to compete with her older siblings and high-powered parents—but when she accidentally walks into a stand-up comedy club and performs, the experience is surprisingly cathartic. After the show, she meets Mo, an aspiring comic who's everything Izzy's not: bold, confident, comfortable in her skin. Mo invites Izzy to join her group of friends and introduces her to the Chicago open mic scene.

The only problem? Her new friends are college students—and Izzy tells them she's one, too. Now Izzy, the dutiful daughter and model student, is sneaking out to perform stand-up with her comedy friends, and she can hardly remember all the lies she's telling to keep her two lives separate.

Her controlling boyfriend is getting suspicious, and her former best friend knows there's something going on. But Izzy loves comedy and this newfound freedom. As her two parallel lives collide—in the most hilarious of ways—Izzy must choose to either hide what she really wants and who she really is or, finally, truly stand up for herself.

Katie Henry has yet to disappoint me with her unique and entertaining contemporary fiction. It's no secret that I am especially picky about which contemporaries I pick, but this is the author's third hit for me, so she's firmly cemented herself as one of the few contemporary authors on my auto-buy list. This book may have actually been my favorite of hers, as I found the characters really enjoyable and the story fun and inspiring.
Izzy is great. She's so wonderfully flawed as a person, but she is also really awesome. She's got a hearing issue too, which I have not read about before. And she has been in this pretty awful relationship for far too long. She feels like a fifth wheel in her family, and she just seems so lost in general. She wanders (accidentally) into a comedy club where she finds herself taking the stage and actually really enjoying it. While she's there, she meets some comedians who treat her kindly and want to show her the ropes. Of course, they are in college and Izzy lies and pretends she is too. (This is the one thing I don't love about the book- these lies always come back to bite people, why do they do it? Actually, my problem is likely less with the book and more with humanity, but that is a post for another time*.)
As the book evolves, Izzy begins to find her strength as she becomes braver behind the mic. One of my favorite aspects of the book was Izzy coming to terms with what a complete asshat her boyfriend was. Like I want to push this guy in front of a bus. (It's fine because he's fictional; faux-murder is allowed.) She's finding her agency with her current relationships, including her family.  But at the same time, she worries about her new friends finding her out, and balancing her real life with her "college comedy" life.
Bottom Line: Ultimately it's a fun, sweet story with a great character who learns quite a few life lessons along the way.
*No seriously, I am working on this post as we speak! 
---
Last Night at the Telegraph Club by Malinda Lo
Published by Dutton Books for Young Readers on January 19, 2021
Pages: 416
Format:eARC
Source:Copy provided by publisher for review, via Edelweiss



Acclaimed author of Ash Malinda Lo returns with her most personal and ambitious novel yet, a gripping story of love and duty set in San Francisco's Chinatown during the Red Scare.

"That book. It was about two women, and they fell in love with each other." And then Lily asked the question that had taken root in her, that was even now unfurling its leaves and demanding to be shown the sun: "Have you ever heard of such a thing?"

Seventeen-year-old Lily Hu can't remember exactly when the question took root, but the answer was in full bloom the moment she and Kathleen Miller walked under the flashing neon sign of a lesbian bar called the Telegraph Club.

America in 1954 is not a safe place for two girls to fall in love, especially not in Chinatown. Red-Scare paranoia threatens everyone, including Chinese Americans like Lily. With deportation looming over her father—despite his hard-won citizenship—Lily and Kath risk everything to let their love see the light of day.

"Lo's writing, restrained yet luscious, shimmers with the thrills of youthful desire. A lovely, memorable novel about listening to the whispers of a wayward heart and claiming a place in the world."—Sarah Waters, bestselling and award winning author of Tipping the Velvet and The Night Watch

I fell completely and totally in love with Last Night at the Telegraph Club. It snuck up on me, too. At first it was fine, but I had no strong feelings. But somewhere around a quarter of the way through, I found myself wholly immersed and invested, and by the end I was having basically every feeling a person can have. I will try to explain coherently all the reasons I adored it!
Lily was such an amazing character. She wants so badly to make her family proud, to be successful, to be a good person. But she also understands, after some soul searching and exploration, what she wants in life. It's incredibly hard, especially given the time period, for her to have both, but she is so determined to find a way. She takes risks, and it's so hard, but she goes for what she wants, and I respected that beyond measure. And please don't misunderstand- she's not perfect. She falters, and has flaws, but at her core she's simply phenomenal and I adored her.
Lily and Kath together were equally wonderful. I could feel their romance seeping through the (electronic) pages. The tension, when they first became close, their actual romance, it all felt so very authentic. I couldn't help but cheer for them at every turn, and wanted so desperately for these young women to be able to be together without fear and hate.
The historical setting was so compelling. When we first meet Lily, she's not a gay Chinese-American teen, she's just a Chinese-American teen. She discovers her sexuality as the story develops, but upon first encounter, Lily is in fear not because she loves Kath, but because her father is being questioned by some anti-Communism jerks (that is obviously the technical historical term, right?) and is worried about deportation, even though he's done nothing even close to illegal. Lily even has a scare herself early in the story, where she is at a gathering with someone accused of being a communism sympathizer. Add to it, gay rights are nearly non-existent in 1954. So as Lily is discovering her first love in Kath, and what that means for her, she has to hide who she is, and be worried about another of her identities. It is heartbreaking and infuriating, and Lily is beyond brave even though she should never have had to be. Also, please do yourself a favor and read the author's note. It's incredibly thorough and so well-researched!
Lily now has to navigate a changing dynamic with family and friends. Because of both her relationship with Kath and her lofty dreams of going to space in the future, Lily finds herself clashing with her loved ones more than ever. Her best friend wants her to basically put on a dress and go to the school dance on the arm of some boy. Her parents want her to "tone down" her dreams. And Lily is over it, thank goodness. But, this doesn't mean it wasn't incredibly hard for her to face that her loved ones may not want what is best for Lily, but what is best for them. 
Bottom Line: I fell in love with Lily, cheered for her through the entire story, and loved every minute. Highly recommend.
Have you read any of these books? Plan to? Let us chat about them!