Gosh these are not even all November books, I am behind, guys! Well- technically I am, but I planned it as such so I didn't have 5 books in one post and 3 in the other, but it still unsettles me.
(This title is apparently a song. Never heard of it. Thanks, Google!)
Those Who Prey by Jennifer Moffett
Among the Beasts & Briars by Ashley Poston
Send Me Their Souls by Sara Wolf
Chasing Lucky by Jenn Bennett

---
Those Who Prey by Jennifer Moffett
Published by Atheneum Books for Young Readers on November 10, 2020
Pages: 416
Format:eARC
Source:Copy provided by publisher for review, via Netgalley


College life isn't what Emily expected.

She expected to spend freshman year strolling through the ivy-covered campus with new friends, finally feeling like she belonged. Instead, she walks the campus alone, still not having found her place or her people so far away from home.
But then the Kingdom finds her.

The Kingdom, an exclusive on-campus group, offers everything Emily expected of college and more: acceptance, friends, a potential boyfriend, and a chance to spend the summer in Italy on a mission trip. But the trip is not what she thought it would be. Emily and the others are stripped of their passports and money. They're cut off from their families back home. The Kingdom's practices become increasingly manipulative and dangerous.

And someone ends up dead.

At times unsettling and always riveting, Those Who Prey looks at the allure of cult life, while questioning just how far we're willing to go to find where we belong.

Wow guys, true embarrassing story, I was today years old when I realized what a clever play on words the title is. Because this book is about people who prey but under the guise of people who pray. Clever! (Not me, I am clearly zero percent clever.)  I have always been incredibly fascinated with cults, and even more so with the psychology of them. Those Who Prey delves deep into how a person can fall into such a situation, and I loved that, frankly.
My biggest issue with the book is one that I am actually hesitant to even put out as a negative, and that is that I didn't really get much of a sense of who Emily is as a person. The problem with that of course is that I felt a bit less connected to her. But on the flip side, I think that Emily had to be lost, as a person, and not really have a sense of who she was herself in order to make the story work. So I won't say it's a negative, I'll say it's… a necessary by-product? Great, let's move on to the good stuff!
Obviously, we the reader know from the start what Emily does not: this group ("The Kingdom", as they dub themselves) is bad news. But when Emily, who is feeling incredibly lost and alone at college far away from home (and wow could I relate to that), is approached and befriended by some peers who happen to attend what she thinks is a local church, she obviously gravitates to them. In truth, I think it's easy to tell that their befriending Emily was no happy accident, that they could sense her loneliness, her need to belong, and she seemed a good target, but I digress.
When she's given the "honor" of attending a mission trip in Europe, of course she jumps at the chance. She finally feels like she belongs somewhere, and seriously, who is turning down a summer in Europe, right? And yet again, the reader is privy to the red flags, but Emily is being hoodwinked the entire way. I'll not say much more about the plot from here, because it gets pretty intense, but know that things really pick up at this point. Emily no longer has a safety net, and The Kingdom is taking full advantage. The mission trip is definitely not as it seems, and Emily is beginning to see that The Kingdom isn't either. She has no idea who she can trust- her roommate? Her friends? Her budding love interest? Anyone? It becomes quite a wild ride, with a gorgeous (but scary) European backdrop.
Bottom Line: An intense look at how cults can suck an otherwise reasonable person into their grip, with a lot of mystery and mayhem included!
---
Among the Beasts & Briars by Ashley Poston
Published by Balzer + Bray on October 20, 2020
Pages: 352
Format:eARC
Source:Copy provided by publisher for review, via Edelweiss


Cerys is safe in the kingdom of Aloriya.

Here there are no droughts, disease, or famine, and peace is everlasting. It has been this way for hundreds of years, since the first king made a bargain with the Lady who ruled the forest that borders the kingdom. But as Aloriya prospered, the woods grew dark, cursed, and forbidden. Cerys knows this all too well: when she was young, she barely escaped as the woods killed her friends and her mother. Now Cerys carries a small bit of the curse—the magic—in her blood, a reminder of the day she lost everything. The most danger she faces now, as a gardener's daughter, is the annoying fox who stalks the royal gardens and won't leave her alone.

As a new queen is crowned, however, things long hidden in the woods descend on the kingdom itself. Cerys is forced on the run, her only companions the small fox from the garden, a strange and powerful bear, and the magic in her veins. It's up to her to find the legendary Lady of the Wilds and beg for a way to save her home. But the road is darker and more dangerous than she knows, and as secrets from the past are uncovered amid the teeth and roots of the forest, it's going to take everything she has just to survive.

I enjoyed Among the Beasts & Briars, though there were a few things that left me wanting a bit more. So let's break it all down, shall we?
The Yays:
Cerys was certainly a likable character.  Cerys being both really strong and brave but also definitely flawed was wonderful. She was taking on a lot but she didn't have to be some kind of perfect savior to do so. The fox indeed becomes and interesting character who I grew to like, too.
Cerys has to basically adventure through the menacing woods (the woods that no one should ever venture through, because magic) to save everyone. I do love me an adventure, so this was definitely a highlight!
The woods absolutely felt atmospheric and  unsettling, so the author did a great job there. I mean, you wouldn't catch me wandering around there, that is for sure. And the fact that Cerys has no idea what is even waiting for her if/when she gets through is intense as well!
The pacing was good, I wasn't bored. I felt that the book moved pretty quickly (or rather, appropriately quickly), and I was invested in what would become of Cerys and the fox (and everyone else, for that matter).
The Nay:
I feel like a reviewing failure here, but I just didn't love it?  I hate not being able to wholly pinpoint what didn't work for me, but here we are. It wasn't any one thing, honestly. Did I have to suspend some disbelief? Sure, but that's often par for the course with a fairtyale/fantasy situation. I did find a couple of twists predictable, but nothing too bad. The characters were fine, I certainly didn't dislike them, but I just didn't find them completely memorable either. And that is really the crux of the whole thing: Objectively, I don't have much negative to say about the book, but it just didn't wholly grab me. So there you have it.
Bottom Line: A fanciful adventure that was quite enjoyable and featured solid characters and a great atmosphere.
---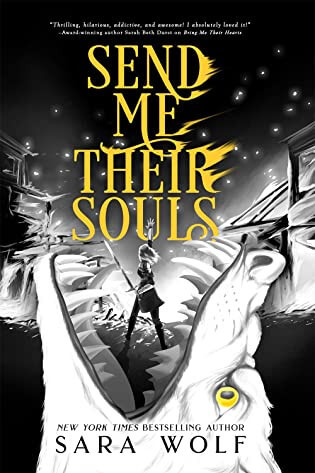 Send Me Their Souls by Sara Wolf
Series: Bring Me Their Hearts #3
Published by Entangled: Teen on November 3, 2020
Pages: 416
Format:eARC, Hardcover
Source:Copy provided by publisher for review, via Netgalley


The finale to the epic Bring Me Their Hearts series reaches its thrilling conclusion, full of intrigue, emotion, and of course romance.

Reunited with Lucien, Malachite, and Fione, Zera finally has the choice of whether or not to regain her humanity and give up her life as a Heartless. But with war raging and an army of valkerax on the loose, she's never needed immortality more. Will they be able to stop Varia without sacrificing themselves in the process?

The Bring Me Their Hearts series has been such a breath of fresh air in the YA fantasy genre, and its finale is no exception. It is certainly a dark series, but infused with humor and a uniqueness that makes it so, so enjoyable. Finales are always a little tricky to review, for fear of spoilers, so I'll keep it brief!
As in the first two books in the series, Zera and her friends are on another high stakes quest (and explaining that would give away too much from book two, but they're trying to like, save people and such) that of course is incredibly dangerous. But it also leaves them with some time for more relationship forming (romantic and friendships alike), and a lot of character development. Zera is, as always, comedic gold. She just has such a sharp, witty sense of humor that made her a truly unique character. Not only that, but the snarky banter she shares with her friends is always great.
My only complaint was that the pacing was a bit slow for me. But that was made up for with the character and relationship developments, as well as a great deal of emotional tension throughout. I felt quite content with the ending, even though I was sad to leave behind such a lovely cast of characters!
Bottom Line: If you've read the other two books, this conclusion will undoubtedly satisfy you. If you haven't started, I suggest you do so!
---
Chasing Lucky by Jenn Bennett
Published by Simon Pulse on November 10, 2020
Pages: 416
Format:eARC
Source:Copy provided by publisher for review, via Netgalley


In this coming-of-age romance perfect for fans of Jenny Han and Sarah Dessen, a rule-abiding teen embraces her more rebellious side while falling for her ex-boyfriend's arch-nemesis.

Josie Saint-Martin is well-versed in the art of concealment. Bullied as a child, she's spent most of her life with her single mother, moving from city to city, covering up what she doesn't want others to see, comfortable behind the lens of her favorite vintage camera . . .until Josie's grandmother dies and they return to her mother's historical New England hometown to run the family bookstore. There, Josie pulls off the ultimate camouflage: dating Adrian, the Harvard-bound son of the most influential man in town.

But her smokescreen is blown when Adrian breaks up with her during his high school graduation party, and Josie's poorly executed act of revenge lands her big-time trouble—jail alongside the last person she'd want to share a mugshot with: the mysterious and brooding son of the boat mechanic next door, Lucky Karras.

Forced to spend the summer together in mandatory community service, Josie and Lucky become the talk of their coastal town—shamed, trolled, and publicly disgraced. The weird thing is, Josie starts to not mind, because the pair have more in common than she once thought. A lot more. But during a summer of secrets, in a town built on gossip, everything rises to the surface. Can Josie and Lucky swim past these obstacles, or will they both go down together?

Legit, every time I read a Jenn Bennett book, my life improves. That's just a fact. And Chasing Lucky fits the bill, no doubt. I leave each of Jenn's books feeling better than when I started, and that's a gift.
This, like the author's other books, features a very adorable romance. Interestingly, it falls into both "friends-to-lovers" and "enemies-to-lovers", so I daresay there's something for everyone. Josie is moving back to her childhood town, after basically running around the east coast with her mom. Her mom is a pretty solid avoider, and of course they have a lot of relationship stuff to work through. They are also all crap at communicating, which is probably my one frustration with the book. It makes absolute sense in context, but I can't help that it is just a personality trait that irks me in general.
As such, Josie isn't the best communicator with anyone. Her mom, Lucky, who had been her bestie before they'd moved away, her cousin, she has some rocky moments with them all. But I liked that because it is fairly normal and definitely relatable, even though it irks me on a personal level. As always, the author made me care deeply about all the characters, and root for Josie throughout. It's sex positive as always, and features such a unique historic coastal town that I couldn't help being intrigued by.
Bottom Line: Another hit from Jenn Bennett, who I am beginning to think is only capable of hits. A charming romance with realistic yet lovable characters, and a strong family storyline to boot.

Have you read any of these books? Plan to? Let us chat about them!