Fun fact: This title was just a placeholder, but I couldn't think of anything better so… I just went with it 🤷‍♀️
Wow look at me with another bunch of books I liked! I genuinely think I am getting better at figuring out what I like after about 452 years of reading…
Star Daughter by Shveta Thakrar
Cut Off by Adrianne Finlay
The Black Sky by Timothy D. Minneci
The Nemesis by S.J. Kincaid

---
Star Daughter by Shveta Thakrar
Published by HarperTeen on August 11, 2020
Pages: 448
Format:eARC
Source:Copy provided by publisher for review, via Edelweiss


The daughter of a star and a mortal, Sheetal is used to keeping secrets. Pretending to be "normal." But when an accidental flare of her starfire puts her human father in the hospital, Sheetal needs a full star's help to heal him. A star like her mother, who returned to the sky long ago.

Sheetal's quest to save her father will take her to a celestial court of shining wonders and dark shadows, where she must take the stage as her family's champion in a competition to decide the next ruling house of the heavens--and win, or risk never returning to Earth at all.

This gorgeously imagined YA debut blends shades of Neil Gaiman's Stardust and a breathtaking landscape of Hindu mythology into a radiant contemporary fantasy.

I must admit, I was a wee bit leery of the whole "stars as people" concept, mostly because I had a hard time wrapping my head around it, in theory. But in practice, the author made it work so perfectly that it wasn't an issue whatsoever! I say this because if you are like me, and find illogical things iffy, I am here to assure you that it won't be a problem! 
Sheetal was a great character, put in a really difficult situation. She's torn between two different worlds, quite literally. She has been living with her dad, her extended family, and friends in the mortal world, missing her mom. When she finds out that she is an actual star, she is able to see her mom again, but in her mom's world. And not only that, her mom's family has plans for Sheetal. I felt for her, because this family she's never known is pretty much using her to accomplish their own goals, while Sheetal is over here trying to figure out who she is and where she is supposed to be. And with Sheetal's dad injured by her own accidental magic, she's desperate to save him and her mom's family kind of exploits that desperation.
I loved Sheetal's friendship with her bestie, Minal, who was able to accompany her to Star World.  They were just such a lovely and healthy example of a strong female friendship. And I absolutely loved Sheetal's developing relationships and mixed feelings with/about her whole family. Sheetal had a romance that itself transcended the mortal world into the Star realm. Speaking of the Star realm, I loved everything about it! The culture, the FOOD (okay fine, especially the food), honestly it was just fabulous and I really enjoyed reading about it!
While at times the pacing felt a little off (some moments that felt too slow, then a bit of a rush at the end), and I didn't exactly love the romance, it was still a solid book that I absolutely enjoyed!
Bottom Line: Such an incredibly well-constructed world of magic and mythology, it provided a great backdrop for Sheetal to learn so much about herself, her relationships with family and friends, and her newfound Star abilities.
---
Cut Off by Adrianne Finlay
Published by HMH Books for Young Readers on August 11, 2020
Pages: 384
Format:eARC
Source:Copy provided by publisher for review, via Netgalley


Warcross meets Lost in this haunting young adult sci-fi thriller in which teens compete to survive in the wilderness for one million dollars on a new virtual reality show. When something goes horribly wrong and the contestants realize no one is coming to save them, they must question their very reality—and how much of the game is really for show.

Each contestant has their own reasons—and their own secrets—for joining the new virtual reality show CUT/OFF that places a group of teenagers alone in the wilderness. It's a simple premise: whoever lasts the longest without "tapping out" wins a cash prize. Not only that, new software creates a totally unprecedented television experience, allowing viewers to touch, see, and live everything along with the contestants. But what happens when "tapping out" doesn't work and no one comes to save you? What happens when the whole world seemingly disappears while you're stranded in the wild? Four teenagers must confront their greatest fears, their deepest secrets, and one another when they discover they are truly cut off from reality.

Sci-fi, mystery, and romance converge in this high-stakes, fast-paced read that will leave you guessing to the very last moment.

Cut Off is straight up entertaining, there is no other way to say it. If you are looking to get lost in a book and just have a damn good time, this is that book. Is it a literary tour-de-force? No. It needn't be, it's about a reality show so I wasn't exactly expecting it to be.
What I Liked:
It's mysterious and I was always wondering what exactly was happening. I mean, it starts off ominous and creepy, but then things get downright bizarre! I would watch this show, let's be real.
Definitely action-packed and fast paced. I was never bored while reading, because I was so eager to figure out what was happening, what would be the next obstacle, etc.
Survival for the win! I love a survival story, always have, always will. And it started out as a pretty straightforward survival situation. And then, it evolved to something more creepy- surviving in some very unusual circumstances!
I liked how the characters' personal lives and experiences came into play. I found that a fun way to get to know them, especially as they tried to hide these pieces of themselves from their fellow castmates/survivors. Because of course, your deep rooted fears aren't generally the things you want to share with strangers, especially on national television.
What I Didn't:
I wished the characters were a bit more developed. I enjoyed that we did get to learn more about them as the book went on, but I would have liked more, if I am being honest. In the same vein, the romance was a little insta-lovey for my taste.
There was a bit of an anxiety pill plot point that I don't quite understand. River was mad because Trip gave Cam a pill, which I understood, it is irresponsible to share prescriptions. But then he shames Trip for taking Trip's own prescription, and like. Maybe Trip needs them? It wasn't discussed enough in my opinion, because no one should be shamed for needing medication for anxiety.
Bottom Line: An exciting adventure and a very fun concept, I flew through this book!
---
The Black Sky by Timothy D. Minneci
Series: Perseverantia #1
Published by Reverbose on August 28, 2020
Pages: 328
Format:ARC
Source:Copy provided by author for review


Bishop and Tessa Dawes survive on opposite sides of the Manhattan Island seawall, one of fifteen corporation-controlled cities across the United States in the post-asteroid apocalypse. While Bishop works off citizenship debt in the drone command center, slowly building credit to secure her entry in two years, Tessa survives in the lawless boroughs surrounding the city, reconditioning knives for the black market Free Zone controlled by bullet gangs. On a cold January day, an offer from management - Bishop has forty-eight hours to drive to the free city of Bangor, Maine and kidnap a doctor capable of saving the life of Manhattan's ill CEO. Upon his successful return, his debt will be wiped clean, and Tessa will be granted entry, their year and a half separation ended, a new life within their grasp.

Bishop departs for Bangor unaware of the forces working for and against him, the corporate backstabbing and deception at the highest levels of Manhattan's government, of the fate of the soldiers sent before him, and the immediate threat to Tessa's safety. The Black Sky is ultimately a story about family by blood, by circumstance, and by community, while exploring themes of economic, technological and surveillance extremism.

When the author approached me with a request to review this book, I pretty readily agreed. Want to know why? He appealed to The 100 fan in me, and apparently that is what it takes. This should surprise no one. But beyond that, I thought the concept was very exciting. And guess what? I was right! It was completely, unequivocally exciting! So let's talk about it now!
What I Loved:
Like I said, it is wholly thrilling. The action really does not stop. It's high octane, high stakes, high reward. Which, is always a great combo, frankly.
The world-building was great! One of my favorite things about any post-apoc/dystopian book is when I actually get a good feel for the hows and whys of the world. The author does this wonderfully, and incorporates the world into the story in a way that makes it a plot point. It's another thing I am quite fond of, really. Vagueness and I don't get along, and this world was anything but. The author even mentions what is happening in other places, not just our Manhattan/New England settings.
I loved Tessa!  Her Octavia Blake-ness is what sold me on the book in the first place, and she delivered without a doubt. She is tough and gritty, but also incredibly compassionate and empathetic and loyal. That is basically my favorite character combo.
Lots of twists and turns! Obviously I will be intentionally vague here, but there were things that I definitely did not see coming, especially along Bishop's journey!
Definitely morally gray, and I never knew (nor did the characters) who could be trusted. Don't you just love when a villain isn't obvious? You think you know at the start, but then you'll question yourself. Many, many times. Can anyone in this world be trusted, fully? My guess is no, tbh.
It's definitely dark! This world isn't cute. It isn't pleasant. There are bits of hope, which is good, but for the most part, it's bleak. People are scraping by to survive, and only the elite are welcomed into Manhattan's walled city. I daresay there is a good deal of current social commentary interspersed here, too.
What I would have liked more of:
Bishop Connection! This is my only real complaint, honestly. Sometimes weapon talk flew over my head a little, but that is more a "me" problem than a book problem. I just wished that I had a better sense of who Bishop was as a person. Obviously it's clear he'd put his life on the line for the chance of a better future for his wife and himself, and he's clearly a badass, but I do hope to connect more to him in the next book (which I will absolutely be reading).
Bottom Line: I recommended this book to my dad. I have recommended like, two books ever to my dad because he has incredibly high standards. So there you have it.
Real Bottom Line: A book full of adventure and survival in a world where no one can be trusted and everyone has an agenda, the characters stand out for their willingness to stop at nothing to not only survive, but thrive.
---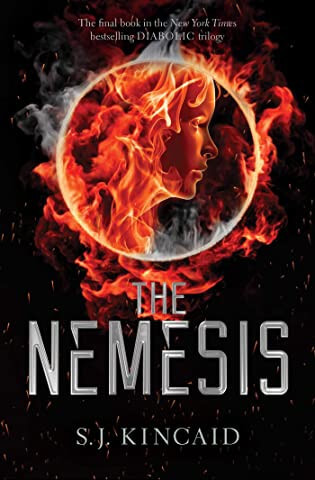 The Nemesis by S.J. Kincaid
Series: The Diabolic #3
on August 25, 2020
Pages: 416
Format:eARC
Source:Copy provided by publisher for review, via Netgalley, Won


In the heart-pounding conclusion to the New York Times bestselling Diabolic series, the Empire teeters on the edge of destruction as rumors spread that Nemesis is still alive.

Three years ago, Tyrus Domitrian shocked the universe by killing the woman he swore to love forever. The woman for whom he upended the Empire. The woman with whom he wanted to build a new, and brighter, future.

Now, the once-idealistic heir apparent has become the cruel Emperor Tyrus, wielding his authority with an iron fist, capable of destroying galaxies with a single word, controlling all technology with a simple thought. He has bent the Grandiolquy to their knees, and none have the power to stand against him.

But there is a muttering among the Excess. They say that Nemesis is not truly gone. They mutter of her shadow spotted in distant galaxies. They say that Nemesis lives. That she will rise, and rally the people to topple man who was once her truest love—and is now her fiercest enemy.

Series authors take note, this is how you end a series! I will obviously be keeping this one vague/short because series finale and all, but if you hadn't started because you've been let down by series in the past… yeah, this was one of my favorite series enders of… well, ever. So let me tell you all about what was awesome!
Such high stakes! The whole series is full of high stakes, and this book is no different. The fates of our main characters are always in question, but that too of the universe around them. Add to it, the author isn't exactly shy about killing characters, so no one is like, guaranteed safe here.
Morally gray, my fave! You all know how much I love an "impossible decision" by now, yeah? Well, they are aplenty in this series, especially in this finale!
The characters go through a lot of change and development and growth. Again, I have to be vague (series are so hard to review, right?) but the characters have all changed so much from when we first meet them. Add to it that even more minor characters are really well developed, so it makes the reader care and connect for so many characters!
I had so, so many feels. My emotions were amped during this book. And, all over the place! Which, I think is a huge win for any reading experience.
I was not, for one minute, bored. The pacing was spot-on for me, a great balance of action and character-driven plot points, I absolutely never wanted to put the book down. At the same time, I loved it so much that I didn't want the series to end, and frankly that is the best way for a series to end!
Bottom Line: Honestly, the best of the series right here. It was so engaging and exciting and full of intense emotions and equally intense character development.
Have you read any of these books? Plan to? Let us chat about them!