These books do not have anything in common, not even month of publication. We've got quite a mix here! Sci-fi, adult, dystopian, contemporary, thriller… some fit more than one category, you know how it is. But they're all summer books so here you go!
Blue Ticket by Sophie Mackintosh
Burn Our Bodies Down by Rory Power
Hard Wired by Len Vlahos
Now & When by Sara Bennett Wealer

---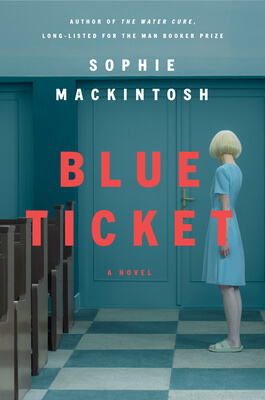 Blue Ticket by Sophie Mackintosh
Published by Doubleday Books on June 30, 2020
Pages: 304
Format:eARC
Source:Copy provided by publisher for review, via Netgalley


In a world where women can't have it all, don't underestimate the relief of a decision being taken away from you.

Calla knows how the lottery works. Everyone does. On the day of your first bleed, you report to the station to learn what kind of woman you will be. A white ticket grants you marriage and children. A blue ticket grants you a career and freedom. You are relieved of the terrible burden of choice. And once you've taken your ticket, there is no going back. But what if the life you're given is the wrong one? When Calla, a blue ticket woman, begins to question her fate, she must go on the run. But her survival will be dependent on the very qualities the lottery has taught her to question in herself and on the other women the system has pitted against her. Pregnant and desperate, Calla must contend with whether or not the lottery knows her better than she knows herself and what that might mean for her child. An urgent inquiry into free will, social expectation, and the fraught space of motherhood, Blue Ticket is electrifying in its raw evocation and desire and riveting in its undeniable familiarity.

So, this one was a bit of a mixed bag for me. It was definitely more good than bad, and I am glad that I read it, but there were a few things that left me wanting a bit more. Let's break it down! 
The Things I Loved:
The whole concept was intriguing, and not all that farfetched. I mean look, we're going to be in a situation of overpopulation, it's just the facts. And we've all heard the current news out of China, making this a timely topic. Women basically being granted the ability to have children is terrifying- both for those who are expected to bear children, and for those who aren't allowed to.
Calla's journey was intense and changed her so much as a person. To go from imagining your whole life as one thing (career, friends, having fun) to a completely different one (deciding to remove her birth control, conceive and bear a child, all while on the lam) is quite a transformation in itself. But the things she learns along the way and the people she meets on her journey change her more than she ever imagined possible.
Speaking of the journey, it was pretty great! I love when a character has to go on the run, to survive no matter what obstacles lie in their path. This was that type of excursion for sure, but with the added pressure of a baby's welfare in the mix.
I also really enjoyed the relationships that Calla formed along the way. The people she met added quite a lot to the story, which had a tendency to be solitary, considering Calla's circumstances.
What I Didn't:
The world-building was lacking. When is this? Where is this? Why is this? No idea on any fronts. I suppose that could have been intentional, in the "it could happen anywhere" way, but I am too curious for that to appeal to me.
I couldn't wrap my head around Calla's motivations. In the beginning of the book, Calla was into bar hopping and hooking up, and basically a lot of her own endeavors. That's totally fine, but I couldn't comprehend why she'd suddenly decide to give her whole life up to raise a child- one she'd never particularly wanted. It seemed very… on a whim, and that doesn't seem like the best reason to have a child under any circumstances, let alone a situation where both her life and the child's were now in danger. The father also had no idea it was possible for him to be a father, which seemed rather unfair of Calla. Then she's mad that he's not exactly tickled about being lied to and manipulated which… what now?
Calla is kind of just unlikable. I mean, even after she removes her birth control, and gets pregnant knowing she's now in deep shit, she continues her reckless behavior. That bothered me extra, because if you're going to bring a child into the world, maybe don't set it up for failure by drinking and such? Like why go to all this trouble of skirting the law and running away just to not take care of your kid? So much of what she did was extremely selfish, and while that is how society set her up to be, she didn't have to continue it. Maybe if we knew more about her as a character she'd have been easier to connect to.
Bottom Line: Definitely a compelling premise and an interesting story, but could have been made better by more developed characters and world.
---
Burn Our Bodies Down by Rory Power
Published by Delacorte Press on July 7, 2020
Pages: 352
Format:eARC
Source:Copy provided by publisher for review, via Netgalley


From the author of the New York Times bestseller Wilder Girls comes a new twisty thriller about a girl whose past has always been a mystery–until she decides to return to her mother's hometown . . . where history has a tendency to repeat itself.

Ever since Margot was born, it's been just her and her mother. No answers to Margot's questions about what came before. No history to hold on to. No relative to speak of. Just the two of them, stuck in their run-down apartment, struggling to get along.

But that's not enough for Margot. She wants family. She wants a past. And she just found the key she needs to get it: A photograph, pointing her to a town called Phalene. Pointing her home. Only, when Margot gets there, it's not what she bargained for.

Margot's mother left for a reason. But was it to hide her past? Or was it to protect Margot from what's still there?
The only thing Margot knows for sure is there's poison in their family tree, and their roots are dug so deeply into Phalene that now that she's there, she might never escape.

Having enjoyed the author's debut, Wilder Girls (and still wanting that sequel, can we get a sequel, Delacorte? Please and thanks), I was really looking forward to Burn Our Bodies Down, and it definitely did not disappoint! I am going to break it down into what I liked versus just the little things I didn't, so here we go!
The Stuff That Worked:
Holy atmosphere! The author absolutely has a knack for writing eerie, mysterious settings and worlds. It takes place in small-town Midwest, with just the right amount of rurality to make you feel uneasy. Then we segue to a family farm which… look, Midwest farms are just kind of iffy. No neighbors for miles, who knows what you're gonna find in the crops, you know the drill. But even the way the author wrote the characters feels just enough "off" for it to be unsettling. Quite perfect, really.
Obviously, I needed to know what was behind the mystery! From the start of the book, something just was not right in Margot's world. Her mom acted super bizarre, and Margot was so isolated. Then we meet dear old Grandma, and yep, curiouser and curiousier.
It's so family focused, which is refreshing for a horror story. I mean- so often we've got missing classmates or friends or whatever, but in this case, pretty much the whole mystery was interwoven with Margot's family. Not only that, Margot's own focus was very family-oriented. She so desperately wanted to belong, to have a family unit. And sure, she was eager to make friends with peers too, but family was number one.
Things get pretty bizarre and I liked it. I mean. I can't say anything else, obviously, but things take A Turn™ and I am here for those.
What Didn't:
Bits moved kind of slowly, especially at first. I get that we needed to build up Margot's family background and home situation, but it seemed a little longer than necessary? I felt for Margot, but at the same time, I needed some stuff to happen. It was hard to connect to her when we were just living her regular life, so I was glad things got moving after about 20%.
Bottom Line: Atmospheric and family focused, this was certainly a unique mystery that I could not have predicted!
---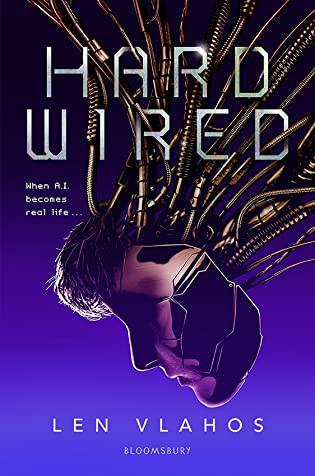 Hard Wired by Len Vlahos
Published by Bloomsbury YA on July 7, 2020
Pages: 320
Format:eARC
Source:Copy provided by publisher for review, via Netgalley


From Morris finalist Len Vlahos comes a contemporary sci-fi story about a boy who might not be human—for fans of Westworld and Black Mirror.

Quinn thinks he's a normal boy with an average life. That is, until he finds a trail of clues the father he barely knew left behind.After Quinn unravels his father's puzzles, he "wakes up" ... and realizes his world was nothing more than a virtual construct. In reality, he's the first fully-aware A.I. in the world, part of an experiment run by a team of scientists—including the man he thought was his father.As the scientists continue to study him, Quinn's new existence becomes a waking nightmare.

Determined to control his own destiny, he finds allies in other teens—including crush Shea—and plots his escape. But what does true freedom look like when you're not human?

Acclaimed Morris Award finalist Len Vlahos pens a high-stakes contemporary-rooted sci-fi that asks big questions about humanity.

So first of all, I almost never read synopses. So I knew it was sci-fi, and I knew that I really liked the author's previous book, so I went for it. And I will say this: I really think not reading the synopsis is a really good idea here. When I was writing this review, I realized that the synopsis gives away what happens after like, the first big chunk of the book. And I get it, they have to sell the thing, but I just think going in without knowing is better. So take that for what it's worth, though if you found my review I guess you already read the synopsis. Sigh.
My favorite thing about the book is that it's incredibly thought provoking. What makes someone human? And, in a time when human rights debates are front and center, these questions feel extra relevant. Without giving too much away, Quinn is just desperate to belong. He just wants a chance to live his life, to find people he cares for (and who care about him), and be able to choose his own paths.
There are a few moments that felt a bit outlandish, but overall it was full of heart, and full of debates on what humanity is at its core.
Bottom Line: Sweet and thought-provoking book that will appeal to those who enjoy a lighter sci-fi fare in a contemporary setting.
---
Now & When by Sara Bennett Wealer
Published by Delacorte Press on July 14, 2020
Pages: 304
Format:eARC
Source:Copy provided by publisher for review, via Netgalley


For fans of Jenny Han and Christine Riccio comes a romantic dramedy about a teen girl who stumbles upon a mysterious website that tells her everything she doesn't want to know about her future.

There's something about Truman Alexander that Skyler Finch finds incredibly annoying. Actually, several things: his voice (grating), his arrogance (total know-it-all), his debate-team obsession (eyeroll), and his preppy vibe (does he iron his shorts?). She does her best to avoid him and focus on the important stuff: friends, school, and her boyfriend, Eli. His promposal was perfect--just like he is--and the future is looking bright. Or is it?

For some unexplainable reason, Skylar's phone is sending her notifications from the future . . . a future in which, to her horror, she appears to be with Truman. As in, romantically. As in, Skyler cannot let that happen.

But trying to change the future means messing up the present, and what Skyler sees keeps shifting. Classmates disappear and reappear, swap partners and futures. Turns out there are no actions without reactions, and life doesn't come with a road map. But sometimes the wandering leads you exactly where you need to be, and people--like glitchy phones--are full of surprises. (less)

I found this to be quite the adorable book! Upfront, I will tell you that people have been and will be irked by some cheating. And without going into it too deeply, I'll be quite clear that it didn't bother me. Look, I am not saying that cheating is awesome, or the right thing to do, but humans make mistakes. And I think this book illustrated that it isn't a great plan, the character felt terrible, apologized, and moved on.
Actually, I lied, I am going to delve deeper. Here's my thing: Skylar is a young woman who always wants to be perfect. And she makes a mistake clearly. But I seriously want to find someone who hasn't made a poor choice, or a decision they regretted, or felt bad about. Because we all have. And saying "well she sucks" because of an indiscretion? What message does that send? I will probably post about this more in depth and move along, but those are my two cents.
Beyond that, the book is just plain fun. I mean, an Instagram link on a glitchy phone that shows you your future photos? So clever! And I worried that it could be either adorable or hokey, and luckily it was adorable. And it brings up so many questions! Would you want to know your future? What would you do with this information?
And it isn't only a romance! The book focuses mostly on Skylar and her friends growing and changing and trying to decipher who they want to be. There's also a focus on mental health, as one of Skylar's best friends has been struggling. I liked that the author provides a lot of discussion, and portrays it as a great learning moment for Skylar to understand and support her friend appropriately. Skylar also has to navigate family issues as well as general coming-of-age decisions.
Bottom Line: While it's packaged as a enemies-to-lovers romance (and that is accurate), it's also so much more. It's a story about a young woman figuring out who she is and who she wants to become, with an enjoyable romance in the mix.

Have you read any of these books? Plan to? Let us chat about them!