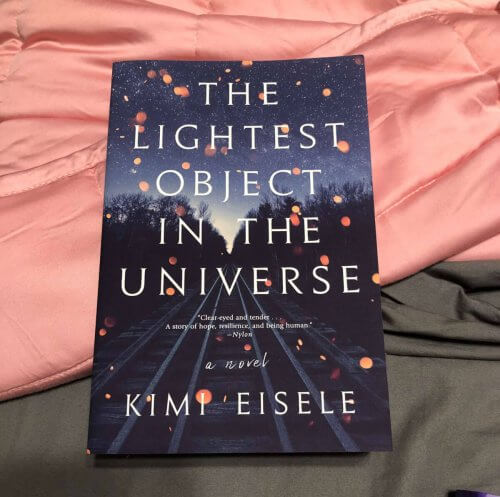 Hello, darlings! Today I am super excited to share with you my thoughts on The Lightest Object in the Universe by Kimi Eisele! I quite enjoyed this one, and I hope you do too!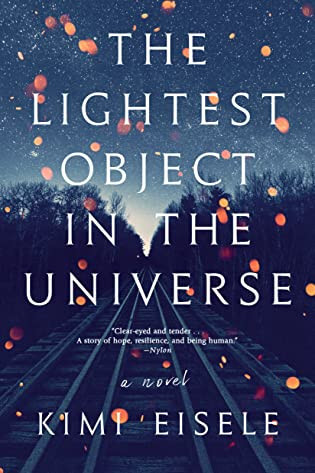 The Lightest Object in the Universe: A Novel
by Kimi Eisele
Published by Algonquin Books
on July 9, 2019
Pages: 352
Format:eBook, Paperback
Source:Copy provided by publisher for review, via Netgalley

If the grid went down, how would you find someone on the other side of the country? How would you find hope?

After a global economic collapse and failure of the electrical grid, amid escalating chaos, Carson, a high school teacher of history who sees history bearing out its lessons all around him, heads west on foot toward Beatrix, a woman he met and fell hard for during a chance visit to his school. Working his way along a cross-country railroad line, he encounters lost souls, clever opportunists, and those who believe they'll be delivered from hardship if they can find their way to the evangelical preacher Jonathan Blue, who is broadcasting on all the airwaves countrywide. Meanwhile, on the other side of the country, Beatrix and her neighbors turn to one another for food, water, and solace, and begin to construct the kind of cooperative community that suggests the end could, in fact, be a promising beginning.

But between Beatrix and Carson lie 3,000 miles. With no internet or phone or postal service, can they find their way back to each other, and what will be left of their world when they do? The answers may lie with fifteen-year-old Rosie Santos, who travels reluctantly with her grandmother to Jonathan Blue, finding her voice and making choices that could ultimately decide the fate of the cross-country lovers.

The Lightest Object in the Universe is a story about reliance and adaptation, a testament to the power of community and a chronicle of moving on after catastrophic loss, illustrating that even in the worst of times, our best traits, borne of necessity, can begin to emerge.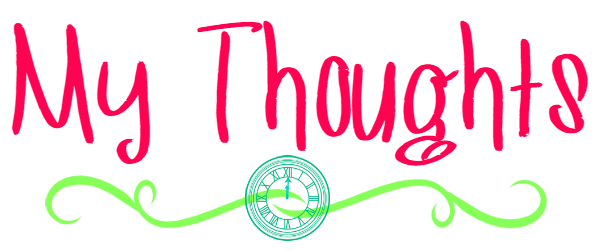 I fully admit, I am a sucker for post-apocalyptic fare. Even know as they often hit way too close to home, I still gravitate to them. So it makes sense that I was eager to read this one. And it delivered! So let's talk about why!
It was, at its core, hopeful. Yes, that may seem an odd way to describe an end-of-days book, but it was! Even when I wasn't sure how things would turn out, or whether our characters would make it, there were still rays of hope. I feel like if hope can be found in the bleakest of times, it's a commentary on the strength of mankind, and that is just plain inspiring.
I was really invested in the characters' journeys, both internally and externally. Beatrix is an awesome character from the start, having done all sorts of great work pre-apocalypse. But now she's trying to figure out where she belongs in this new world. Carson is, quite simply, looking for Beatrix. He had been widowed several years prior, and that makes him more aware of what matters most to him. And at the end of the world, it's Beatrix. So he sets out to travel coast-to-coast to find her. Meanwhile, we get to meet a lot of people at Beatrix's neighborhood-turned-family, and I grew very invested in them too.
The actual travels are great too. I am a sucker for a road trip, even if it happens to be on foot (or bike, in some cases). I feel like they give you such an insight into the characters' motivations, strengths, and weaknesses. How do they handle these challenges? Do they grow? I loved how the author absolutely used the travels in this novel to give the reader a look at what makes the characters tick.
It all felt eerily plausible. I mean, maybe that is because of our current global crises, but I think it's probably a combination of that, and the fact that the author just does a good job at making the world feel believable. The way characters, good and bad, act in the wake of such dire straights is all too easy to understand. The way the world collapses, the way some people try to lift it back up while others take advantage. It's all just so honest.
Bottom Line: I adored this tale of survival and finding out what the important things are in life. While it's certainly a dire world, it's filled with pockets of hope and characters I cared about.

So, what do you think, dears? Are you excited for this one?