Welcome to my stop on the

IndieSage Blog Tour for Fractures
by Alice Reeds.  

I am so excited to share with you my thoughts on this fabulous book and give you a chance to win some fun swag!!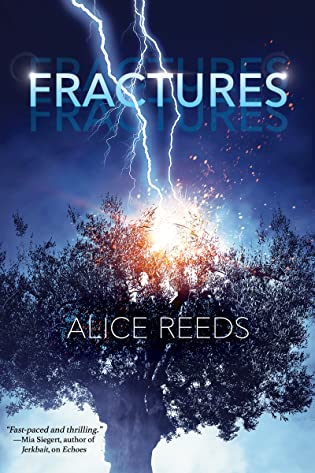 Fractures by Alice Reeds
Series: Echoes #2
Published by Entangled: Teen on July 6, 2020
Format:eARC
Source:Copy provided by publisher for review, via Netgalley


They survived a plane crash.They survived life on a deserted island.They survived being hunted.Now they must survive the truth—they are not who they think they are.

One minute they're in Poland, subjected to gruesome tests they keep failing. No friends to support them. No family to claim them. No hope of ever living a normal life again.

Then suddenly, they're trapped on an abandoned freighter in the middle of the ocean and forced to fight for survival. No food. No drinkable water. No way to get home. And strange memories of another life they don't understand.

But how can they be living two separate lives, trapped in two separate places, at the same time? They'll have to find the connection and uncover secrets that someone went to great lengths to keep hidden...if they're going to survive long enough to find out who is behind it all.

I really enjoyed reading Echoes, and was pretty excited to get to its follow up! This book picks up right where Echoes ends, and it ends on quite the cliffhanger, so it's going to be hard to not spoil anything from the first book. I'll do my best to keep it vague though! I am just going to break down everything I enjoyed about the book!
We learn so much more about the characters! In Echoes, there's a ton of action and uncertainty about who our main characters are. But in this book, while there is still tons of action, a lot of it is about character development.
As I said, the action is still very much present. The stakes are also very high (and our main characters have finally begun to understand just how high) and so every action-filled moment becomes even more important and thrilling.
The mystery remains fabulous. My favorite part of Echoes was the mystery, and it definitely doesn't disappoint here! While we do find out the answers to some questions, they lead to more questions throughout the book so you're always excited to keep reading to figure out more.
All the clues and action made it compulsively readable. I really wanted to know what was happening to Fiona and Miles, so I basically had to keep reading. Especially when I thought I might be onto something (even though I probably wasn't), I got excited!
The ending is SO satisfying! I loved that everything was answered and resolved. It makes me happy. I won't say more than that because obviously I am not spoiling the ending, but it was a good one.
Bottom Line: Even better than the first book, Fractures builds upon the characters, the mystery, and world in an exciting and satisfying conclusion.
Tell me about a series with a satisfying conclusion, because I love those!