Here's more March books, because y'all, the March books do not stop. Good news though, I liked all of these! Yay!
Spindle and Dagger by J. Anderson Coats
All Your Twisted Secrets by Diana Urban
The Degenerates by J. Albert Mann

---
Spindle and Dagger by J. Anderson Coats
Published by Candlewick Press on March 10, 2020
Pages: 304
Format:eARC
Source:Copy provided by publisher for review, via Netgalley


This rich literary novel follows Elen, who must live a precarious lie in order to survive among the medieval Welsh warband that killed her family.

Wales, 1109. Three years ago, a warband raided Elen's home. Her baby sister could not escape the flames. Her older sister fought back and almost killed the warband's leader, Owain ap Cadwgan, before being killed herself. Despite Elen's own sexual assault at the hands of the raiders, she saw a chance to live and took it. She healed Owain's wound and spun a lie: Owain ap Cadwgan, son of the king of Powys, cannot be killed, not by blade nor blow nor poison. Owain ap Cadwgan has the protection of Saint Elen, as long as he keeps her namesake safe from harm and near him always.

For three years, Elen has had plenty of food, clothes to wear, and a bed to sleep in that she shares with the man who brought that warband to her door. Then Owain abducts Nest, the wife of a Norman lord, and her three children, triggering full-out war. As war rages, and her careful lies threaten to unravel, Elen begins to look to Nest and see a different life — if she can decide, once and for all, where her loyalties lie. J. Anderson Coats's evocative prose immerses the reader in a dark but ultimately affirming tale of power and survival.

I was pretty darn stoked to read a book set in 1109. I mean it even looks cool typed out, does it not? Plus, it's just not a time period I know a ton about and I love to learn cool stuff about old times! And it really is a neat book. Elen is in Wales in the early twelfth century, and obviously things are less on the comfy side and more on the brutal. Her whole family has been slain, and she's worked her way into the inner circle of their murderers.
Now, she travels around with Owain ap Cadwgan, leader of the warband and son of the king. Only, the king doesn't like her, most of the warband despises her, and she's not really sure what she wants. To survive, really, is the bottom line. Until Owain captures the innocent wife and children of an enemy, and she begins to see that there might be another way to live.
The world is, predictably, brutal. Like no one thinks twice of this warband's existence, right? It's totally legit that they raid towns and kill randos. But at the same time, there seems to be some sort of lines one should not cross (like the killing of Owain's Second, which is what lead him to kidnap the family in the first place), which is incredibly interesting. And, this is based on a true story which is even more fun!
Watching Elen have to make so many horrible choices while she remembers all too vividly the demise of her family is rough. But there is hope that she will find a way to live a better life, which is ultimately so worth reading about. Nest and her family are also phenomenal characters, and I was just as concerned (fine, maybe more concerned) for their lives and welfare as I was for Elen's. That, and roaming around twelfth century Wales is just fabulous!
(Not the review just a gripe session.) 
My biggest complaint here is one that is not the author's fault whatsoever, but something that did effect my enjoyment of the book, and I feel like it needs to be addressed, so here we go. I could barely read the thing. I set it aside hoping I'd just get myself a finished copy, but after the world shut down, that wasn't an option anymore so I did my best. At some point, I managed to figure out a lot of what the missing letters were, and tried to turn it into a game of sorts, deciphering a code.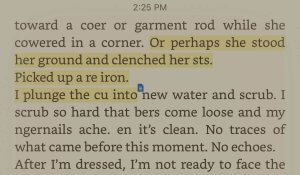 Examples. 
Look, I get that sometimes eARCs will be a bit rough around the edges, but I need to be able to read it. In addition, the headings also seemed to be missing, and entire sentences (or more, I guess) were cut off. And sadly, I saw a ton of Goodreads reviews that were DNFs, which is so unfair to the author because it wasn't that people hated the book, many explicitly stated that they just could not read the thing.
Bottom Line: Once I finally started to be able to decode all the missing letters, this was a really solid book with characters that I truly cared about. Plus, the time period and setting were so unique and intriguing!
---
All Your Twisted Secrets by Diana Urban
Published by HarperTeen on March 17, 2020
Pages: 400
Format:eARC
Source:Copy provided by publisher for review, via Edelweiss


This thrilling debut, reminiscent of new fan favorites like One of Us Is Lying and the beloved classics by Agatha Christie, will leave readers guessing until the explosive ending.

Welcome to dinner, and again, congratulations on being selected. Now you must do the selecting.

What do the queen bee, star athlete, valedictorian, stoner, loner, and music geek all have in common? They were all invited to a scholarship dinner, only to discover it's a trap. Someone has locked them into a room with a bomb, a syringe filled with poison, and a note saying they have an hour to pick someone to kill … or else everyone dies.

Amber Prescott is determined to get her classmates and herself out of the room alive, but that might be easier said than done.

No one knows how they're all connected or who would want them dead. As they retrace the events over the past year that might have triggered their captor's ultimatum, it becomes clear that everyone is hiding something. And with the clock ticking down, confusion turns into fear, and fear morphs into panic as they race to answer the biggest question: Who will they choose to die?

I have seen All Your Twisted Secrets compared to some very fabulous media, namely The Breakfast Club and One of Us is Lying. And do I think the comparison is accurate? Yep, and I'll even do one better and say I think this book combines the best part of both of those, and makes it into a new, even better story. Yeah I said it.
Because the thing that is so genius about this book is that it is literal life and death. So yeah you're absolutely entertained by the characters' stories and secrets, but like, someone might die, too! When you add that all together, it's completely and utterly unputdownable.
And I can't tell you much about this book, for the obvious reasons, so I will keep it short and sweet. We travel between past and present, unraveling the characters' lives secret by secret until the reader finally comes to understand how and why they all ended up in this death trap together. I cared so much about all of them, even the ones I didn't like, because I was so invested in finding out all the answers.
The only thing keeping me from rating this as perfect is that I would have liked an epilogue, or perhaps the ending itself to be a bit more fleshed out. But that is just one flaw among a sea of positives, so don't let that deter you! This book is well worth the ride.
Bottom Line: So engaging and entertaining, I simply had to keep reading to unravel all the secrets!

---
The Degenerates by J. Albert Mann
Published by Atheneum Books for Young Readers on March 17, 2020
Pages: 288
Format:eARC
Source:Copy provided by publisher for review, via Netgalley


In the tradition of Girl, Interrupted, this fiery historical novel follows four young women in the early 20th century whose lives intersect when they are locked up by a world that took the poor, the disabled, the marginalized—and institutionalized them for life.

The Massachusetts School for the Feeble-Minded is not a happy place. The young women who are already there certainly don't think so. Not Maxine, who is doing everything she can to protect her younger sister Rose in an institution where vicious attendants and bullying older girls treat them as the morons, imbeciles, and idiots the doctors have deemed them to be. Not Alice, either, who was left there when her brother couldn't bring himself to support a sister with a club foot. And not London, who has just been dragged there from the best foster situation she's ever had, thanks to one unexpected, life altering moment. Each girl is determined to change her fate, no matter what it takes.

Girls. Inmates. Idiots. Imbeciles. Morons. Undesirable. Feebleminded. All interchangeable. All degenerates.
This book will absolutely break your heart, but it will also give you hope and inspiration at the strength of human spirit. Back in the day (this is set in the 1920s), anyone who was different (in really any way, but in this book, we are dealing mostly with developmental differences, though race and general disability seem to have a role as well) was deemed "wrong". And in this story, we follow four young women who were deemed such, and who very much are not, in any way, "wrong". The world being more brutal and intolerant of differences acted upon this by institutionalizing these women.
Truly, their journeys are absolutely the highlight of the book, and also the hardest part of the book. You know that so many people existed in these very conditions, and it's quite difficult to read at times. But if you can handle it, it's something we really should be reading about. There are still plenty of injustices in the world, and putting ourselves into the shoes of another can only generate more empathy and humanity.
While I adored the characters, I couldn't help but feel a bit disconnected from them. I can't quite pinpoint why, but I just didn't feel like I was totally immersed in their world, even though I did care about them as characters. I will also say that there are a few times that I thought the book felt a bit draggy in the middle, which is maybe unfair because I am sure the lives of these women were also monotonous at times, but it felt worth mentioning.
Bottom Line: The good absolutely outweighed the bad, as I was grateful to have this glimpse inside such a horrible atrocity inflicted upon such strong and lovely young women.
Have you read any of these books? Plan to? Let us chat about them!