To intro a bit, these are books that I have not obtained for review. The bottom line is this: These are considered legitimate reviews by absolutely no one. Why? I don't feel like it, nor do I have to. But apparently, my ego dictates that I still think you care whether I liked them and/or I feel like shouting about them. And so, I shall.
And wow guys, I have been getting really good at picking books for myself! I really enjoyed most of these, or at least kinda liked them! Now if I just read more than a handful of non-review books a year, I'd be set!
The Hunger
by Alma Katsu
on March 6, 2018
Pages: 376
Format:eBook
Source:Purchased

Evil is invisible, and it is everywhere.

Tamsen Donner must be a witch. That is the only way to explain the series of misfortunes that have plagued the wagon train known as the Donner Party. Depleted rations, bitter quarrels, and the mysterious death of a little boy have driven the pioneers to the brink of madness. They cannot escape the feeling that someone--or something--is stalking them. Whether it was a curse from the beautiful Tamsen, the choice to follow a disastrous experimental route West, or just plain bad luck--the 90 men, women, and children of the Donner Party are at the brink of one of the deadliest and most disastrous western adventures in American history.

While the ill-fated group struggles to survive in the treacherous mountain conditions--searing heat that turns the sand into bubbling stew; snows that freeze the oxen where they stand--evil begins to grow around them, and within them. As members of the party begin to disappear, they must ask themselves "What if there is something waiting in the mountains? Something disturbing and diseased...and very hungry?"

This book sent me down such a Donner Party spiral that I nearly didn't come back out the other side. Why am I so obsessed with this story? With the Oregon/California Trail, westward expansion in general? Idk guys but I am. And this book was the bleak, messed up tale I was hoping for. The family dynamics are there, survival woes, forbidden love stories, and even a little magical realism. Honestly, I didn't know what to expect as the reviews are a bit mixed, but I really don't know what more you can ask of your cannibalistic, murdery days of yore road trip ?‍♀️
Bottom Line In a GIF:

---
Echoes by Alice Reeds
Published by Entangled: Teen on August 7, 2018
Pages: 373
Format:Paperback
Source:Gift


They wake on a deserted island. Fiona and Miles, high school enemies now stranded together. No memory of how they got there.

No plan to follow, no hope to hold on to.

Each step forward reveals the mystery behind the forces that brought them here. And soon, the most chilling discovery: something else is on the island with them.

Something that won't let them leave alive.

The story itself was quite interesting- the main characters don't have a clue what's going on, and neither did I, which is a win. It was quick paced and quite exciting, too. Sometimes the dialogue/writing/characters seemed a bit too simple, but perhaps I am being picky. I also had a really bizarre nagging thought that I will share with the class:

This sort of nonsense is why I can't be trusted. Whatever, the book ended with a huge cliffhanger, and you bet I'll be reading the sequel!
Bottom Line In a GIF:
---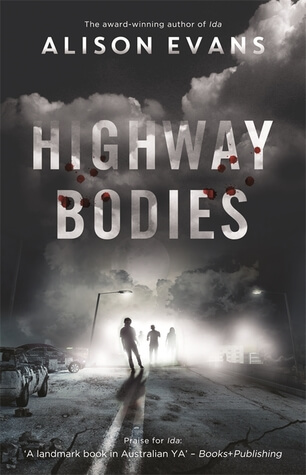 Highway Bodies by Alison Evans
Published by Echo Publishing on February 1, 2019
Pages: 376
Format:eBook
Source:Purchased


Who will you rely on in the zombie apocalypse?
*
Bodies on the TV, explosions, barriers, and people fleeing. No access to social media. And a dad who'll suddenly bite your head off – literally. These teens have to learn a new resilience…

Members of a band wield weapons instead of instruments.

A pair of siblings find there's only so much you can joke about, when the menace is this strong.

And a couple find depth among the chaos.

Highway Bodies is a unique zombie apocalypse story featuring a range of queer and gender non-conforming teens who have lost their families and friends and can only rely upon each other.

The zombie apocalypse is upon us once again! Look, this is fine. It didn't blow me away, but it's entertaining, albeit a bit generic. It's got a myriad of characters with various sexual and gender identities, so that's cool. Otherwise, it's legit your run of the mill zombie fare, with the added bonus of being set in Australia. And frankly, if I'm to be devoured, I'd rather it be done in Australia, so there's that.
Bottom Line In a GIF:
---
Sisters of the Vast Black by Lina Rather
Series: Our Lady of Endless Worlds #1
Published by Tor.com on October 29, 2019
Pages: 160
Format:eBook
Source:Purchased


The sisters of the Order of Saint Rita captain their living ship into the reaches of space in Lina Rather's debut novella, Sisters of the Vast Black.

Years ago, Old Earth sent forth sisters and brothers into the vast dark of the prodigal colonies armed only with crucifixes and iron faith. Now, the sisters of the Order of Saint Rita are on an interstellar mission of mercy aboard Our Lady of Impossible Constellations, a living, breathing ship which seems determined to develop a will of its own.

When the order receives a distress call from a newly-formed colony, the sisters discover that the bodies and souls in their care—and that of the galactic diaspora—are in danger. And not from void beyond, but from the nascent Central Governance and the Church itself.

I know what you're thinking- "nuns in space? Seriously?" and yes seriously why exactly can't nuns be in space!? They can, and they are! (You know, fictionally speaking.) Anyway, I figured this one could be incredibly awesome, or incredibly hokey, but good news friends! It's the former! It is hands down one of the best novellas I have ever read, I was shocked that I cared so deeply about all of the sisters aboard the ship in such a short time. The world was well done, the plot was a great blend of action and character development, and if you're even a little curious, I'm gonna go ahead and implore you to grab this one.
Bottom Line In a GIF:
---
The Thousandth Floor by Katharine McGee
Series: The Thousandth Floor #1
Published by HarperCollins on August 30, 2016
Pages: 437
Format:ARC
Source:BEA


New York City as you've never seen it before.
A thousand-story tower stretching into the sky. A glittering vision of the future, where anything is possible—if you want it enough.
Welcome to Manhattan, 2118.

A hundred years in the future, New York is a city of innovation and dreams. But people never change: everyone here wants something…and everyone has something to lose.

Leda Cole's flawless exterior belies a secret addiction—to a drug she never should have tried and a boy she never should have touched.

Eris Dodd-Radson's beautiful, carefree life falls to pieces when a heartbreaking betrayal tears her family apart.

Rylin Myers's job on one of the highest floors sweeps her into a world—and a romance—she never imagined…but will her new life cost Rylin her old one?

Watt Bakradi is a tech genius with a secret: he knows everything about everyone. But when he's hired to spy by an upper-floor girl, he finds himself caught up in a complicated web of lies.

And living above everyone else on the thousandth floor is Avery Fuller, the girl genetically designed to be perfect. The girl who seems to have it all—yet is tormented by the one thing she can never have.

Amid breathtaking advancement and high-tech luxury, five teenagers struggle to find their place at the top of the world. But when you're this high up, there's nowhere to go but down…

After reading (and falling madly in love with) American Royals, I knew I had to finally get to The Thousandth Floor. And okay, Katharine McGee is kind of my new fave, yeah? This book was like, really close to as awesome as AR. I loved the drama, and the fact that a literal world was happening in this one building! I legit bought Book 2 while I was halfway through this one, so. That says all you need to know.
Bottom Line In a GIF:
---
Navigating the Stars by Maria V. Snyder
Series: Sentinels of the Galaxy #1
Published by Maria V. Snyder on November 19, 2018
Pages: 435
Format:eBook
Source:Purchased


Terra Cotta Warriors have been discovered on other planets in the Milky Way Galaxy. And Lyra Daniels' parents are the archaeological Experts (yes with a capital E) on the Warriors and have dragged her to the various planets to study them despite the time dilation causing havoc with her social life.

When one of the many Warrior planets goes silent, and looters attack her research base, Lyra becomes involved in discovering why the Warriors were placed on these planets. And, more importantly, by who.

I love a space adventure, and this one was no different! I mean, Lyra and her family are basically chasing… terra cotta statues (who, by the by, have no business logically existing, adding an extra element of mystery) all over the galaxy? And yet it somehow works, while being super unique. I also love the focus on family, and also, Lyra is pretty funny and relatable. Oh, and I already read and enjoyed book 2, so if you were hesitant… stop.
Bottom Line In a GIF:
---
The Next Together by Lauren James
Series: The Next Together #1
Published by Walker on September 3, 2015
Pages: 356
Format:Paperback
Source:Purchased


How many times can you lose the person you love?

Katherine and Matthew are destined to be born again and again, century after century. Each time, their presence changes history for the better, and each time, they fall hopelessly in love, only to be tragically separated.

Spanning the Crimean War, the Siege of Carlisle and the near-future of 2019 and 2039 they find themselves sacrificing their lives to save the world. But why do they keep coming back? What else must they achieve before they can be left to live and love in peace?

Maybe the next together will be different...

A powerful and epic debut novel for teenagers about time-travel, fate and the timelessness of first love. The Next Together is told through a mixture of regular prose, diary entries, letters, "original" historical documents, news reports and internet articles.

Lauren James is such a favorite, guys. I have not read a single thing by her that I haven't utterly loved. This one, well, why the heck did I wait nearly half a decade to read it!? I pre-ordered the thing, loved the author's subsequent books, and yet. It's romance, time travel, political shenanigans, and sci-fi all wrapped into one! I have the sequel sitting next to me as I type, so make no mistake, my next non-review book will be it.
Bottom Line In a GIF:

---
The Toll by Neal Shusterman
Series: Arc of a Scythe #3
Published by Simon & Schuster Books for Young Readers on November 5, 2019
Pages: 640
Format:Hardcover
Source:Purchased


It's been three years since Rowan and Citra disappeared; since Scythe Goddard came into power; since the Thunderhead closed itself off to everyone but Grayson Tolliver.

In this pulse-pounding conclusion to New York Times bestselling author Neal Shusterman's Arc of a Scythe trilogy, constitutions are tested and old friends are brought back from the dead.

Neal Shusterman is a literary genius. Maybe just a regular genius, I don't know his life. Look, there are exactly three series finales that I have loved just as much as their predecessors. The Toll was every single thing I wanted from the ending of this series, tbh. It was relevant as hell, and that's what I came here for. The characters were perfectly imperfect as always, and the world was just… if you haven't started this series I really don't know what more I can do to make you do so, other than beat you over the head with all 640 pages of this book.
Bottom Line In a GIF:
Have you read any of these? Want to? Do you have trouble reading non-review books too? Let's chat!