Welcome to November's Monthly Minutes at Midnight!
 Here's the deal: I'll share the books I've obtained, posts of interest from others, giveaways I have happening, and just general random shenanigans. You know I love a shenanigan.  Also, covers all link to Goodreads, because I am awesome. 
The Books
For Review/From Publishers:
Nothing this month! 
eARCs:
Huge thanks to Inkyard Press, Simon & Schuster, Flux, Harper, Candlewick, and Tor !!
Purchased:
Two sequels that I desperately needed and pre-ordered.  Not bad, Past Shannon. 
Won/Gifted/Traded: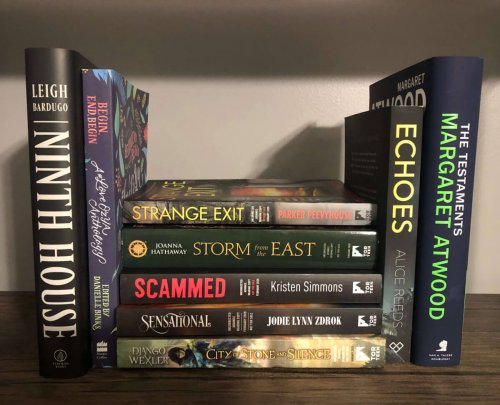 Hugest of thanks to Tor, Author Parker Peevyhouse for the wins, and Amber and my parents for the birthday gifts!! 
---
Shenanigans Since Last Time:
I read 11 books this month. Which frankly isn't terrible considering The Toll was long enough for 3 books.
Most of these were really good. One of them might have been an epically rare DNF. But it balances out as the rest were good. So. 
Giveaways: Click Here, or on Sidebar
---
Blogosphere Bulletin
Here are some of the loveliest/most entertaining/super helpful/just plain interesting posts I found this month!
---
Fancy & New Since Last I Saw You!
I love looking at pretty covers! So here are some new ones that I have fallen in love with since our last update!
Pretty covers are pretty. Not a ton that I loved this month but these are freaking worth it. 
---
Things we need to talk about at this juncture:
Not much news on The 100 but… I am going to

Unity Days

as

#Presskru

!

 It is a straight up dream come true, so to say I am excited is an understatement! I'll be heading to Vancouver (another place I have always wanted to go, because The 100) in January, so I will have lots of info to share with you all coming up! 
Thanksgiving happened, and it was… you know.

The usual. But these two turkeys wanted to wish you all a happy belated Thanksgiving:



The Bookish Games are over…. and your girl WON! Fine not only did she WIN but she's one of the MVPs, which is something I have always, always wanted to be!
Have a great December, loves!