These are some late October books!
Gravemaidens by Kelly Coon
Deception by Teri Terry
The Light at the Bottom of the World by London Shah

---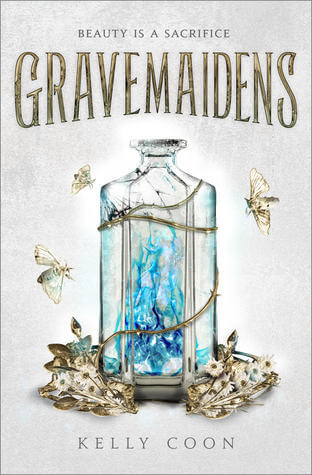 Gravemaidens by Kelly Coon
Series: Gravemaidens #1
Published by Delacorte Press on October 29, 2019
Pages: 416
Format:eARC
Source:Copy provided by publisher for review, via Netgalley


The start of a fierce fantasy duology about three maidens who are chosen for their land's greatest honor...and one girl determined to save her sister from the grave.

In the walled city-state of Alu, Kammani wants nothing more than to become the accomplished healer her father used to be before her family was cast out of their privileged life in shame.

When Alu's ruler falls deathly ill, Kammani's beautiful little sister, Nanaea, is chosen as one of three sacred maidens to join him in the afterlife. It's an honor. A tradition. And Nanaea believes it is her chance to live an even grander life than the one that was stolen from her.

But Kammani sees the selection for what it really is—a death sentence.

Desperate to save her sister, Kammani schemes her way into the palace to heal the ruler. There she discovers more danger lurking in the sand-stone corridors than she could have ever imagined and that her own life—and heart—are at stake. But Kammani will stop at nothing to dig up the palace's buried secrets even if it means sacrificing everything…including herself.

Gravemaidens was quite the dark, entertaining story! I kind of fell in love with it, honestly. Look, I am going to go ahead and get my one negative out of the way first so we can get to the good stuff: It's kind of predictable. I wasn't ever really shocked by what happened next, but the story and the characters and the world were so engrossing that it really didn't make it any less enjoyable.
The characters are certainly for me the best part of the story. We have strong-willed Kammani willing to do whatever it takes to not have her sister's fate become "corpse bride". Because who wants that?! Oh right, the aforementioned sister does! It's bananas, but it also perfectly represents so many things in our society; things we've become numb to because they are just the norm. She thinks it's an honor because for generations, it's been drilled into the heads of all the people.
Anyway, I loved that part, because it's a great metaphor but also because it's dark as hell. I mean can you even imagine not only having that happen to you, but being excited about it? Oh, and Kammani is also an incredible healer, and is there anything better than a strong STEM commoner-girl in a crappy classist patriarchy? Methinks not.
It's a quick moving book, one filled with high stakes and an incredible cast of characters. There's of course a strong family bond, which is apparent from the very start. But there are also a lot of people outside her family who care for Kammani as well! The whole gang works together, and I love it. You'll fall in love with them too, of that I'm sure. And even though I was sometimes pretty sure I knew what was coming next, I still didn't want to put the book down like, ever. And now, I really need the sequel immediately, if not sooner.
Bottom Line: Strong characters, an immersive world, and a fast-past story that will leave you excited for the next installment makes this a must-read!

---
Deception by Teri Terry
Series: Dark Matter #2
Published by Charlesbridge Teen on October 29, 2019
Pages: 336
Format:eARC
Source:Copy provided by publisher for review, via Netgalley


The second book in the spine-tingling Dark Matter trilogy. Finding the cause of a deadly epidemic and a cure has never been more urgent--or uncertain.

Shay, one of the rare survivors of the epidemic sweeping the UK, has surrendered herself to the Army because she believes she's a carrier of the deadly disease. Along with other survivors, she unwillingly becomes a test subject in an effort to find a cure. When the lab where she's being held is attacked, Shay and a few others escape--with the help of Dr. Alex Cross, Kai's hated stepfather and Callie's father. Alex is the leader of the cult-like group Multiverse. Their agenda is murky, but genetic engineering might be one of their goals.

Meanwhile, a heartbroken Kai is determined to find Shay. He's discovered survivors aren't carriers, and Shay sacrificed herself for nothing. Teaming up with other survivors who are being hunted, Kai races to rescue Shay before it's too late. His sister, Callie, the true carrier of the epidemic, continues to hide her secret, and a wave of infection follows in her wake as she travels across the country.

As mysteries deepen, the teens must decide whom to trust, and their friendships are tested. Is Callie who she says she is?

Should Shay trust the man her mother ran away from--a man Kai hates? Will Kai ever forgive Shay for her betrayal?

I daresay this book was better than its predecessor! Obviously, the gist is still the same: Oh crap, the apocalypse plague is taunting Scotland! But the stakes are honestly somehow even higher, which is pretty hard to do in the literal end of the world, so kudos to the author there! I also grew to care much more about the main characters than I had in the first book, which is probably the reason for my greater enjoyment of it. Things get pretty emotional for the main characters, and I think they really grow and develop, too. Also, it's a pretty fast-paced book, which I devoured quite quickly!
The negative? This may be a personal thing (actually, I'm almost sure it is) but when a huge plot point is a lie of omission, I just get stabby. I can't help it. It's like guys, communication would solve so much of this!
Bottom Line: It's an entertaining series with an interesting take on the apocalypse (and it all begins in Scotland, no less!), and I will definitely be needing to see how this series ends!
---
The Light at the Bottom of the World by London Shah
Series: Light the Abyss #1
Published by Disney-Hyperion on October 29, 2019
Pages: 320
Format:eARC
Source:Copy provided by publisher for review, via Netgalley


Hope had abandoned them to the wrath of all the waters.

At the end of the twenty-first century, the world has changed dramatically, but life continues one thousand feet below the ocean's surface. In Great Britain, sea creatures swim among the ruins of Big Ben and the Tower of London, and citizens waver between fear and hope; fear of what lurks in the abyss, and hope that humanity will soon discover a way to reclaim the Earth.

Meanwhile, sixteen-year-old Leyla McQueen has her own problems to deal with. Her father's been arrested, accused of taking advantage of victims of the Seasickness-a debilitating malaise that consumes people,often claiming their lives. But Leyla knows he's innocent, and all she's interested in is getting him back so that their lives can return to normal.

When she's picked to race in the action-packed London Submersible Marathon, Leyla gets the chance to secure his freedom; the Prime Minister promises the champion whatever their heart desires. The race takes an unexpected turn, though, and presents her with an opportunity she never wanted: Leyla must venture outside of London for the first time in her life, to find and rescue her father herself.

Now, she'll have to brave the unfathomable waters and defy a corrupt government determined to keep its secrets, all the while dealing with a secretive, hotheaded companion she never asked for in the first place. If she fails, or falls prey to her own fears, she risks capture–and her father might be lost forever.

I'll be honest, giving this a less-than-stellar review is going to break my heart, but here we are. I am going to try to break it down the best I can, and hey, maybe you'll have better luck. I have seen a lot of positive reviews, but in the spirit of honest opinions… here we go!
The Things I Liked:
I mean, the whole concept is awesome! You have read the synopsis by now, and wow, how unique and fabulous it sounds! Underwater London dystopian society? Yes please!!
The cultural throwbacks to Afghanistan were incredible. Like the Afghan food? Sign me up! I loved that it was so full of these little charms, especially moments from before the world was underwater.
By the end of the book, I had started to care about what happened to the characters. It took awhile, yes, but I did really start to have concern for their welfare.
There is an AI named Oscar Wilde. He's beyond fun, and I love him.
Honestly that cover, just look at it! I know, I know, don't judge a book by the cover, but it's going to look good on any shelf, just saying 🤷‍♀️
The Things I Didn't
I could not connect to Leyla for most of the book. She seems emotionally vacant for parts, and when she does show emotion, it comes of as whiny and kind of mean. So yeah, it was hard to feel for her, even with the deceased mother and missing father, because she simply wasn't very sympathetic beyond that.
I couldn't visualize/conceptualize this world at all. I had no picture in my head, no idea what was happening, really. I felt like I had many, many questions surrounding the world/how it worked that were simply never answered/addressed.
The dialogue just didn't seem emotive at all. Like okay, you like these people, they're your friends, etc, but I feel nothing. This is just an example, of course, but it just didn't move me at all. Not when someone was scared, or angry, or happy. It simply didn't feel compelling to me.
'Twas awfully predictable. I mean, not that I knew what was happening with the world, but I was very sure of what was lurking around the corners for Leyla. I won't say more because of spoilers, but there's some very obvious huge plot points that I guessed from very early on.
Similarly, I felt like while things were seemingly very spelled-out for the reader, the characters were wholly clueless. And it's kind of infuriating? Like if I know exactly what is happening to you around every corner, how is it that you have zero clue?
Bottom Line: I wanted to like this. I am deeply pained that I did not. Perhaps you will? You can win it here!

Have you read any of these books? Plan to? Let us chat about them!