These are the rest of my September review books (that aren't in upcoming blog tours!) so… have at 'em!
We Are Lost and Found by Helene Dunbar
Verify by Joelle Charbonneau
Are You Listening? by Tillie Walden
Suggested Reading by Dave Connis

---
We Are Lost and Found by Helene Dunbar
Published by Sourcebooks Fire on September 3, 2019
Pages: 304
Format:ARC
Source:Copy provided by publisher for review


A poignant, heartbreaking, and uplifting story in the tradition of The Perks of Being a Wallflower about three friends coming of age in the early 1980s as they struggle to forge their own paths in the face of fear of the unknown.

Michael is content to live in the shadow of his best friends, James, an enigmatic teen performance artist who everyone wants and no one can have and Becky, who calls things as she sees them, while doing all she can to protect those she loves. His brother, Connor, has already been kicked out of the house for being gay and laying low seems to be his only chance to avoid the same fate.

To pass the time before graduation, Michael hangs out at The Echo where he can dance and forget about his father's angry words, the pressures of school, and the looming threat of AIDS, a disease that everyone is talking about, but no one understands.

Then he meets Gabriel, a boy who actually sees him. A boy who, unlike seemingly everyone else in New York City, is interested in him and not James. And Michael has to decide what he's willing to risk to be himself.

We Are Lost and Found is a truly moving book about a young gay man trying to discover who he is and who he wants to become at the dawn of the AIDS crisis. Here are some of the many reasons why it's worth reading:
The author does an amazing job of making the reader feel like we're in the midst of 1983 New York City. I wasn't aware of the world in 1983, nor that of the struggles of the gay community dealing with the bombshell that was AIDS. But the author brings it all to life so very vividly that I found myself completely immersed in it all. I never lived in a world without AIDS, I was born just a month before this book starts. But I do remember the stigma, even a decade (or more, to be true) later. There's still stigma, if we're being honest, though there shouldn't be. But when Michael is telling his story, it's the height of stigma. In fact, AIDS is only just being referred to as such (it had previously been dubbed Gay Related Immune Deficiency, or GRID, which is just… wow. This book puts the reader in the eyes of one gay man who is terrified, yes, but all those around him who are also experiencing these same fears and uncertainties.
The reader walks this journey with Michael. The book is told as a stream of thought from Michael, and it puts us firmly into his life, his feelings, his worries. We experience every emotion that Michael has living as a gay man whose family has a history of cruel and antipathetic response to this news. Michael doesn't have to guess how his parents will react to his being gay; they've already kicked out and virtually disowned his older brother Connor for the same reason. We experience the ups and downs of his friendships, his romantic desires and relationships, his fears, his hopes. His journey is presented in such a genuine, compassionate, and thoughtful way that it's impossible not to care for him.
Speaking of side characters, they're all incredibly well developed. Some of them you'll adore (like Becky and James, especially) and some you'll want to throttle (Michael's garbage parents, namely) but they all feel incredibly authentic. Michael's ever-changing relationship with Connor feels so relatable for all siblings. The only relationship, ironically, that I didn't feel a huge connection to was Michael's relationship with Gabriel. He was okay and I wanted Michael to be happy, but I just didn't feel a huge connection to him.
The Afterwords and Author's Note are incredibly moving. When this book was announced, I remember some backlash about whether this was the author's story to tell. After reading the afterwards from men who have lived this life and helped her with the book, and reading her own story, I think she did a tremendous job of giving a voice to these men (and gay men coming of age in this era in general), so I urge you to see for yourself.  That said, I think an ownvoices novel in a similar vein would be incredible, and I am here for that as well.
Bottom Line: Emotionally charged and full of heart and love, this is a book that is sure to stay with me for a long time.

---
Verify by Joelle Charbonneau
Series: Verify #1
Published by HarperTeen on September 24, 2019
Pages: 320
Format:eARC
Source:Copy provided by publisher for review, via Edelweiss


Meri Beckley lives in a world without lies. When she turns on the news, she hears only the facts. When she swipes the pages of her online textbooks, she reads only the truth. When she looks at the peaceful Chicago streets, she feels the pride everyone in the country feels about the era of unprecedented hope and prosperity over which the government presides.

But when Meri's mother is killed, Meri suddenly has questions that no one else seems to be asking. And when she tries to uncover her mother's state of mind in her last weeks, she finds herself drawn into a secret world full of facts she's never heard and a history she didn't know existed.

Suddenly, Meri is faced with a choice between accepting the "truth" she has been taught or embracing a world the government doesn't want anyone to see—a world where words have the power to change the course of a country, and the wrong word can get Meri killed.

I genuinely thought that this was a contemporary book about a girl dealing with the loss of her mother until about 30% in. (I don't read synopses before I start a book, so sue me ?‍♀️) The thing is, there is nothing at the start to indicate that it's taking place in a different time period/world than our current one. Also, it wasn't even a particularly compelling contemporary about a girl dealing with the loss of her mother either. I felt very little for Meri, and almost stopped, until I remembered that it wasn't a contemporary after all.
Meri just didn't do much for me as a main character, I'm afraid. Especially during the first half, she's mostly fixated on her art and her mom, which is fine except I just couldn't make myself care. Then she encounters What's-His-Name (I genuinely don't remember, nor do I care enough to look it up), who apparently was in cahoots with her late mother. They were trying to start the Mild Revolution™ which is a Revolution that is I guess run out of an underground library and doesn't seem all that important in comparison to today's social climate, but okay. Anyway, they fall in insta-love, as you do.
What are they revolting against, you ask? Well. In a world remarkably similar to our own but with slightly fewer words, they're fighting to… reinstate the words. And books and ideas and such, but yeah. My question is, how exactly was any government able to completely wipe words from the public vernacular in mere decades? It doesn't compute. Some of the people who know the words are probably still alive, right? Can you edit history in such short time? I really feel like no, especially in the digital age, but let's just pretend for the sake of argument.
If you manage to suspend that disbelief (and it will require lots of suspension, make no mistake), things do pick up a bit in terms of action. But then we get Meri as the leader of said Mild Revolution™ that she only heard about two days prior. That… is pretty hard to swallow. Like sure these people who have devoted their lives to the cause are going to believe this rando who showed up yesterday, and ditch their entire life's work/plans to follow her. Sounds legit.
Bottom Line: It's a bit of a mess, but it's a quick enough read and mildly entertaining if you're able to suspend all the disbelief.

---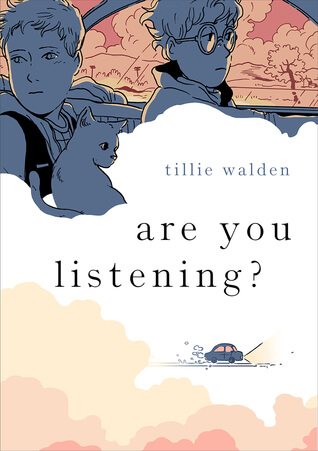 Are You Listening? by Tillie Walden
Published by First Second on September 10, 2019
Pages: 320
Format:ARC
Source:Copy provided by publisher for review


Are You Listening? is an intimate and emotionally soaring story about friendship, grief, and healing from Eisner Award winner Tillie Walden.

Bea is on the run. And then, she runs into Lou.

This chance encounter sends them on a journey through West Texas, where strange things follow them wherever they go. The landscape morphs into an unsettling world, a mysterious cat joins them, and they are haunted by a group of threatening men.

To stay safe, Bea and Lou must trust each other as they are driven to confront buried truths. The two women share their stories of loss and heartbreak—and a startling revelation about sexual assault—culminating in an exquisite example of human connection.

This magical realistic adventure from the celebrated creator of Spinning and On a Sunbeam will stay with readers long after the final gorgeously illustrated page.

This is certainly an emotionally charged book, dealing with some incredibly intense topics. (Trigger warning right off the bat for rape.) I found having a slightly older woman in a mentor role to the younger, scared woman is really compelling, so I was here for that. It was like they needed to find each other at this point in their lives, and I love that they did.
Thing is, magical realism comes into play, and the story gets a bit convoluted. I didn't fully understand it if I am being honest, and it took me out of the rest of the story a bit as I tried to figure out what exactly was going on.
Bottom Line: An emotional story that perhaps tries to be too many different things at once. Still, worth the read for the women's stories.
**Enter for a chance to win a copy of this graphic novel here!
---
Suggested Reading by Dave Connis
Published by Katherine Tegen Books on September 17, 2019
Pages: 385
Format:eARC
Source:Copy provided by publisher for review, via Edelweiss


In this hilarious and thought-provoking contemporary teen standalone that's perfect for fans of Moxie, a bookworm finds a way to fight back when her school bans dozens of classic and meaningful books.

Clara Evans is horrified when she discovers her principal's "prohibited media" hit list. The iconic books on the list have been pulled from the library and aren't allowed anywhere on the school's premises. Students caught with the contraband will be sternly punished.

Many of these stories have changed Clara's life, so she's not going to sit back and watch while her draconian principal abuses his power. She's going to strike back.

So Clara starts an underground library in her locker, doing a shady trade in titles like Speak and The Chocolate War. But when one of the books she loves most is connected to a tragedy she never saw coming, Clara's forced to face her role in it.

Will she be able to make peace with her conflicting feelings, or is fighting for this noble cause too tough for her to bear?

Ah, who doesn't love a book about books, right? Right. This was pretty enjoyable, so let's get to it!
What I Liked:
Books are basically the hero of the story. Sure, Clara and others have a role in ensuring that they get into the hands of those who need them, but they're just the vessel. Books are making the true difference here.
Clara isn't always likable. "Wait, what?" you ask. "How is this a good thing?" Glad to tell you! So she's judgy as all get out, and she can be awfully self-absorbed, but the good news is, she goes through a ton of growth as a character and tries to do better. And really, isn't that kind of the best? Plus she's pretty funny and witty, so that is a bonus too!
Gosh, the book-within-a-book was fabulous! It's called Don't Tread on Me and I really feel like I need it to be an actual thing? It's Clara's latest book obsession, and I think it really speaks to the quality of the writing that I was able to love a non-existent book.
There were some pretty solid messages in this book. Like I said, Clara learns a lot through the course of the book. It's done mostly through her friendships and relationships with her peers, her teachers, the school staff, and her parents.
What I Didn't:
There was a bit of a Problematic Moment™. It serves to make Clara wonder if books can be harmful, but I think it was a little too self-absorbed, for one, and not the best way to show it, for another. View Spoiler »Jack, who is gay and has parents who are not supportive, tries to kill himself. Clara blames herself for providing him with a copy of Catcher in the Rye. All of this is just… yikes. « Hide Spoiler
The resolution was just a bit too easy. I mean, I knew it would probably end a certain way, which is fine. But I just needed it do so in a somewhat more believable way.
Bottom Line: Suggested Reading truly is a love letter to books, and who among us wouldn't appreciate that?
Have you read any of these books? Plan to? Let us chat about them!