Welcome to January's Monthly Minutes at Midnight! 
 Here's the deal: I'll share the books I've obtained, posts of interest from others, giveaways I have happening, and just general random shenanigans. You know I love a shenanigan.  Also, covers all link to Goodreads, because I am awesome. 
The Books
For Review/From Publishers: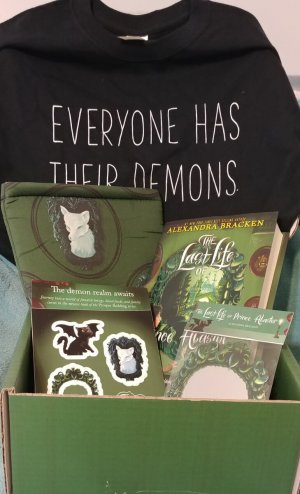 We Told Six Lies by Victoria Scott
Stepsister by Jennifer Donnelly
The Last Life of Prince Alastor by Alexandra Bracken
Huge thanks to Entangled Teen, Scholastic, and Disney & Big Honcho Media!! 
eARCs:
Huge thanks to Random House, Disney, & Candlewick for the review copies! 
Purchased:
I only bought two Kindle cheapies and I am impressed with my restraint in general. Be proud, friends. Be very proud! 
Won/Gifted/Traded:
Hugest of thanks to these lovelies: Rashika (who was my Secret Santa!) for the books and goodies,  Chana & Malka @ Paper Procrastinators for the lovely package, Emma @ Miss Print, and Author Ellie Marney!! 
---
Shenanigans Since Last Time:
I read  11 books this month. I was doing okay! And then I got super sick and so then I didn't do so great but such is life.
This was such a "meh" month! A couple of these were pretty good, but nothing above a 4 star until Warrior of the Wild. Eh, they can't all be mind-blowing months! 
Giveaways: Click Here, or on Sidebar
---
Blogosphere Bulletin
Here are some of the loveliest/most entertaining/super helpful/just plain interesting posts I found this month!
---
Fancy & New Since Last I Saw You!
I love looking at pretty covers! So here are some new ones that I have fallen in love with since our last update!
Look at all the pretty colors, woooo!
---
Things we need to talk about at this juncture:
I am MOVING in a few days, knock on wood. Because you never know when things can go wrong, right? But hopefully! And when I do, I will take bookshelf pictures or something fun. But also, expect me to be busy as heck, and also really tired but I promise I will do my best here! 
I have also over-scheduled myself for February. 

Too many ARCs, too many tours,  but honestly, did I know I'd be moving? No. I also didn't know that I'd be sick for a huge chunk of January either. Le sigh. Wish me luck! 

The 100 Season 6 premiere date has been announced: Get ready for April 30! This also means that I really need to get my shit together and do that wrap-up I keep promising ?
Bookish Games started! But also I am dead already. #JahaOut

Day Two of The Bookish Games is now live!

The player eliminated during Night One? @ShannonMiz. She was Thelonious Jaha from The 100, Neighbourizer.

RIP Shannon, we'll miss you. (Though maybe you're happy to be dead after the way Day One ended. ?)https://t.co/ruNmrspr9U pic.twitter.com/d1JETBtgDG

— Bookish Games (@bookishgames) January 22, 2019
Is everyone nice and sick of winter yet? I am. The snow. The cold. The lack of The 100. It all must end. 😀 
Have a great February, loves!