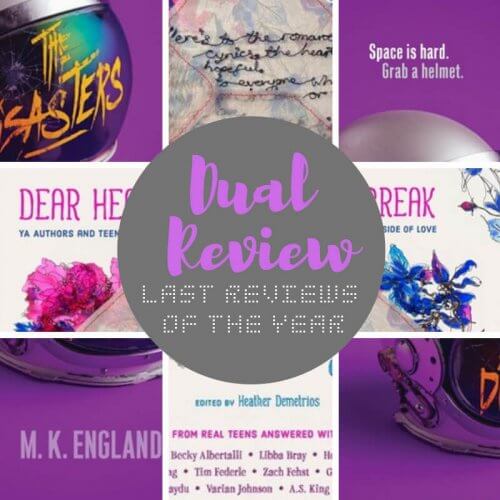 Usually I have dual reviews of books that are similar. Today though, these are just literally the final 2018 books for review I have, so. Here we are! 
The Disasters
by M.K. England
Published by HarperCollins
on December 18, 2018
Pages: 368
Format:eARC
Source:Copy provided by publisher for review, via Edelweiss

Hotshot pilot Nax Hall has a history of making poor life choices. So it's not exactly a surprise when he's kicked out of the elite Ellis Station Academy in less than twenty-four hours.

But Nax's one-way trip back to Earth is cut short when a terrorist group attacks the Academy. Nax and three other washouts escape—barely—but they're also the sole witnesses to the biggest crime in the history of space colonization. And the perfect scapegoats.

On the run and framed for atrocities they didn't commit, Nax and his fellow failures execute a dangerous heist to spread the truth about what happened at the Academy.

They may not be "Academy material," and they may not get along, but they're the only ones left to step up and fight.

This is going to be a bit of a hard book to review, because it was, in essence, very middling for me. I liked it well enough, I don't have much in the way of negatives, even. It just didn't blow me away, and sometimes that happens. It was entertaining enough, though maybe I won't necessarily find it to be memorable down the road. So I will try to break it down as best I can, yes?
The Stuff I Liked:
It's really quite fun. The humor is definitely a plus. It wasn't "rolling on the floor in hysterics" funny, but it was charming and amusing. The characters got into some real antics, and some of them certainly gave me a few chuckles.
The main character group is really well done. They're all pretty well developed, with different quirks and traits. And I liked them! Even when I didn't necessarily like their choices, they made sense for the character at the time/situation. And I felt sympathetic toward them all too. In addition, it's a very diverse group, in so many ways!
There are a lot of space shenanigans! I love space shenanigans! And we definitely are not lacking for them in this book. The gang has a huge undertaking (think: saving worlds and such) and they definitely are trying their hardest, running all over the universe to do so basically! Obviously I won't say too much here, but if you're looking for adventure, this book has it!
The Stuff I Didn't:
The future didn't progress a ton in some aspects. Like the MC is eating Cheetos in one scene, browsing a Sky Mall catalog in another. Sky Mall is barely a thing now for goodness sake! People are texting each other and like… no, I feel like if there are space academies, we've probably moved past texting? Maybe I am being picky, but it kind of took me out of the whole "futuristic" setting.
It felt kind of safe, considering. I mean, granted it started out with a deadly bang, but I never really feared for our main group. Things just kept coming way too easily for them, way too coincidental, that I kind of assumed everyone would be just fine by the end. (Was I right? You'll have to read it to find out ?) But the book to a big hit on intensity for me because of that.
Bottom Line: Good characters, amusing moments, and space shenanigans are definite reasons to grab this one! If you don't mind a little suspension of disbelief and ease of accomplishment, it's certainly worth the read!
---
Dear Heartbreak: YA Authors and Teens on the Dark Side of Love
by Heather Demetrios, Adi Alsaid, Becky Albertalli, Libba Bray, Amy Ewing, Zach Fehst, Gayle Forman, Corey Ann Haydu, Varian Johnson, A.S. King, Nina LaCour, Kim Liggett, Kekla Magoon, Sarah McCarry, Sandhya Menon, Cristina Moracho, Jasmine Warga, Ibi Zoboi
Published by Henry Holt and Co. (BYR)
on December 18, 2018
Pages: 304
Format:ARC
Source:Copy provided by publisher for review

This is a book about the dark side of love: the way it kicks your ass, tears out your heart, and then forces you to eat it, bite by bloody bite. If you've felt this way, you're not alone…

In this powerful collection, YA authors answer real letters from teens all over the world about the dark side of love: dating violence, break-ups, cheating, betrayals, and loneliness. This book contains a no-holds-barred, raw outpouring of the wisdom these authors have culled from mining their own hearts for the fiction they write. Their responses are autobiographical, unflinching, and filled with love and hope for the anonymous teen letter writers.

Featuring Adi Alsaid, Becky Albertalli, Libba Bray, Heather Demetrios, Amy Ewing, Zach Fehst, Gayle Forman, Corey Ann Haydu, Varian Johnson, A.S. King, Nina LaCour, Kim Liggett, Kekla Magoon, Sarah McCarry, Sandhya Menon, Cristina Moracho, Jasmine Warga, and Ibi Zoboi.

Ironically, this book is so completely full of love. But not the kind you're thinking of. The love in this book is apparent in every single letter- it's the love the authors have for the young people they write for. It's the love they've found for themselves. And the love they hope to make their readers feel.
It's nice to find people who can understand what you're going through. It's cathartic to share trials and tribulations with one another. It is that sense of camaraderie that I enjoyed about this book the most. I related to so many of the responses, and yes, the questions. I imagine that many, many others will as well. Obviously the importance of that is huge.
The thing that left it falling a bit short for me is that it kind of felt a bit repetitive after awhile. And while I, as an adult, appreciate the message the authors are trying to convey (especially the "love and care for yourself" sort), I'm not sure a teen would be game for 300+ pages of it. The thing about heartbreak and heartache is that no amount of logic and self-talk is really going to make it better. It's messy, illogical, and something we may just have to feel.
Bottom Line: The plus here is, knowing these authors have come out on the other side of their teen heartbreaks can be helpful- especially as they're often role models. The downside is, it's a lot of pages of personal stories that may not fully resonate with a young person wading through their own pool of sadness and confusion. Hell, it's a lot of pages for a 36 year-old wading through her pool, so. ?‍♀️
**And don't forget to enter the giveaway I am having for this happening right now! 
Are you done with 2018 reviews? Or at least, reading review books? Want to talk about it? We really should!