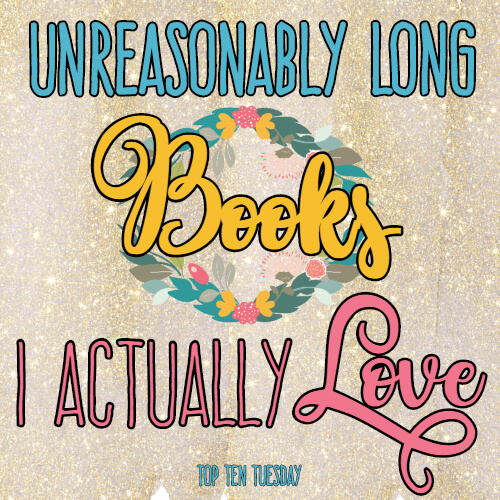 Top Ten Tuesday is a feature hosted by That Artsy Reader Girl. This week's theme is: Bookstores/Libraries I've Always Wanted to Visit.
But I am not doing that. I actually wanted to do last week's but then… well, I kind of forgot. I even started a post but… I blame Bookish Games.  So I figured I'd just do it this week instead! No one minds, right? Right. Last week's topic was: Longest Books I've Ever Read
Only… I don't really love long books, as a rule? I get kind of annoyed with them, because they are too long. And daunting. And make me fall behind in my Goodreads goal. Or whatever, who knows. But. Sometimes I actually kind of love them? It's rare, but I figured I'd share the ones I adored despite their ability to kill small animals if falling upon them. (Or, according to my arbitrary rules, over 500 pages.)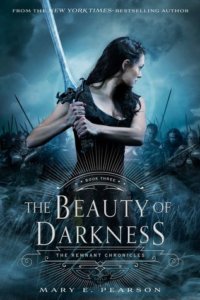 Monsters of Men by Patrick Ness ► 602 Pages
Funny story, I had no idea that this was so long! When I read it, I'd bought the whole series on Kindle- so it was legit thousands of pages, but I had no idea exactly how many. When I finished and updated Goodreads, I was shocked to learn how long it was- which really is just a testament to how good it is!
The Host by Stephenie Meyer ► 625 Pages 
Another book where I read it on Kindle the first time and had no idea how long it was! I am actually thinking this may be a very good strategy for me going forward: Ignorantly blissful, just use e-reader.
Illuminae by Amie Kaufman & Jay Kristoff ► 602 Pages 
This is almost a cheat, because sure it's long, but there are pictures and charts and all kinds of fun formats that make it seem far less than its 600+ pages! (Incidentally, Gemina and Obsidio are longer, but I like this one better, so here we are.)
The Beauty of Darkness by Mary E. Pearson ► 679 Pages 
This was just a really good finale- and finales are scary in general- that somehow kept me interested for a lot of pages!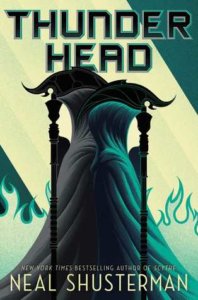 Genesis by Brendan Reichs ► 512 Pages 
Another sequel that I flew through! The action never let up, so it seemed nice and compact- even though it wasn't! Bring on book 3!
Strange the Dreamer by Laini Taylor ► 536 Pages 
This is probably one of the ones on the list that did feel as long as it was, but the writing was so lovely that I could live with it!
Defy the Stars by Claudia Gray ► 503 Pages 
Read this one as an eARC, therefore had no idea how long it was! I was completely hooked from the start, someone please remind me to read the sequel ASAP.
Thunderhead by Neal Shusterman ► 504 Pages 
Kind of impressed with all the sequels on this list! Yet again, this didn't seem long, because it was awesome. Plus it's Neal Shusterman, of course it is awesome!
Sunrise by Mike Mullin ► 546 Pages 
I am pleased to report that this isn't even the last book in the series- though it was intended to be at the time! Anyway, the stakes were high and it was one of the few "finales" that wasn't at all a letdown, woo!
Everfound by Neal Shusterman ► 514 Pages 
Probably one of my favorite series-ends of ever. Also yes Neal Shusterman made the list twice, are you even surprised? You shouldn't be.
 The Book Thief by Marcus Zusak► 550 Pages 
This one also feels long because you kind of want to cry through most of it? But it's beautiful and worth every page, so there's that.
Feed by Mira Grant ► 599 Pages 
This was so entertaining, and even though there were a few slower parts, I didn't expect that it was 600 pages! Again, a Kindle read. Seriously, new life plan.
Do you have an easier time reading long books on your Kindle/e-reader? Because apparently I do!

Maybe it is just because my hands don't hurt from having to hold big old bulky rat-killers… 🤔