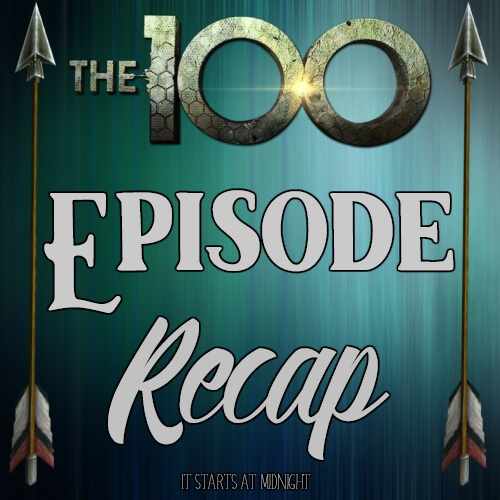 I know I have been saying this a lot this season and I probably sound like a broken record but… damn, that episode was fabulous! Don't get me wrong, I ugly cried for at least half of it, but in the "wow this show is gnawing at my emotions" way that I so adore. This was a bleak one, and it delved deeper into a few select storylines: The Blodreina/Polis story,  the Abby/McCreary/Vinson story, and Clarke/Madi story. So, we're just going to break down each mess this week.
Just a reminder, spoilers galore!! Like ALL the spoilers- proceed with caution! 
The Mess in Polis
When we left off in the bunker, Octavia had all the feels about putting her entire family in the arena to fight to the death. Now, she's trying to decide if she really needs to go through with it. On one hand, I am excited that she still has this tiny shred of her former self left, but really, the fact that it's even an option speaks volumes. Miller is trying to play down the fact that half of Wonkru is no longer #TeamBlodreina, while Brell is more… logical. Even though Brell is behind Madi (and is apparently not even making a secret of it anymore), she is honest with O and tells her that the best way to get Wonkru to follow is to show them what happens if they don't.
Seriously Brell, this was not what I had in mind when I wanted you to intervene… 
So of course she's throwing everyone and their mom (literally) into the arena. We knew this, yeah? But I didn't expect her to have heart-to-hearts with the Enemies of Wonkru™. First stop is Indra's place, where O finds Indra deep in some kind of Grounder prayer ritual. Well. How dare Indra pray to a deity other than Octavia?! Because let's be real, Octavia absolutely considers herself a deity at this point.
I'm cackling. We don't deserve Indra.
So they chat about the good ol' days, when Indra asked O to be her Second, you know, before all the worms and cannibalism and whatnot. It's heartbreaking, even O's shriveled up heartlet is feeling it. Indra is just so wise, and she doesn't shy away from the truth, even now, even when it could mean her death. But that encounter did not move Octavia enough to reconsider killing everyone she loves, so she moves onto her next victim conversation: Monty.
Ah, these two. They've had such an interesting history. I feel like O always had a soft spot for Monty (she even tells him so here) and they've been through so much together. Hell, it was Monty who convinced O to stay after Lincoln's death. O who Monty killed his mom to save. And Octavia plays on Monty's kindness, knowing that he won't be able to stand Bellamy going into the arena.
I daresay not the Monty she was expecting… 
But he won't. He's not going to help Bellamy kill Indra- he's done with the killing. BUT. He has plants! And like a little kid on Christmas morning, he's eager to show Octavia all his presents. He found a way that could help Wonkru- save Wonkru even. They could slowly rebuild Polis, and ignore the Valley altogether. They could have peace!
Right after she crushed an apple blossom and also Monty's dreams. 
There's one last person O hasn't tried to chat it up with yet: Bellamy. She reminisces with him, and there is the humanity she has buried away, deep inside. It kills him, but he refuses to even listen to ways to kill Indra. You can just see how over it he is, like he's not even entertaining this nonsense. And she's pissed, I think because people aren't cooperating according to her plan? And she still has choices, but she refuses to give up her power to make any of them. Bellamy, it's clear, still sees this shred of humanity in Octavia, still sees the girl he played with as a child, the girl who danced with butterflies. But she's just… there's not enough of her left, frankly.
She leaves Bellamy to his (probable) tears, and gets ready to do whatever Blodreinas do. Kill folks, I suppose. First she has to get on her makeup. Errr, I mean the actual blood that she cuts out of her own damn arm, cause that's how it works I guess. And off to the arena we go! Of course Indra refuses to kill Gaia, Bellamy doesn't want to fight, and Gaia just wants to kill Octavia. It's actually pretty much how I'd expect it to go down, though Bellamy does eventually fight because I think it's just plain old human instinct to not die. 
And who comes in to save the day? Everyone's favorite algae farmer, Monty Green, and his lovely assistant Harper McIntyre! (Seriously, she doesn't do anything else now, right?) Anyway, Monty is bearing a vase of flowers, because of course he is, and tells them "my dudes, there is an alternative to war!" and they all cheer. So of course O runs like hell out of the room, and Monty's pleased because no one shot him (which in the bunker really is a good day), but the others are skeptical about O's disappearance.
For good reason, as it turns out. 
Yep, bitch just went ahead and burned down every last chance at a peaceful life for anyone and everyone in Wonkru. All because she's that damn power hungry, and that desperate for a war. Her people's welfare mean nothing to her, only the fight does. Monty kind of nailed the dictator bit, didn't he? So, they march.
She must mean Miller or Brell or someone, right? Right?!?!
Bellamy and Indra have come to this lovely sort of respect and understanding, though Indra is talking about someone having a warrior's death and she'd better not mean herself. No one okayed that. It is clear, however, that some of Wonkru is only following Octavia so that they can find Madi- and using O's protection and rations to get through the desert. Smart, really. And with the algae really and truly destroyed, Monty and Harper have no choice but to go with Bellamy to find their "family" in Shallow Valley.
Monty and his Smol Algae™ make me sad. 
The Mess in Shallow Valley
Speaking of people with a shitton of problems, let's hone in on #TeamMcCreary, Abby, and Vinson- who I think is a #TeamMcCreary defector/spy? He's the creepy cannibal version of Echo, I guess, who knows. Anyway, McCreary and Abby start the episode with an actual bet about who is going to die first, so that's how these guys are doing.
Abby is trying her damnedest to outlast McCreary, I'll give her that. But her body is just shutting down, and it's bad. So she "calls" Vinson. I didn't realize how at first, but she shocks the poor bastard into coming to her "office". I mean… it's smart. And Vinson probably likes it, let's be real.
But he's not there for a treatment or a checkup. He's there to steal Abby's pills off McCreary, because even though she doesn't want to take them… well, it's addiction for a reason. But nor does she want to actually cure McCreary, so desperate times call for… Idk, Vinson to do some shady shit I guess. He comes back, pills in hand, but oh noes, the guards have heard! No worries, Vinson can just straight up eat them.
Gosh, it's hard seeing Abby like this. She hesitated, for a second, reaching for the shocking gun thingy to stop Vinson. But in the end she just let him eat those dudes while she nommed some pills. And what's Vinson's deal anyway? I mean- I get that he's obviously a crazy killer, but why is he so damn loyal to Abby? He cares for her, no? But in what way? I need to see more of this relationship because it's fascinating, frankly.
The Mother-Daughter-Heda Mess
I am so proud of Madi for not letting Clarke take the flame out! Though, Clarke tried. She tried the sneaky way, she tried by force, she tired begging, she even used the "you're my child" card, to which Madi was probably like "I did have actual parents, remember?". Clarke mildly acquiesces, though it's clear the fight's far from over, and tells Madi to get in the Rover. Only…. back of the Rover isn't exactly empty. Nay, the worms that were once so important to O's endgame were carelessly left in the Rover- I'm going to go ahead and assume that whoever let that happen no longer is in possession of their head. So Clarke does the only logical stupidest thing ever, and throws the jar.
Right, that's not going to come back to haunt them. 
Madi, instead of getting a good night sleep Roverside, ends up having what is more memory than nightmare courtesy of the very first Commander, Becca Pramheda. First, we hear Madi pleading with Cadogan to not do… something. Then we see images of Becca being burned the fuck alive. Well, frankly, that is terrible. Even if she was kiiiind of responsible for the apocalypse. I am sure we're going to see more of this story, and I for one cannot wait.
But that leads to some chat about the other Hedas. Can Madi hear and see them, too? More importantly, does she have memories of Lexa? Especially those of the sexy time variety? No, she doesn't, that'd be weird guys. But she does have the crap Lexa wanted to pass on. And this is why Clarke won't destroy the flame, of course, but it's also why she's scared to death of Madi having it. I get it but like… I don't think Madi has a starring role on Fear the Walking Dead so it's probably going to be fine.
They stroll along, heading to Shallow Valley, excited to find Abby and company. They of course have no idea that McCreary is in charge and that Abby is a drugged up prisoner hanging out in a gas station with an actual vampire but… Madi takes this little walk through the woods as an opportunity to be extra awesome.
Honestly, I love her more every episode.
But then! A gunshot! So they creep along and see McCreary shooting defectors for what actually looks like shits and giggles. He's a sicko, really. But they find the one dude he leaves behind to literally clean up his mess, find out where Abby is, then slit his throat, as you do. I didn't even mind Madi killing him, he sucked. They find Abby completely overdosed and wow, next week should be interesting.
Song of the Week:
Gosh, last week's song would have been perfect for this episode, right? Hindsight, really. But this one (Natural by Imagine Dragons) works too- especially with lines like:
"Took an oath by the blood of my hand, won't break it
I can taste it, the end is upon us, I swear"
and
"Rather be the hunter than the prey"
and
"A beating heart of stone
You gotta be so cold
To make it in this world
Yeah, you're a natural
Living your life cutthroat"
Sounds like a certain Blodreina, no? ?
Random Thoughts:
Brell and Marper were huge in this episode and wow, I am awesome. Seriously guys, who am I even, my theories are usually just bonkers and I don't even take myself seriously yet… here we are. I even called that Spacerku would be in hiding the whole episode and wow, nailing it. This is a proud, proud day. (Let's ignore the fact that Brell, while quite involved, was less helpful than I'd hoped she be.)
Speaking of, that meant no Kiyoza either. But look, Diyoza (and Ivana too, let's be real) earned the downtime, right? Kicking all the ass while pregnant means you get to chill in a cave for a little with your new boyfriend, yeah?


While we're discussing Diyoza, how about how her notebook references The Sword of Damocles? 

Wow I love when the show throws these little Easter Eggs in. 

Can someone please show me where Spacekru feels like "family"? Because look- I know they were in space for 6 years, but… I am just not feeling this connection. They seem close, yes, but… not Madi and Clarke close? 
No one has died still. (Also, still not counting Jaha.) I was sure at least one person would end up dead this episode, but nope. And while I am obviously thrilled, it makes me extra scared for what's to come. 
 Episode 5×11: The Dark Year
Tee hee, it's finally hereeee! We're going to see what really went on in that creepy ass bunker. Who fought who, who ate who, you know, the good stuff. Though, I am a little bummed that we're probably not going to see a ton of development on the current stuff? Well, we can't have everything I suppose. I am also so worried about spoilers because it's airing at SDCC like… basically as I type this. So how exactly are we supposed to go a whole week without accidentally stumbling upon all the most awesome tidbits? Sigh, I am not happy with this decision, but alas, no one asked me. 
Clarke is going to be full-on Mom in this episode, yeah? Parenting both Madi and her own mother, basically. Hopefully Clarke can help come up with some damn idea to get Abby off the drugs. I assume there is no solution for this on the Ark, they'd have just floated the poor bastard.

Will Spacekru & Friends be in the woods still? What I mean is- are we going to see only the bunker story? Sure, I could look at the cast list, but why ruin the surprise? Maybe they can show me a flashback of any of those guys seeming like family, eh?
Perhaps Madi can have bunker flashbacks too! It's just a week of bunker flashbacks- some from 2 years ago and some from 102 years ago. What fun! 
What do you think the big Dark Year secret will entail? Who do you think is the most at risk of death? (My money's on Smol Algae™ )