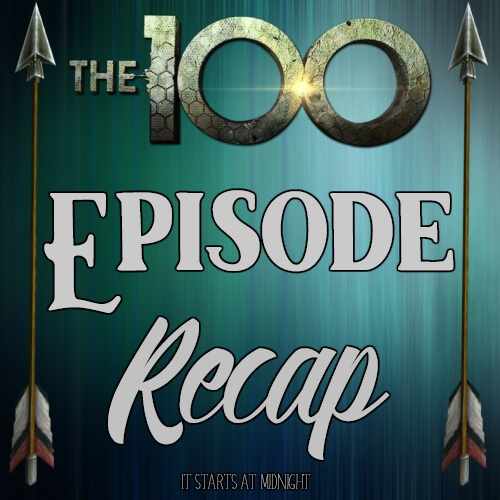 I know that not everyone is going to be on the same page in regards to this episode, but let me just say, I thought it was so necessary, and I will explain why. Here's the thing: You can't have the ending, the huge culmination of the season, without some really messy stuff. It has happened every season of The 100; it happens in every story.
So did I like all the decisions that were made? Hell no! But nor did I like the bombing of Tondc because "love is weakness", or 90% of Arkadia being chipped, or everyone trying to test Emori and Fake Baylis in Becca's lab. I didn't like when Bellamy helped massacre an entire army of allies, I didn't like when Luna refused the chip and Clarke tried to force it on her. Did these decisions made the endgame that much more intense, though? You bet they did.
Look, it's the way of things. Your characters get to this confused, messy point where everyone seems to have lost their damn minds. They turn on each other, no one knows which choice is right. But, their desperation usually leads to bigger and better things. And I am here for it.
Just a reminder, spoilers galore!! Like ALL the spoilers- proceed with caution! 
"What's weaker than an enemy at war with itself?"
Um. Not being in a war? Just a thought. But since this is The 100 and that isn't in any way an option, Spacekru decides to use their knowledge to screw with Prisonkru. Which, fair. I don't really blame them. They've been basically used as pawns in this ridiculous war. Plus, since Emori can hack the collars, they can free themselves when the melee begins! Only Raven has finally come to her senses and has decided that instead of killing Shaw (I am trying guys, okay?), she's going to… bring him along for the ride? I don't even fully understand how she came to this conclusion, but since he's not being murdered by Echo, I can live with it.
He's not wrong. 
Raven goes to tell Shaw that he's the newest member of Spacekru. He's not exactly on board with the plan because he doesn't want Spacekru to get killed when they inevitably come searching for their little lost pilot. Okay time out: Why the hell has no one trained another pilot yet? This is kind of getting too convenient. Ahem, anyway. So look, I get that this is supposed to be some kind of love affair, and I do enjoy both characters and their banter… but The Cockroach and the Raven is a hill I will die on. Sorry.
You're cute, but you're no Murven. ?‍♀️
Watching Murphy fuck with the minds of McCreary and his men is honestly the most fun I have had watching this show in a long time. Mostly because Richard Harmon is absolutely killing it as a slightly evolved Murphy. There's just something so damn believable about this incarnation of John Murphy, I adore it. Plus, it's nice that all this infighting doesn't hurt my babies.
And frankly, it's almost a comedy of errors. Every plan Murphy makes, Diyoza seems to be able to squelch. She doesn't want this infighting, she just wants to kill McCreary. And doesn't every lady have an innate right to kill her baby daddy when he starts getting too murdery? I feel like yes. It's straight up a fifth grade gossip chain for a bit, which is brilliant. Murphy tells some random McCreary guy that Diyoza didn't want to save him. Then he tells McCreary that Diyoza has the cure. Then Echo runs to tell Diyoza that McCreary knows they know we know (Friends reference, anyone?) but really I think Echo is just trying to suss out the situation. When it looks like the standoff is about to happen, Spacekru prepares to run.
The Succession of Blodreina
Obviously, very few people know why Octavia is sick. All they know is that Blodreina is down, and she may not get back up. Indra, of course, takes this opportunity to get her little ducks in a row so she can take over all the leadership duties. Bellamy, as expected, is pleased as punch- his plan is working! He and Indra even sneak Madi in to see Clarke, in what is a super cute family reunion. Clarke things she's there to say goodbye, but NOPE, just to… say hey I guess? Anyway, she and Bellamy have a cute little moment where they use their old "together" line.
Enjoy it, because you shan't be getting more warm fuzzies from these two anytime soon.
Things never go as planned though, do they? Indra's speech… well it left some of her fellow Wonkru members a bit… concerned. See, Wonkru likes to fight and kill all the people, and here is Indra, spewing on about negotiations and peace. Greg had a good point- why not insert herself as leader, and then try to talk them all into peace? Like seriously, give it twenty minutes or so, Indra.
Because who jumps up to the task of murder and anarchy? Good ol' Nathan Miller. I said it once, and I'll say it again: Papa. Miller. Did. Not. Die. For. THIS, Nathan. Honestly. And look, I might utterly loathe Miller at this moment, but he made some damn good points. Namely, that Blodreina, aka the person they blindly followed for 6+ years and who has only been asleep for about three hours, had planned for them to fight. War was imminent, and nothing has changed that. So of course, they must fight because of Octavia's demise. I mean, shiesty, but it worked.
Remember when he straight up wouldn't "let" O see Lincoln? My, times have changed. 
So now, with Miller leading the way, Wonkru still plans to march on Shallow Valley, and Clarke is still Enemy Number One, so Bellamy and Indra have to do some fast thinking. What is the only thing other than the sword that Wonkru might fall behind? Obviously, the flame.
Hatching a New Plan (and a New Heda)
Oy, it was not shocking that this was complicated because Clarke is so adamant about Madi not being Heda. And look, I get it, Clarke wants to protect her. But… it's too late, that ship has sailed, yeah? So maybe instead of insisting that Madi not be Heda, Clarke should focus on what would keep everyone safest in general, including Madi.
Of course I understand Clarke being upset by this turn of events, even feeling betrayed. She wants to protect Madi, and no amount of logic is going to sway her. But I do hope that after she has some time to think about it, she realizes that Madi should also have some say in what happens to Madi. But right now, it's all very fresh, and she is straight up pissed that Bellamy could do this when he promised to protect Madi.
Though in all honesty, I think Bellamy is protecting Madi here? If she has power, and people fall behind her, she'll be protected far better than two Wonkru prisoners would be able to do. Either way, everyone pretty much agrees it's up to Madi. So they bring her in. And they tell her… mostly the truth. And she doesn't pull any punches either, to her credit.
I mean never is a long time, Mads. 
So an ascension takes place! I so feel like we've been here before, only it was Clarke instead of Madi. It didn't go as smoothly as the only other ascension we've seen (Clarke's, with Ontari's blood), as Madi stays unconscious for quite some time. Basically she stays unconscius to give Clarke a chance to break out of prison (with Niylah's help, which I couldn't even appreciate because Niylah didn't do it for Clarke, but against Indra), and run in just in time to see that Madi was already Heda.
Ouch. That hurts (the fandom). 
When it All Goes Up in Flames
And like the best laid plans of mice and men…. well you know the drill. Everything goes to shit, of course. I know some people get salty about that, but look. In my life, tons of my ideas and plans go to shit. I don't know if maybe these people just have superior lives, but I am feeling the whole "oh crap, that did not go as expected" tone of this episode.
Let's pick back up in Polis where literally no one's plans are working. For reference, the plans:
Octavia: Plans to have Clarke stop the ascension, then probably plans on killing a bunch of people.
Clarke: Plans to stop the ascension, grab Madi, and get the hell out of Polis with Octavia's help.
Bellamy/Indra/Gaia (henceforth known as BIG): Plans to make Madi Heda and gain enough support from Grounders to overthrow Blodreina.
Why do none of the plans work? Well. First, Clarke and Octavia are too late to stop the ascension, so there's that. If they pull out the flame, it'll kill Madi, and Clarke isn't here for that. O tells a guard, Joroun, to get them to the Rover. So that seems like… decent of her, yeah? Just wait. Because on the way out to the Rover, Joroun tells them he's super sorry, but he has to shoot them, Blodreina's orders. Let's get this straight here: Octavia actually tried to kill a child who was actively running for her life. So that she didn't lose power. But Lexa had a message for Joroun! And he bowed to his new Heda! And then… Clarke shot him in the head.
My thoughts exactly, Strikheda 
Which is a terrible choice, as this dude could have helped them, but Clarke is so desperate to get Madi out of there that she's just not even thinking straight, it seems? Anyway. Back inside, Octavia has her brother, her mentor/surrogate mother, and her quasi-sister sent into the arena to fight to the death. Sure, that's normal. But she does just think she killed Clarke and a freaking child, so that says a lot. It does choke me up when she starts to cry though. Because damn, the humanity is still in there, somewhere. And it's heartbreaking.
I can't help it, I will never stop having feels for the Girl Under the Floor.
Meanwhile, at Shallow Valley….
Murphy's plan works like an absolute charm! Too bad the plan negates Kane's plan (and Diyoza's, Clarke's, Bellamy's… basically everyone's plan, okay?) to get peace in the Valley. Because they need Diyoza for that. And now she's engaged in a bitter battle with McCreary's forces. And in case you forgot, McCreary gives zero fucks about peace.
Wow, slinging around the term "savage" like you're not very much one, eh?
I also don't think he cares too much about his unborn baby, which he finds out about mid-fight? But he doesn't seem like the fatherly type, does he? It is quite fun when Kane, and a selfless Murphy who stays to fight for Abby come charging in- nothing like having your new boyfriend shoot your old boyfriend, amirite?
It's like an episode of Maury up in here.
And now…. everyone is in a really crappy situation that they have no idea how to fix! So watching them try to untangle this nightmare… well, it should be fun. And hey, if nothing else, at least everyone is on the same awful, equal footing at the moment?
Song of the Week:
This is called Up in Flames by Ruelle. Because well… everything has pretty much gone up in flames for all the groups. Bellamy and Indra's plan clearly backfired. Clarke is on the lam with her new little Heda. Abby's a McCreary prisoner (and methinks he doesn't keep them alive too long).  Kane is trying to undo all of what Spacekru's done while they're also on the run. Diyoza has a war on several fronts. Seriously is anyone doing okay!? 
Random Thoughts:
Can we please talk some more about how I totally nailed the Miller thing? Honestly I have never been so proud. Maybe that's a sad commentary, but… I'll take it. 
Where is Marper? Are they still sexing it up in the bunker? I mean, if so, fair. That's probably the smartest move at this juncture anyway. But they might want to get the hell out of there soon, just saying. 

Emori. Taught. Raven. Techstuffs. 

It's a beautiful little moment when your mentee spreads her wings and flies. Sure, she quite literally flew to the ground herself but that was cause Raven was needed elsewhere. This right here is Emori's mission, she's the one who figured it out and I will never not love it.
"Kane knows what 'Code Blue' means". HA of course he does. That just shows how much Diyoza trusts him at this point, honestly. 
Vinson is so going to be important here. Diyoza's comment about him being a lion, his playing both sides of the fence, even Abby's clear (and grudging) affection for him. He's going to be big.


P.S. I am calling Madi "Strikheda" (Little Heda, if you will) until someone comes up with something else. 

That is all, thanks for your time. 
 Episode 5×10: The Warriors Will
They are actually in the damn arena fighting. I swear if Bellamy kills Indra… but look, the show is not going to kill off both of them, right? Right?!?! Octavia won't be able to watch her whole damn family die because she sentenced them to, will she? Either this will snap her out of it, or this will break her completely, I haven't a clue which. Though- for the sake of argument, if this did play out…. Indra would refuse to kill Gaia. Gaia would refuse to kill anyone probably. And Bellamy… well hell, does he have the ability to kill either one? Would he? I don't think he would, tbh.

So how does it get stopped? Brell. Okay look, this is a longshot theory, but. I dig Brell for some random reason I cannot explain. And she keeps showing up in all the big moments- usually as a low-key challenger of one of O's decisions. Obviously she's not objecting enough to be an Enemy of Wonkru, but you can see she's not fully on board with Blodreina's ways, and she's clinging to the old ways. She seemed fully on board when Indra wanted peace and a natblida. So, perhaps killing their leader Indra, as well as Fleimkepa Gaia, is enough to propel Indra's faction into action. Starting a fight, of course, between Miller's faction, and allowing BIG to escape with their lives? A girl can dream… 
I really want Madi to turn around, run away from Clarke, and be Heda. Is that really too much to ask? Madi is a smart kid, and I think she should be able to lead if she wants. It is her birthright, after all- and she spent at least half of her life under that belief system, it's unfair for Clarke to expect her to just run from her people. 
Things aren't looking great for Abby, either. When you're wringing your hands hoping for Diyoza to make an appearance, things are rough. Can you even imagine being stuck with that bunch?! 

Is Spacekru going to be hiding in the woods for this episode?

We haven't seen them, but then, that means nothing since the preview is only of the arena. Maybe one of them can save BIG. Actually no- let's let MARPER save the BIG. And let's have it be mostly Harper's idea because hell, she deserves one. Just someone save BIG, okay? Life without Indra is no life at all. And obviously no one is randomly killing Bellamy mid-season, so. 
Is Marper going to save the day? Or Brell? Honestly who cares as long as Bellamy and Indra are safe, right? Did you think Bellamy or Clarke (or both, or neither) was in the right here? Who's in line with me to slap Miller silly? Let's talk about all the stuff!