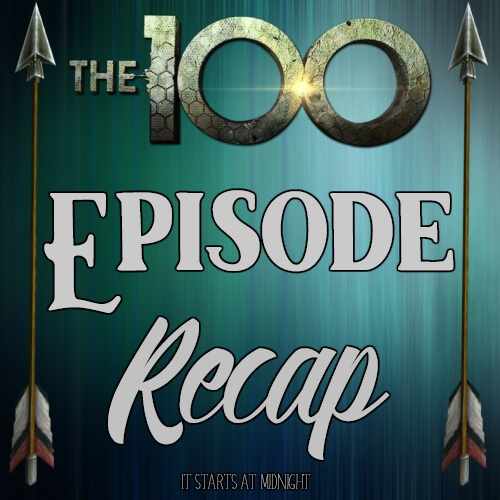 Just a reminder, spoilers galore!! Like ALL the spoilers- proceed with caution! 
I'll go ahead and say it: Season 5 is slaying. And I also have to fully admit that when I panicked about the time jump? Yeah, I was wrong, it was a fabulous call and has completely revitalized the show and it is genius. So, that being said, let's jump into what was yet another incredibly strong episode, Sleeping Giants! 
Battle for Eden, Continued
As we pick up with Prisonkru versus Natblida in the woods surrounding Eden, a few things have become abundantly clear. First, Zeke is awesome. I get why most of Prisonkru is eager to fight: Not only are they actual killers, but Clarke and Madi did sort of start this. But Zeke is much more rational about it, much to the dismay of Diyoza (and even more to the dismay of McCreary, who would probably kill Zeke immediately if Diyoza gave him the green light). Second, Prisonkru is not fucking around. They have some pretty hellish looking weapons, some only existing to torture which… is messed up. Third, and most interesting to me, the parallels between the capture/torture of Lincoln in Season 1 and Clarke now are incredible. I think all the viewers knew that there'd be a correlation, because Clarke is literally the Grounder in this situation, but wow. The similarities were both subtle and powerful at the same time. Clarke and Madi using the same sort of traps that the Grounders used on the Delinquents, the newcomers not having a clue what happened to the planet, Clarke feigning ignorance of the English language …
Only… Prisonkru isn't a bunch of confused, scared kids.  We start to see that there are more sides to Diyoza, and I feel like her story may be much more complex than meets the eye. She starts to interrogate Clarke, who of course only complies once Madi is in imminent danger. I get why Clarke is so protective and defensive, but she's also severely outgunned and outmanned. For all she knows, it could be just her and Madi versus all of these badasses with scary weapons until the end of time, so…. maybe it would be worth her time to play nice? And for awhile, she actually does.
Sadly, Charmaine and Clarke Apocalypse Recap gets cut short because basically Prisonkru didn't notice a giant fucking ship landing, and instead assumed that Spacekru had been Clarke's accomplices all along. No one ever accused Diyoza's lackeys of being smart, okay? So… shock collar totrure commences, as you do.
Meanwhile, Breaking and Entering on Eligius IV…
While their stories intersect a great deal in this episode, for most of it Spacekru and Team Natblida are still separate. We first glimpse Spacekru as they attempt to fly into the Eligius IV to hopefully find some fuel. And they are probably hoping to not find 284 sleeping murderers, but we can't always get what we want. Anyway, Raven lets Emori take the reins on the landing and…. well, it doesn't go well. But if it helps, I was in like 3 fender benders in my first month of driving, so you're fine, girl!
The ship is seemingly empty, with just a blaring alarm for company. Everyone splits off to accomplish different tasks, with my new favorite trio of Echo, Monty, and Murphy looking for fuel. Monty and Murphy are having some kind of lover's quarrel over who forgot to replace the toilet paper on the Ark or something, when Echo has to step in and break it up. I love reasonable Echo, she's so fun. Of course, the mundanity ends when Echo stumbles upon hundreds of criminals in cryosleep.
Bellamy and Raven are busy making discoveries of their own- namely seeing Diyoza and company killing the former captain preeettty ruthlessly. As you do. I still say there is a shitton more to be discovered in this story, and that Charmaine Diyoza is probably more like Clarke than we can imagine- making tough calls to save her people. Or maybe I am wrong and she's a psychopath, who knows. Anyway, they're calmly chatting about this, when before Echo can warn them, Kodiak is let loose, remotely from the ground. Kodiak might be an actual, literal bear, since it took three people and one sword to finally take him down. But now, Spacekru knows they don't particularly want to mess with the CryoMurderers.
Only… what to do with them?  Decisions, decisions. Echo and Murphy are of course Team Murder, while Bellamy and Raven (despite fighting one of those giant beasts) are having some qualms about mass killings. Echo comes up with the solution to use them as actual weapons, and that makes me love her a little more. Murphy was on the fence, but…
So Raven sets out to make it so they can remotely kill them all, but that Prisonkru's access is blocked. Only oops, that isn't a thing that can happen! So someone is going to have to stay behind. And because only the awesomest minds can be in charge of such a project, it has to be Raven. Bellamy gives her a solid "hell no" response, but when Raven assures him that there's an escape pod in case things go south, he acquiesces. As the gang packs up to leave, Murphy has a last minute change of plans- he's going to stay with Raven too.
I'm solidly with Echo, and here for Murphy's "little jokes". 
So in strides Murphy as Raven watches the ship shimmy down to Earth. He is pleased as punch with himself because he's being not an ass, and is doing a nice thing even though it's also kind of selfish. So he tells Raven it would suck to be up there alone, and hey, he isn't a bad guy! Plus, "if there wasn't an escape pod, I could understand…" And that is when Raven gets to tell him that just kidding, there is no escape pod, she just made that up so Bellamy would get his happy ass to the ground and save everyone. Murphy now regrets all his life choices, but I for one am freaking giddy to see how this plays out.
"Way Down We Go…"
Does anyone not love Emori piloting the ship back to Earth? Because if so, fight me, it was epic. I love the faith that her new family, especially SpaceDad Bellamy, have in her. And if anyone doubted her… well they're fools because Emori just finished her college degree in Awesome, so.
Anyway, time to check out the planet they've not seen for over six years! Only, since they're in Eden, guess it looks pretty good? Anyway, doesn't take long for Prisonkru to find them, and threaten to kill them because I think that might be all some of these guys know how to do? Of course, the best part about Clarke training Madi is that she is always going to rescue Bellamy (and I guess any other member of Spacekru but really mostly Bellamy). Only, Spacekru didn't know that Madi was a thing. But she could have been a bunker person, for all they knew. Until….
Of course, she also comes bearing news of Bunkerkru's entrapment, but still, Clarke!
So Bellamy and Madi drive the Rover (which I am sure Bellamy has a bit of a love-hate relationship with at this point) to Shallow Valley, so that they can rescue Clarke. Of course. And Clarke's terrified because her little child shows up. But she doesn't know that her child has backup in the form of her soulmate (fight me again).  And even Zeke is shooting to kill because who the fuck is this strikingly handsome yet unknown dude? But Charmaine Diyoza has yet to encounter the force that is Bellarke, and she's in for a real treat.
As. Are. We. These are the best words ever spoken, right?
Random Thoughts:
What is Clarke going to think of this Becho bullshit situation? I mean, even if we're still pretending this relationship is totally platonic (insert eyeroll) she's still not going to be stoked that her best bud is shackin' up with the girl who tried to kill her on the reg, right?
Great-Great-Grandpappy Blake's 4 PhDs is the backstory I never knew how much I needed.
How does McCreary plan to keep up with his hairstyle? Seems high maintenance for double-post-apocalyptic wasteland… 
Read Jason's tweet and tell me that you won't be calling Bellamy "Captain Daddy" forever and ever amen.
Song of the Week:
I have wanted to make a video using Way Down We Go by Kaleo since… well, forever. And hopefully I will one day.  But is it not perfect to accompany Spacekru on their trip down? And it has multiple meanings, because every single one of these people has all kinds of shit that is awful in their history. So, fitting I'd say.
 Episode 5×04: Pandora's Box
Looks like a Kane-heavy episode, which I am here for obviously. Also, I feel like Bunkerkru may actually figure out how to get out in this episode? Do we actually get to see them bunkerless? I don't know. But we'll also get more glimpses of whatever is happening in Space, too. And maybe if we're very good, the ground! 
Did the Bellarke reunion melt your heart? Are you here for Space Murven? Is Emori your new fave too? Let's talk!