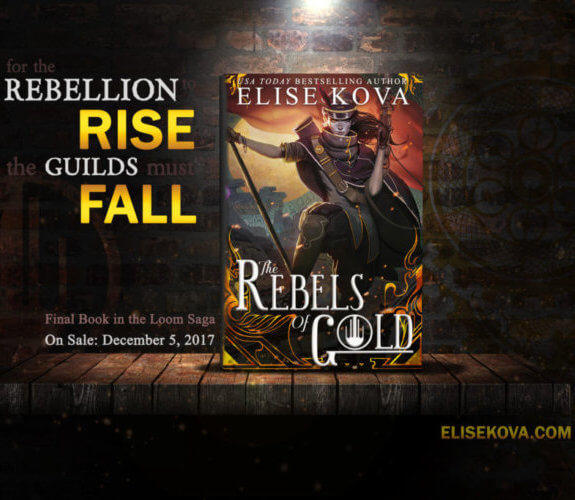 Hello, loves! Today I am excited to share with you the shiny new cover of the third and final book in the Loom Saga series, The Rebels of Gold by Elise Kova!
The Rebels of Gold by Elise Kova
Series: Loom Saga #3
Published by Keymaster Press on December 5th 2017
Pages: 500
Goodreads• Amazon • Book Depository
A new rebellion rises from the still smoldering remnants of the five guilds of Loom to stand against Dragon tyranny.

Meanwhile, on Nova, those same Dragons fight amongst themselves as age-old power struggles shift the political landscape in fateful and unexpected ways. Unlikely leaders vie for the opportunity to shape a new world order from the perfect clockwork designs of one temperamental engineer.

This final installment of USA Today bestselling author Elise Kova's Loom Saga, The Rebels of Gold will reveal the fate of Loom's brilliantly contrasting world and its beloved inhabitants.

.

.
Preorder Swag:
For those who preorder THE REBELS OF GOLD, they can get exclusive swag for submitting their preorder. More info here: http://elisekova.com/pre-order/
Pre-order THE REBELS OF GOLD from:


| AMAZON | BARNES & NOBLE | BOOK DEPOSITORY |
| BOOKS A MILLION |
(more pre-order locations to come)
I really enjoy Elise's books, and liked The Alchemists of Loom a lot! I plan to buy The Dragons of Nova very soon- it's on my wishlist!- so I can continue the series, but if you're looking for a review on that, Nicole @ Feed Your Fiction Addiction posted a great series-so-far review!
 Also, for a limited time, The Alchemists of Loom is on sale for $3.99 across most platforms, so if you haven't started the series, now's a great time!
So, have you guys started this series? If you're a fan of high fantasy, this is definitely a great series for you!