Welcome to another dual review! This is when two books have some element that is quite similar, so obviously I shall review them together. The theme in this duo is that a car accident has robbed the main character of her memories, and she's trying to figure out how to go on after a devastating accident. They were both good, though I extra liked This is How it Happened!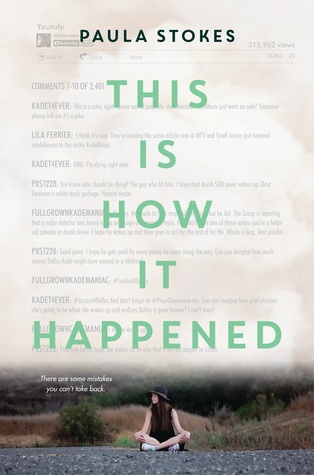 This is How it Happened
by Paula Stokes
Published by HarperTeen
on July 11th 2017
Pages: 384
Format:eARC
Source:Copy provided by publisher for review, via Edelweiss


Somehow I've become a liar. A coward. Here's how it happened.


When Genevieve Grace wakes up from a coma, she can't remember the car crash that injured her and killed her boyfriend Dallas, a YouTube star who had just released his first album. Genevieve knows she was there, and that there was another driver, a man named Brad Freeman, who everyone assumes is guilty. But as she slowly pieces together the night of the accident, Genevieve is hit with a sickening sense of dread—that maybe she had something to do with what happened.

As the internet rages against Brad Freeman, condemning him in a brutal trial by social media, Genevieve escapes to her father's house, where she can hide from reporters and spend the summer volunteering in beautiful Zion National Park. But she quickly realizes that she can't run away from the accident, or the terrible aftermath of it all.

Incredibly thought-provoking and beautifully told, Paula Stokes's story will compel readers to examine the consequences of making mistakes in a world where the internet is always watching… and judging.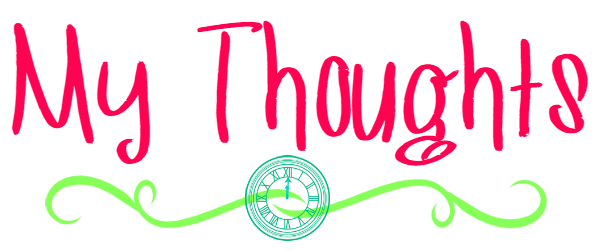 Oh, this is a lovely gem of a book. Thought provoking and quite full of life lessons, it ended up being an awesome read for me. It started a bit slow, but after awhile, I was definitely all in. So let's check out the good parts first, shall we?
An emotionally powerful yet flawed main character kept me invested. Genevieve was obviously sympathetic at the start of the book, because of course she was. Her damn boyfriend just died in a car accident, who would not like her? But things get… murky along the way. I won't get into it too much for the sake of spoilers (though it wasn't altogether surprising where the story was headed, it also didn't have an effect on my liking of the book), but Genevieve running away certainly didn't endear her to people. That is part of what makes the book so good for me though. The author does a fabulous job of making you feel for Genevieve even in the midst of some decisions that the reader may not agree with.  Because honestly, does any of us know how we'd react in her shoes?
Super relevant and timely lessons in cyber bullying. We live in a world where the damn president is bullying people on Twitter, so this could not come at a better time. I loved that the author doesn't present this as a lecture of who is right and who is wrong, but in a very morally gray way. Initially, when people are ranting about the potentially intoxicated driver, no one bats an eye. But is it ever our right to attack someone? Even if we did know all the facts, what makes it okay? These questions are presented a lot throughout the story, and in a really fabulous and heart-wrenching way.
Such incredibly vivid description of the surroundings made the book feel so real and vibrant. When Genevieve goes to Utah, I didn't expect the lovely descriptions that I ended up getting. And when she went to volunteer at Zion… well, because of the author's amazing ability to make the park come to life, it's now on my bucket list. It was honestly an unexpected, but much welcomed surprise in a contemporary novel. And, it made me relate a lot more to Genevieve because I could so intensely picture what she was going through- both emotionally and physically. I dare say all contemporaries I read from here on out will be judged by a higher standard because of the vividness of Ms. Stokes's writing. 
Genevieve's relationships were so incredibly authentic feeling. Her parents were flawed too, but it was abundantly clear that they loved her and would be there for her. Her relationships with them were messy at times, but they never wavered in having her best interests at heart. And for her part, Genevieve loved them too. She also had some really great friend relationships along the way, which I was so glad for. And yes, there is a bit of a romance, and I won't lie, I adored it.
The only thing that made me give this 4.5 instead of 5 full stars is that it did take me a little bit of time to get into the story. So if you happen to find yourself unsure about it, I urge you to push through a bit more, because for me it was completely worth it!
Bottom Line: Lovely, thought-provoking, and heartbreaking, this novel about trying to do the right thing and overcoming difficult obstacles hit me in the feels over and over.

---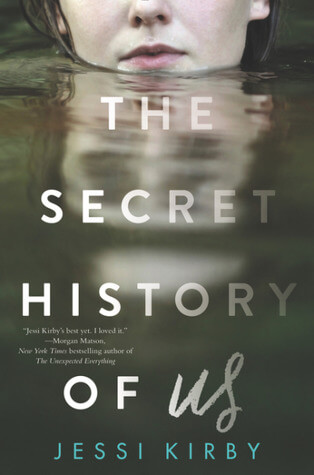 The Secret History of Us
by Jessi Kirby
Published by HarperTeen
on August 1st 2017
Pages: 288
Format:ARC, eARC
Source:ALAMW, Copy provided by publisher for review, via Edelweiss

Gorgeously written and emotionally charged, The Secret History of Us explores the difficult journey of a teenage girl who must piece her life together after losing her memory in a near-fatal accident.

When Olivia awakes in a hospital bed following a car accident that almost took her life, she can't remember the details about how she got there. She figures the fog is just a symptom of being in a week-long coma, but as time goes on, she realizes she's lost more than just the last several days of her life—she's lost her memory of the last four years. Gone is any recollection of starting or graduating high school; the prom; or her steady boyfriend Matt. Trying to figure out who she is feels impossible when everyone keeps telling her who she was.

As Liv tries to block out what her family and friends say about who she used to be, the one person she hasn't heard enough from is Walker, the guy who saved her the night her car was knocked off that bridge into the bay below. Walker is the hardened boy who's been keeping his distance—and the only person Olivia inexplicably feels herself with. With her feelings growing for Walker, tensions rising with Matt, and secrets she can't help but feel are being kept from her, Olivia must find her place in a life she doesn't remember living.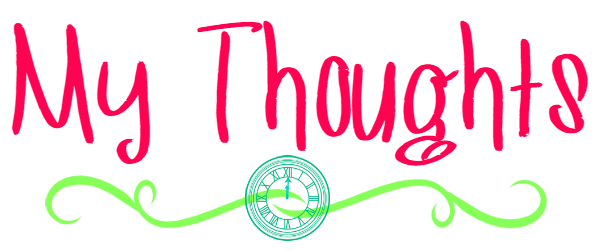 This book has quite a few good things going for it, and then a few that kind of missed the mark for me. Overall, it was enjoyable, but let's get to the good versus the not-as-good!
The Good:
Olivia was quite a sympathetic character. How scary must it be to have no idea what happened over the past four years? Olivia is going through this, and she is understandably shaken. Reading about her handling this tumultuous situation certainly kept the pages turning for me. She had to try to repair relationships, forge new ones, and figure out how the new and old fit together. Quite intriguing, really.
It's incredibly readable. Not only is it a quick book, but it's a nicely flowing book. I read it in one sitting, partly because of the length but also because I was definitely curious to see how it all turned out.
The summery vibe was perfect for this time of year! It wasn't something I was expecting, but I enjoyed that Olivia was trying to reclaim her life, but in a really nice setting, with people who were caring and kind, for the most part.
The Less So:
The ending felt very… abrupt. It seemed as though it was rushed a bit, and perhaps it could have been better if it had been fleshed out a bit more. I liked the ending, but I wanted more of it.
I was fairly certain what some of the "secrets" were. While it wasn't a complete deal-breaker for the story, it did take away some of the sense of urgency.
Bottom Line: The Secret History of Us was a quick read, entertaining certainly. I loved watching Olivia try to rebuild her life, I just wish we'd gotten a bit more time with the closure.
Have you read either of these? Do you enjoy books that feature memory loss? Have you ever lost your memories?