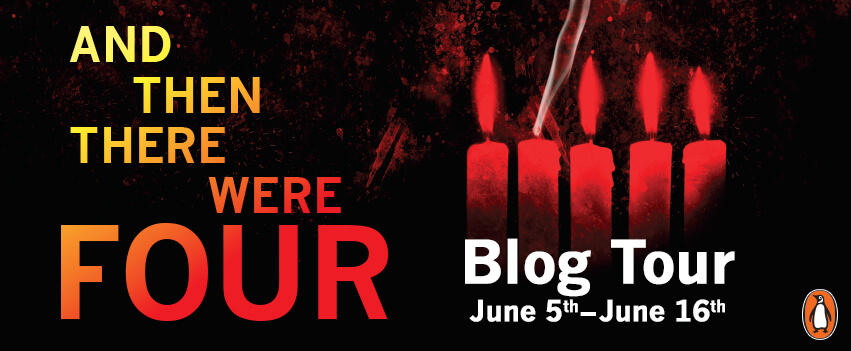 Welcome to my stop on the blog tour for And Then There Were Four by Nancy Werlin! Today I will share a mini-review with you, and some "tips" for if you ever think your parent might be trying to kill you 😉 And of course, a lovely giveaway, thanks to the folks at Penguin!!
And Then There Were Four
by Nancy Werlin
Published by Dial Books
on June 6th 2017
Pages: 352
Format:ARC
Source:Copy provided by publisher for review

New York Times bestselling author Nancy Werlin returns to YA suspense with this page-turner mystery for fans of Lauren Oliver, Neal Shusterman, and Lois Duncan

Let s not die today. Not even to make things easier for our parents.

When a building collapses around five teenagers and they just barely escape they know something strange is going on. Little by little, the group pieces together a theory: Their parents are working together to kill them all. Is it true? And if so, how did their parents come together and why? And, most importantly, how can the five of them work together to save themselves? With an unlikely group of heroes, sky-high stakes, and two budding romances, this gripping murder mystery will keep readers guessing until the last page."

Things I Enjoyed:
I liked the characters; they all had tough lots in life, but they were all fiercely trying to survive and even grew to become friends, which I appreciated. They were all very different and well fleshed out, which I find very important in a thriller/mystery story. I need to care about the welfare of the characters, and in this case, I did.
It was pleasantly twisty! I was definitely kept guessing throughout the story, and I was wholly unsure of how it would end. Definitely a page turner!
I also really enjoyed the focus on relationships in the book. Between the friendships, romances, and of course, the caregiver-teen relationships that are a main focus, there was a lot of variety to enjoy.
Things I Didn't As Much:
While some of the plot lines were actually sadly believable, a few weren't. There were a few things here and there that had me thinking "no way, this couldn't happen". Luckily, I was invested enough for it not to hamper my enjoyment too much.
Bottom Line: While there needed to be suspension of disbelief, the plot was so exciting that I had to keep reading anyway. I genuinely cared about the outcome for the characters, and it's definitely a strong addition to the YA thriller genre.
---
Dos and Don'ts if Your Parents May Be Planning Your Demise
Here are a few handy "tips" for if you ever start to think "hmm Mom and Dad have been really eyeing up my bedroom a little too much lately…"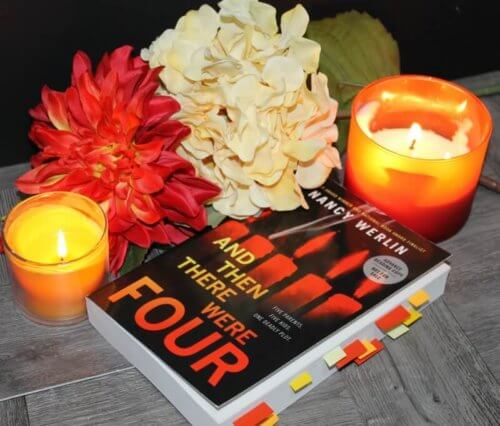 DO

start working out. If you're anything like me, you probably haven't been training to fend off an attack and/or run away from one. You'll need to start, ASAP.

DON'T

eat anything they offer you. Stick to sealed grocery store products. Sure, you might think you can trust old Betty at the diner, but do you really know who your parents have on their payroll?

DO

hit up the ATM. Assuming you're still using their credit cards, they'll have a very easy way to trace your movements. Hopefully you've got some cash on hand, friend.

DON'T

trust too easily. Let's face it, that's a good way to get yourself killed. Be wary, be vigilant.

DO

take public transportation. It's much harder to mess with an Uber or a random bus than the car that probably sits in their driveway.

DON'T

ignore your gut feelings. If you feel like someone is watching you and/or trying to attack you… maybe they are. At least check it out before dismissing it.

DO

know your surroundings. Familiarize yourself with any new locations. Find exits, and keep an eye out for shady characters heading in your direction. Or hell, not even shady characters, because your actual parents may want you dead, so who knows how low they'll sink?

Enter for a chance to win one (1) of five (5) copies of And Then There Were Four by Nancy Werlin (ARV: $18.99 each).
NO PURCHASE NECESSARY. Enter between
12:00 AM
Eastern Time on June 5, 2017 and
12:00 AM on June 19, 2017
.  Open to residents of the fifty United States and the District of Columbia who are 13 and older. Winners will be selected at random on or about June 22, 2017. Odds of winning depend on number of eligible entries received. Void where prohibited or restricted by law.
Follow the Tour
So, what would you do if you thought maybe dear old Mom or Dad was trying to off you? Have any extra tips?