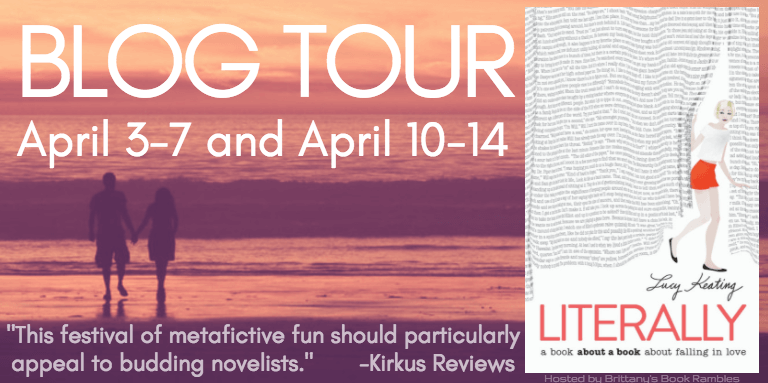 Welcome to my stop on the blog tour for Literally by Lucy Keating! This is such a fun and unique book, and I am so excited to be able to host an awesome guest post from Lucy explaining how the story came to be (which I really wanted to know myself, so I hope you do too!) and a giveaway, which is amazing so make sure you enter 😀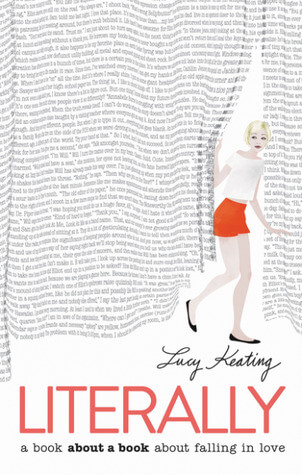 Literally
by Lucy Keating
Published by HarperTeen
on April 11th 2017
Pages: 256

A girl realizes her life is being written for her in this unique, smart love story that is Stranger Than Fiction for fans of Stephanie Perkins.

Annabelle's life has always been Perfect with a capital P. Then bestselling young adult author Lucy Keating announces that she's writing a new novel—and Annabelle is the heroine.

It turns out, Annabelle is a character that Lucy Keating created. And Lucy has a plan for her.

But Annabelle doesn't want to live a life where everything she does is already plotted out. Will she find a way to write her own story—or will Lucy Keating have the last word?

The real Lucy Keating's delightful contemporary romance blurs the line between reality and fiction, and is the perfect follow-up for readers who loved her debut Dreamology, which SLJ called, "a sweet, quirky romance with appealing characters."
Lucy's Post: This is the story of how LITERALLY came to be.
I've been in the business of teen romance my entire career, helping to create young love for books, television shows, movies, and even mobile games. I often think about YA the way some people reflect on fairy tales. What tropes exist, and what kind of lessons, particularly when it comes to love, are being taught to our readers?
I've always brought personal elements to my stories, and it was important for me to keep exploring that with this book. DREAMOLOGY came out of my weird sleep habits, my love of Boston, my obsession – to be honest – with an idealized version of what love should be. So for my second book, I continued to play with ideas that I'd experienced at some point in my past. What was it like to want to be with someone who didn't feel the same way? What was it like to not always feel understood by your family? Or to have had one moment when you wished you'd done one thing differently, and wanted more than anything to have the chance to fix it? I puttered around with these thoughts, how to make a concept out of them. But none were right.
I grew up with this understanding – no doubt due to a few too many Jane Austen novels – that The One was out there for all of us. By all means, live your life, but you will find him or her along the way. That's just how it happens. All of those experiences are gearing towards that one big relationship. That person who will not just love you for all your flaws, but make you into a more beautiful, superhuman version of the you that already exists, like the perfect Snapchat filter for your face, or being turned into a vampire.
But then I got a little older, and My One was nowhere in sight. I began struggling to make sense of this fact, to come to terms with the idea that maybe The One was not out there for me. That perhaps The One did not exist for anyone. I looked at the relationships around me, mostly happy ones. I got my first "boyfriend" when I was 11, which meant I had been dating for twenty years. What did this mean about all of the people I had pined for, dated, dumped, or cried over? All of the time I had spent thinking about a possible future with a particular person, no matter how ridiculous, only to have it end?
One afternoon I sat in my front yard discussing this with my agent over the phone. "What you are kind of saying," he riffed, "is just because a relationship ends, doesn't mean it meant nothing. It doesn't mean the love never existed." I stopped breathing for a moment. He had hit the nail on the head. People rarely talk about their past relationships once they are serious with someone. Like they all just disappear when you find your Person. But I hadn't found mine, so they hadn't disappeared to me, and my brain didn't know what to do with this.
Due to all the deeply personal conversations circulating in my professional sphere at this time (and let me once again apologize to my agent and editors for that), one of my editors actually had a dream that I kidnapped one of my characters and held them hostage. We laughed over it, but he made a suggestion: what if that's the book? What if you write about an author who is writing a character's life? That one clicked. That was the story. An author who pushed their main character towards a "perfect" ending, with a perfect guy, when the point was not about the ending, it was about the experience, and learning your lessons, and living your life how you choose.
I tried to imagine the kind of author who would go to such extremes as to actually kidnap a character, so intent were they on controlling their every move. Not me, of course. Right? But how far was I from that? Something had to have happened to her. Something real, and painful.
In Dreamology, I knew, I had had the opportunity to create a guy who loved Alice endlessly – which is what so much of YA romance is all about. There are fights and there is heartache and unbearable obstacles, but the love is there, and it is eternal. No love had been eternal for me yet, so with Dreamology, I was able to give that to my readers. And I did so by giving it to Alice, my character.
So I created Lucy. She wasn't really me, but we named her after me in order to access the meta-ness of the story. So all the moments Annabelle yelled at her for being a creep and obsessing over her life, it could be a reflection on me, the real author, doing the same. This Lucy was older than me, more accomplished, and had more of an ego and reason to believe she was right (most of the time I am so indecisive, I will practically argue for the wrong side). I'd seen some stuff, sure, but this Lucy had seen some real shit. She'd been through a divorce, and a high profile one at that. She'd had to experience the pain of growing apart from her college sweetheart. She'd had to start over at a later time in her life.
From now on, Lucy only wanted happy endings. She wanted to give them out like Christmas presents. She wanted to erase her divorce, and her heartache, from history. For this reason, she could be that more adamant about forcing her main character, Annabelle, into loving someone she didn't intend to, the Right Guy, because she believed she could spare her her own personal heartache. This, I could sort of understand. And pushing it to the limits was a lot of fun!
Somewhere along the way, though, months after the final manuscript for LITERALLY was turned in, the real Lucy Keating actually met someone. She got set up on a blind date in her hometown, and she fell in love.
But that, of course, is another story altogether 🙂
Evie Seo's LITERALLY tote, Hardcovers of DREAMOLOGY & LITERALLY (both signed)
Lucy's story really moved me, guys. I think so many people can connect to that, relate to that- whether you're 18 or 81, and that is what I love about it. If you write, do you like to give characters things you wish you had? I know I do 😉