Here's a newsflash that will surprise exactly no one: I have a book hoarding problem. A rather big one, if I do say so. Actually, my book hoarding problem is in direct conflict with my "crap I don't have enough space" issue. They exacerbate each other, sadly. Now, maybe you live in a mansion, or can control yourself when it comes to owning all the books, I don't know your life. But if you are anything like me… you do neither of those things.
I seem to have two problems: Letting go of books I have read, and giving up on books I will never read. In fact, I think the latter is much, much worse for me. Those books seem rife with possibility! Even if I have close to no interest in them, but shhhh. Still, because I am a helpful sort, and maybe you can't part with books you already read either, I made two parts to help you to rehome your poor, neglected books.
And if you happen to celebrate a gift-giving holiday this winter, or have a birthday coming up, or any such event where a loved one enables your book hoarding shenanigans, you'll feel me when I say "Help, I need more ROOM!" So… let's try to decide which books can find new, happy owners.
Books You Have Read
I don't know why I have shelves of books I have read. Unless it is a favorite, why do I keep it? In truth, I have a much easier time purging these. Unless they're pretty. Or I think "maybe someone I know wants to read that one day" (which makes no sense because, hello library), or "Wow, this book would look great in some #bokokstagram picture" (legitimately the reason I still hang onto Falling Into Place, no lie).  I feel like I have gotten better with this recently, so I decided to try a chart! Everyone loves a chart!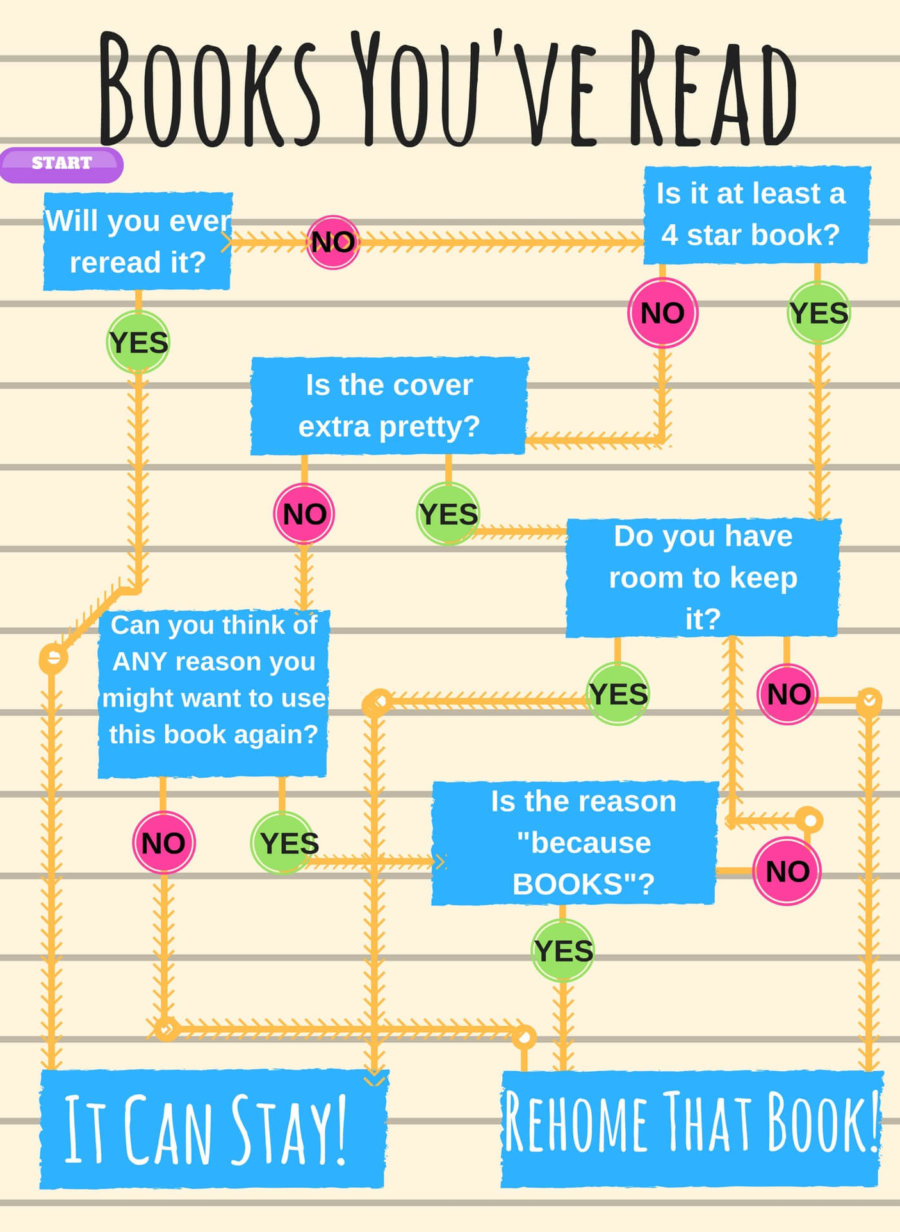 I have rehomed a lot of books this way. Like the 34 you can still win because someone decided they needed to give away a book for every year they've been alive. Also, because that person needed room.
---
Books You Have NOT Read
Oh, these are tricky little beasts. On one hand, you bought (or won, or got for review, or were gifted, or whatever) this lovely book. And you hate to see it go unread. But here's what I have found: The longer it sits around unread… the more likely it is to continue to sit around unread. I commented on Terri @ Second Run Reviews' post about her Shelf Love challenge, and I realized- most of the books I bought this year (not all, but most), I have read. And all my review books I read. I feel like the longer most  books sit on my shelf, the more unappealing they look.
Perhaps it's because I pre-ordered it in 2014 and then read the worst reviews from every single blogger I know (looking at you, Atlantia). Maybe it is just such a long series that my mind is unwilling to resume it (Gone series, that's you). Or maybe you got it at BEA because the dog sitting next to it was really cute, and even though you aren't actually going to read it, you loved the damn dog, okay? (That book was called… Free Days With George, and I will never get rid of it because George is on the cover and I love him.)
So, I tried to take some of my own advice here but… do as I say, not as I do 😉 
So, those are my tips. Of course, we haven't even begun to cover things such as….
Multiple editions. Say, if some weirdo had 13 complete sets of The Hunger Games, in languages they don't even know…
ARCs versus finished copies. Because you have to keep that ARC cover because it is different than the finished copy. Even if it is just one. tiny. detail.
The #Bookstagram Effect. This is real, and should be treated as such- how can we get rid of covers when we never know if we will need them.
But perhaps we will save that for another time 😀 
So friends, do share! Do you have a book collection problem? Have you taken any steps to overcome it?
(I mean, I kind of try but… I have also resigned myself to it a little. As you do.)