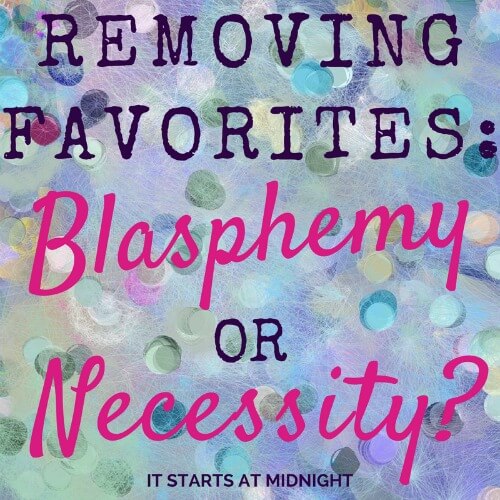 Have you ever been to a social gathering of sorts where a lot of your friends are? And things are really good except… there are some randos there who you don't know, and they're taking up all the seats and eating all the good hors d'oeuvres? And this event would be way better if it were just the people you actually care about?
This is the state of my favorites shelf. I was adding a book to it (Three Dark Crowns, for the curious among you) and I realized that it was kind of out of control. I even added an "elite favorites" shelf (which, yes, is The Hunger Games series and 3 other books, shhh) to combat the problem. There are 52 books on it, and 613 on my "read" shelf. That is close to ten percent. That seems excessive, and frankly, unreasonable. (Also, look at me being all math-y.)
I think I have calmed down a bit now. For example, this year I have added five books to my favorites. So, out of 120 books, that is 4%. That seems much more acceptable, right? I think so too. But in 2012? I read 72 books… and 13 of them appear on my favorites list, a whopping 18%. I don't know about you, but 18% of the books I read are not favorites. Except that one time that they were?
Clearly, one of a few things is going on here:
My standards for adding books to my favorites shelf has gotten much higher.
Sequels got added not necessarily because they deserved to, but because I liked the series in general.
2012 happened to be a really awesome year for me, one the likes of which I shall never encounter again.
I have become jaded and curmudgeonly in my old age and grumble when I have to shell out niceties.
Back in the day, I was much less critical of books, and if it made me kind of happy, it became a favorite.
Spoiler: It's probably a combination of the first two and the last one. Out of the 52 books, more than half are from 2012/2013, even though those were the years I read the fewest books. Looking back, I barely even remember some of the books, which brings me to the question:
Do these books deserve to stay on the shelf?
Some do, obviously. Some I have even reread and decided that yes, they do deserve their spot most assuredly (Hunger Games, anyone?) And some I loved and remember super clearly with great fondness, so those aren't a question. But what happens when you look back and think… did I really even like that book? The way I see it, there are three options:
Leave it the hell alone. Who cares, really? Is it hurting anyone that a book whose main character I couldn't name to quite literally save my life is sitting on my favorites shelf? Is it worth the hassle to decide if I really liked it enough for it to be there?
Reread the books in question. Determine if they are still favorites. Well, this shit sounds time consuming, no? Look, I don't even have time to reread books that I know are favorites, so am I really going to take precious reading time just to organize a shelf better? Not likely.
Remove any books that I simply don't have the warm fuzzies for. This is risky, because how do you know when to cut it off? What if I kinda have the warm fuzzies, but not favorite level? This requires decisions to be made, and no one likes those.
So, this is where you guys come in. We must chat! And while we chat, why not take a poll! 
Loading ...
How many books do you have on your favorites shelf? Do you ever remove any that you simply aren't in love with? Is this something that anyone else worries about, or just my crazy mind?