Welcome to my stop on the blog tour for This Adventure Ends by Emma Mills! Today I am featuring a little art work. And it was done by me. Spoiler alert: I am the absolute least artistic person on the face of the earth, which is why it made total sense for me to get giddy excited at the opportunity to draw on this canvas.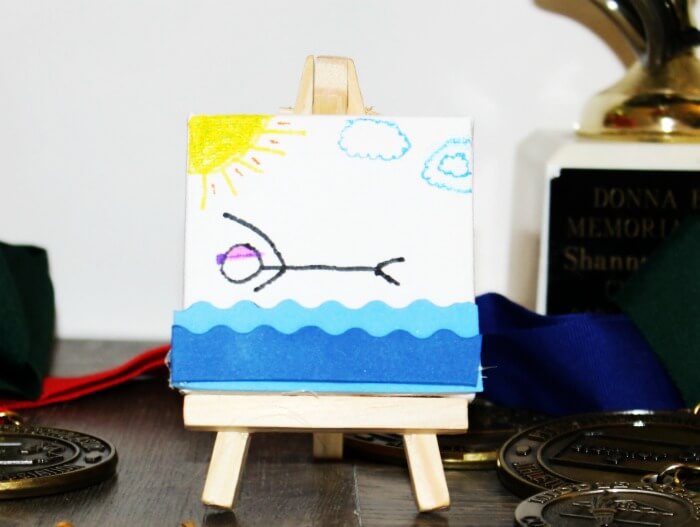 I chose "This Adventure Swims", because well, most of my life's adventures (and certainly all of them pre-blogging and bookish stuff) involved swimming. And most especially, all of my young adult adventures involved swimming. It was kind of a big deal. Obviously, for all the common sense reasons: My friends were on the team, I enjoyed doing it, it was hard work, you know the drill. But it really goes so far beyond that.
Swimming taught me things I never knew, and probably never would have known about myself. That I was more determined than I ever knew, that I would do anything to achieve my goals. That I would care so deeply for my teammates and coaches, that it would quite literally be a part of my life forever. But the most important thing that happened was that this adventure made me a better person. Made me stronger, braver, and yes, more adventurous.
And to an extent, my bookish adventures have kind of filled that gap that swimming left behind after college, after I had no teams left to be a part of. But I won't lie- show me a team looking for old ladies, and I am IN 😉 Thanks to Macmillan and Emma Mills for letting me share this story, too- it's something I have always wanted to talk about a little more on the blog, and this book gave me the chance. Now, if you'll excuse me, I have to go pre-order it so I can read it ASAP! You might want to do the same, for I hear it is incredible.
This Adventure Ends
by Emma Mills
Published by Henry Holt and Co. (BYR)
on October 4th 2016
Pages: 320
Goodreads•
Amazon • Book Depository
Sloane isn't expecting to fall in with a group of friends when she moves from New York to Florida—especially not a group of friends so intense, so in love, so all-consuming. Yet that's exactly what happens.

Sloane becomes closest to Vera, a social-media star who lights up any room, and Gabe, Vera's twin brother and the most serious person Sloane's ever met. When a beloved painting by the twins' late mother goes missing, Sloane takes on the responsibility of tracking it down, a journey that takes her across state lines—and ever deeper into the twins' lives.

Filled with intense and important friendships, a wonderful warts-and-all family, shiveringly good romantic developments, and sharp, witty dialogue, this story is about finding the people you never knew you needed.
Doesn't this book sound ah-mazing? I have heard such great things, I NEED to get my hands on it ASAP!