First a disclaimer: I love any and all bookish stuff. I am not discriminating. I hoard collect it all, so I promise, I love all the bookish junk. I never turn down a bookmark, or even a button, and goodness knows I don't have a clue what the point of those things are.  But I know that often, people want to send stuff that will you know, be used! So Shannon is here to help. This is the stuff that I not only say "oooh shiny!" about, but that has been useful and/or novel.
Pen & Paper
Is anyone really ever going to be like "nah, hard pass on the useful writing instrument"? I think not. I basically always need a pen, and I also always need paper, so this is a win, in swag terms. I will think of you every time I write a grocery list, Bookish Thing Being Promoted.
Nail Polish
"Well," you say. "Things have sure taken a turn into the unnecessary in a jiffy".  PISH POSH, my friends. Nail polish is awesome. I mean, look, I am not a girly-girl, but I do love when my toes look pretty. And don't think that I am not more excited about the polish because it's bookish- even though I am probably the only one who will realize. Just think of the possibilities:
Random Person: Hey, love your toes! Where'd you get that great color?
Shannon: Oh, just from this awesome book/author/publisher. It's for Bookish Thing Being Promoted. You should check it out!
Rando: I will! Give me the links, and I will shove money at this, all because we have talked about your toes.
Fine, maybe that is an exaggeration, but you get the gist. I will wear your book colors with pride.
T-Shirts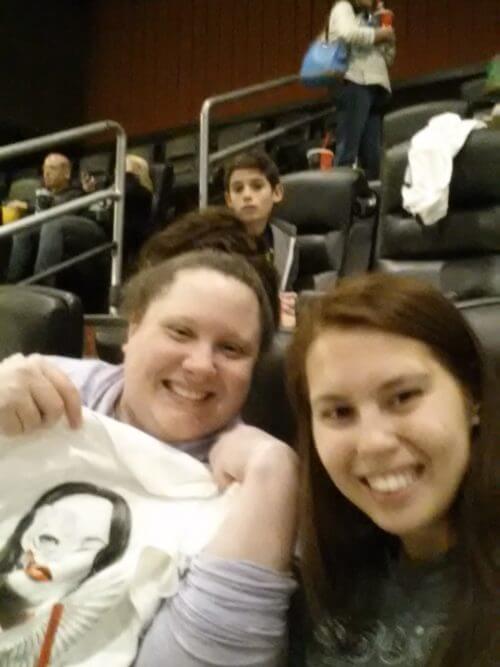 I could not figure out a good way to take a picture of tshirts so… here's me and Val with a free Mockingjay P2 shirt.
Speaking of wearing… one can never have too many shirts. Because you never know when you'll need one. Even if someone isn't wearing it to like, somewhere fancy, they're probably going to at least wear it when they're schlepping through the grocery store or something. And then, the same conversation from above will happen!
Water Bottles/Mugs
I feel like these are delving into "things we need in the event of an apocalypse" territory, but still. I drink things like water and coffee, and when bookish things house those beverages, it makes them extra special. Kind of. Either way, the occupants of my kitchen are totally aware of Half Bad now that we've had its hot chocolate. Just saying.
Playing Cards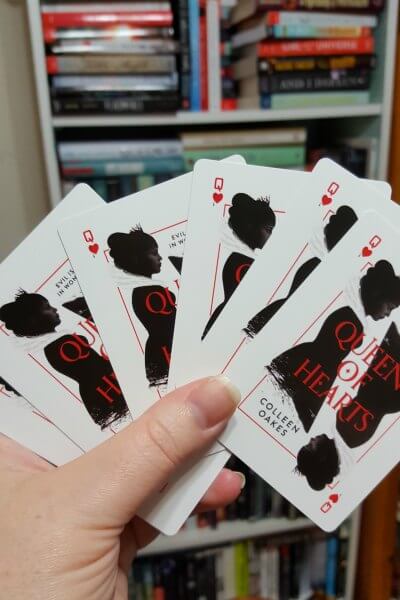 This was a new one for me. And I  mean, while we didn't exactly play any epic card games at BEA, we could have and should have, and that is the real point. Next year, I will be ready with more wine and more cards. Maybe I'll play a round of Solitaire or 20 while I wait. Also, in the event of an EMP, I bring the entertainment now.
This Ruler
Okay, this is a stretch, but hear me out. I use this First Ladies Ruler from BEA '15 literally every day. I am always measuring graphics on my laptop to make sure they're centered. Or measuring envelopes, or just checking out how many years Abigail Fillmore was First Lady for. I know it's weird, but I'd be lying if I didn't say that this was the most useful freaking swag I have ever obtained.
And a few things that are conference-specific "needs":
Totes
At a conference, I legitimately cannot have enough totes. During the day, they are useful for their intended purpose. After, they are awesome for cushioning while you're packing your treasures. At home… well, at home all but one or two sit in my closet until I rehome them. But they will get used at a conference and if they're the prettiest- or even just the sturdiest- I will totally love them forever. Especially that one that is also a towel, because that's pretty genius.
Ass Pillow
Yeah, this one has great conference uses: One, being an ass cushion. Because who wants to sit on cold, hard cement when you can instead sit on a nice foam faux-shield? Not I. Bonus points for being crazy unique and encouraging friends to have inappropriate duels. Sadly, I saw none. **Ass Pillow© coined by Val @ The Innocent Smiley**
And a few things that may not be useful, per se, but that I freaking love anyway:
Magnets
I love a magnet, and here's why: It never bends or gets crushed and makes me sad, it never gets lost because it sticks to metal, and it makes my refrigerator look pretty.
Coloring Books
More of these, please! Of course I want to reimagine all the covers in outrageous colors! And fine, I probably want to color the authors' hair rainbow colors, because I am an actual toddler. Shhh.
Okay guys! Let's hear from you: which bookish swag do you simply need, and which could you probably do without?