Welcome to my LAST stop for Meet the Newbies!! I am excited to be hosting Sonya Mukherjee, the author of  Gemini which releases on July 26!! I'm reading Sonya's book next, and will be joining the blog tour hosted by Irish Banana Tours in a few weeks, so I am most definitely super excited about Gemini!!
Sonya's Yearbook Entry!

Author Most Likely to Ditch P.E.

Nickname: Y (It's a nickname AND a spelling hint about my real name!)
First Day of School: July 26, 2016
Homeroom: Simon & Schuster Books for Young Readers
Grade: YA Contemporary
Extracurricular Activities: Future Daydreamers of America; also Drama Club and Literary Magazine
Favorite Class: Drama
Favorite Quote/Motto: "The important thing is not to stop questioning. Curiosity has its own reason for existing." – Albert Einstein
My Q&A With Sonya!
I figured that since this is called "Meet the Newbies", it might be fun to go ahead and actually MEET you! But when I was coming up with questions, I thought about how being an author was really just one part of the bigger picture. With that in mind, I want to ask some questions about things that make you you.
As a  Teen
What was your high school experience like?
There were so many changes and transitions throughout those years! As a freshman, I was very shy, insecure, and overwhelmed by the size of my school. I think my high school had around 600 or 700 students, but I was coming from a K-8 school where I had only about 15 students in my entire grade. So it felt huge.
As a sophomore, I joined the drama class and club, despite having intense stage fright. That was where I felt like I found my people, and it went a long way toward making me more comfortable and confident.
I never actually stopped being shy, but by my senior year, my school felt like a much smaller place than it had at the start. I feel like I spent a lot of that year arguing with my more conservative classmates about politics, which would have been hard to imagine doing when I was a freshman.
If you had the chance to go back and do it again, what would you change?
Well, the thing I would wish I could change is how insecure I felt. But of course, I already wished for that at the time.
Shannon's Sidenote: This describes me about 452%. Such truth! 
As an Author
What has been the most exciting part of the process so far? The most rewarding?
So far, the most exciting moment was learning that my book was going to be published. That can still feel a little unreal at times. And the most rewarding thing has been getting to know so many wonderful people in the YA writing and reading communities.
What do you wish you knew before you started this adventure?
I've been writing for years and years, but all along the way, I kept wondering whether I should try to come up with some other, more realistic thing that I could become passionate about instead—something that could be both a career and a calling, but without being as hard to break into as fiction writing. Now I feel like I wasted a lot of time worrying about that, so I wish I'd just accepted from the start that writing was always going to be my passion, and my day jobs didn't need to be more than that.
Shannon's Sidenote: This inspires me, and I am sure a lot of us, so thank you for these words of wisdom! 🙂 
As an Everyday Woman
What are a few things you simply cannot get through the day without?
Mainly coffee. Which is weird because it's decaf, so it's not actually waking me up or anything. But a morning just doesn't feel right without coffee. Or at least, I assume it wouldn't. It's been a long time since I actually put this to the test.
Shannon's Sidenote: What is this "decaf" you speak of? 😉 
Describe the absolute perfect day for you- sky's the limit!  
Well, it would have to involve a lot of time with family and friends, but also some quiet time with an amazing book. A lot of the day would be in a pretty place outdoors, maybe a forest or the beach. There would be time spent walking or hiking, eating delicious food, watching a sunset, listening to music, and at some point, doing or seeing something that's totally new to me—I think this is going to be a really long day!
Shannon's Sidenote: Hey, might as well make the most out of all 24 of those hours, right? ?
As a  Reader
What book has made the most impact on your life (in any way, really) and how?
I feel like I should name a novel, but my honest answer is Mindset by Carol Dweck. Her description of the fixed mindset, where you take feedback as a reflection on your innate qualities, versus the growth mindset, where you take feedback as an opportunity for growth, made me realize that I'd been sabotaging myself in all kinds of ways because of my fixed mindset. I can't say I'm 100 percent reformed, but I think I've made a lot of progress in the way I think about feedback and growth. It's been important for my writing and for my life overall.
Shannon's Sidenote: I feel like this is something I would benefit from reading, so thanks for the honesty! 
Is there a book that you could read over and over again and never get tired of?
Pride and Prejudice. I've been reading it once every few years since eighth grade, and every time I read it, I think, "Wow! This really is as good as I remembered!"
Shannon's Sidenote: Ermm, I should probably read this one, huh? ::Hangs head in shame:: Thanks so much for joining me, Sonya!! 
---
Book & Author Info!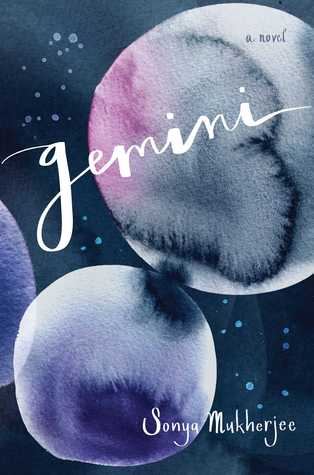 Gemini by Sonya Mukherjee
Published by Simon & Schuster Books for Young Readers on July 26th 2016
Pages: 336


In a powerful and daring debut novel, Sonya Mukherjee shares the story of sisters Clara and Hailey, conjoined twins who are learning what it means to be truly extraordinary.

Seventeen-year-old conjoined twins Clara and Hailey have lived in the same small town their entire lives—no one stares at them anymore. But there are cracks in their quiet existence, and they're slowly becoming more apparent. Clara and Hailey are at a crossroads. Clara wants to stay close to home, avoid all attention, and study the night sky. Hailey wants to travel the world, learn from great artists, and dance with mysterious boys. As high school graduation approaches, each twin must untangle her dreams from her sister's, and figure out what it means to be her own person.

Told in alternating perspectives, this unconventional coming-of-age tale shows how dreams can break your heart—but the love between sisters can mend it.
Today's giveaway is the tour-wide giveaway for a finished copy of ANY of these fabulous books in the event, open internationally!
a Rafflecopter giveaway

Who else is super excited about Gemini? Has anyone read it yet? I seriously cannot wait to! And leave some love for Sonya, and for Rachel for putting together such a lovely event! 
(And good luck on the giveaway- I totally hope one of you guys wins, not that I am biased or anything 😉 )