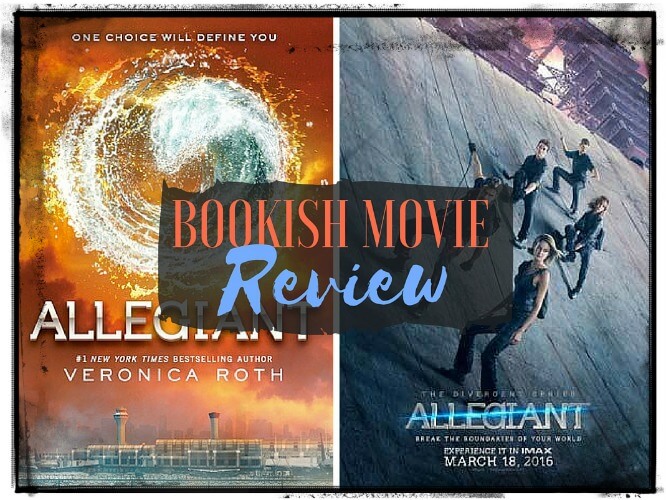 I… am at a loss for words. I didn't know how to start this post even, so I turned to my lovely friends for procrastination purposes. And I told them about my troubles. It went like this:
SHANNON: I am trying to put together a book-to-movie review about Allegiant and I… I don't even know.
VALERIE: Just say it sucked. 

SHANNON: Oh but Val, it so much MORE than sucked. It sullies the good name of Sucked.
So there you have it. I'm not even sure that I read the same book as the people who wrote the movie. And I am fairly certain that the people who put this together were several teenaged boys who really enjoy special effects and wasting millions of dollars. I don't know where to begin. The good and bad? Sure!
Sidenote: I have no actual idea if this contains spoilers (probably a little?) because none of it is the same, so I don't know what to tell you, proceed with caution, and the knowledge that I have no idea what just happened.
The Stuff I Liked:
Because who doesn't like to start with those, amirite? Great.
I had no idea that Bill Skarsgård  was in this movie. You remember how I used him in my dream cast thing the other day, because I find him pretty? Yes. Well, I still do. And I liked him in this movie as Matthew.
Miles Teller was hilarious and necessary. He can be in any movie ever, okay? I have decided.
Johanna was BAD. ASS. And I loved it. I loved her in the books, and I love her in the movies, and I love Octavia Spencer in general, so more of her please.
And to be completely honest, if I hadn't known anything about the book or characters or world, it might not have been bad. I mean, it was never going to win an Oscar, but it was entertaining. 
What… Even…. Was That?
So it starts off in Chicago, in some crappy hellhole where the people are having a big old screaming match meeting. And I didn't even get to the five minute mark without a dose of What is going on here? and Who the hell is this guy? 
No seriously, who is this guy? Don't worry, he's like a damn cat with nine lives, he'll be back around.
Then they're going to have to get to the other side of the wall, and I think "ah, okay, here's some junk I know about!"
Nevermind.
And they cross the other side and land on Mars! (It looks like actual Mars, I assume.) But… how are only some spots apocalyptic wastelands and like, 4 feet away are normal places? That doesn't make any sense!
They seem to agree, no?
Then it just gets flat out ridiculous. It starts raining red, which- Catching Fire called and it wants its Blood Rain Zone back. What even!? I swear if I see one Jabberjay… 
Christina understands where I am coming from, clearly.
So without getting too spoilery, I shall list a few ridiculous things along the way:
People walking away from fiery motor vehicle and plane crashes with minor lacerations and/or an on-again off-again limp.
Some kind of invisible, locked wall that makes no actual sense to me and was never, ever explained. 
Some place called "Providence". Seriously, that isn't a "thing", right? I am not just blanking on entire sections of this book? Who even knows anymore.
Small discs that help you catch bad guys. But.. how does it know who the bad guys are? Why is this whole place a wasteland if they have this kind of technology? Nothing makes sense in my life anymore. 
Whatever the actual fuck these bubble-things are:
This is David, and my creepometer is through the freaking roof.
A pajama party at the airport! This picture doesn't even really do it justice, they looked like legit pajamas in the movie.

And Four gets to remove his jammies ASAP because I think Theo James has a clause in his contract about time spent wearing tight black t-shirts or something… he's like the Simon Cowell for a new generation. 
None of the plot of the actual book. I mean, this is as non-spoilery as I can get, so… yeah, that's all I've got. If it was a pivotal moment in one… it's probably not showing up in the other. But hey- maybe movie ending will be better, albeit far more ridiculous? A girl can dream….
The Verdict: Look, this was a mess, but I'll be damned if it wasn't better than Insurgent! Yeah, it's unbelievable and weird and stuff, but at least it isn't mind-numbingly boring. And Tris and Four are actually more likeable than book-Allegiant Tris and Four (I hated those guys).
Have you read the book or seen the movie? Are you a fan of either? Afraid of either? (I understand. I do.)