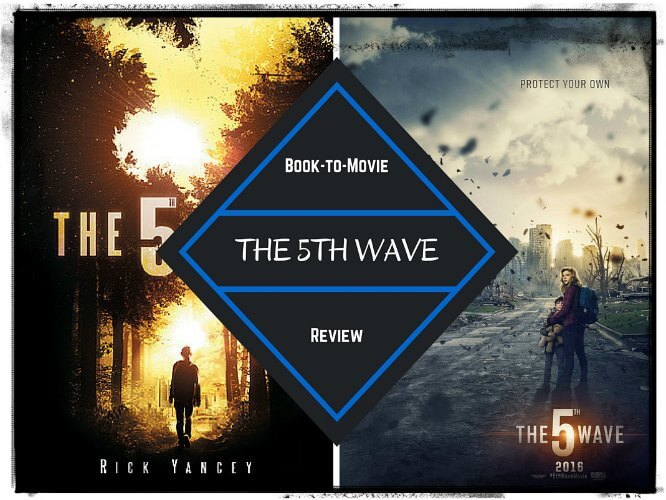 I read The 5th Wave once upon a time. It was awhile ago, no idea when just checked Goodreads, which tells me two years ago. This was my short review of the book, in a "Books I'm Never Reviewing" post (actually, my first one ever!):
Short Version: I liked it, though it was incredibly dark. There is not a lot of hope in this book, it is just one big old bag of depression. Had there been a few more lighter moments, I think it would have helped the pacing as well, and made me like it a bit more. That said, I will definitely be reading Infinite Sea.
I do own Infinite Sea, but reading it hasn't happened yet. I also pretty much forget the book. I mean, I remember the bigger details, and a lot of it came back to me when I saw the movie, but I'll be honest: I can't tell you how much of it veered from the book because I can't remember. Here's what I do remember: The book was draggy for me. The movie was not.
Let's start with the characters, shall we?
So, Cassie, the main character, she's fine. And Chloe Grace Moretz or whatever is fine. I don't dislike her. I don't love her, but she was okay, tolerable.  She is probably even decent, it's just that… she makes the same face a lot.
Even like, pre-all-the-death, she made that face on the regular. 
I didn't have any strong feelings for anyone else one way or the other. The guy who played Vosch was creepy as hell, so that was a job well done. The parents were decent. The group of kids were fun. And Ringer, I adored Ringer. 
She has lots of fans, see? Because of amazing stuff like this:
I feel like I loved her in the book too? Anyway. The rest of the cast was fine. Look, it isn't winning an Oscar or anything, but they got the job done. Especially for a group of mostly kids. Sammy was adorable, of course.
The Plot
Like I said, I don't know how much it deviated. But as I said before, it was a lot quicker. In a good way. I didn't feel like they sacrificed integrity, but maybe that's just because I thought that the book could have been a couple (hundred) pages shorter? Yeah so anyway. It started off really strong, because of course it did, the world was ending.
There was some weird stuff in the middle that neither me or my mom (who read it like, last week, literally) remembered. Things like flinging actual human bodies through the forest with one's bare hands? 
This… cannot have been a thing, right?
And while I mostly liked the rest of it, there was some cheesy stuff toward the end that had us rolling our eyes a bit. And one moment where we actually laughed so hard we cried, which I don't think is good? But overall, it kept my attention, and wasn't too corny.
Random Crap
This is kind of a Hollywood complaint more than a movie complaint, but if it's the freaking end of days, why does your hair look like a Pantene commercial? I could spend an afternoon on my hair and it wouldn't look half as good as this girl's after being without running water for months. Also- I had no idea that the goddamn laundromat was still up and running. Seriously, can we please talk about her jeans?! They look like she just tore off the tags.
There's a moment where she is stopping to take a break from running through the woods, and she pulls out a Dasani bottle. Because apparently, Dasani was the official sponsor of this particular apocalypse.  And it didn't look any less new than the jeans.
There is a scene, and I mean, it's pretty spoilery so View Spoiler »when Evan comes into the army base, and jumps on this dude who is about to shoot Cassie and Ben, « Hide Spoiler she says "Evan, what  are you doing here?", and my mom and I physically couldn't keep it inside anymore. I leaned over to her and whisper-laughed "Oh you know, just here to grab some lunch, maybe a burger, some fries…" It was maybe one of the stupidest lines ever. 
The backstory was done really well, I think- it gave a really good indication of what had happened so far, and why the movie opened as it did. I don't think you'd have to have read the book to get this at all.
I have no actual idea if they are making an Infinite Sea movie. So that's a little weird, if they don't. I know this movie has done fairly well in the box office- not great, but it tripled its budget, so that's good. But, the critic do not love it. So I guess we'll see?
Bottom Line: I liked the movie better than the book. It was just more entertaining and fast paced- kind of the way a story like this should be. "Meandering" and "Apocalypse" really don't mesh, so it makes sense. Definitely action packed, but I also think it was true to the characters. But for goodness sake, can next time, maybe these people not look like they just came from the mall instead of a war zone?
Have you read the book? Seen the movie? If so, thoughts? And also, do you know anything about a sequel?