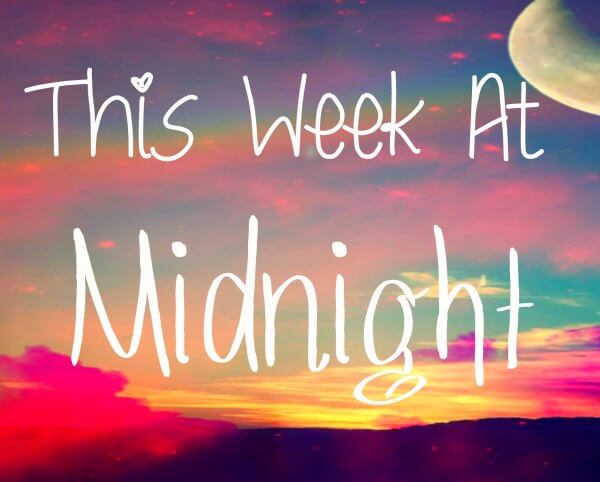 This Week at Midnight, it is TWO weeks at Midnight!
With the holidays and such, and an after Christmas book and posting lull, I figured "why bother?" last week. But… that means lots of stuff this week- especially posts in the blogosphere. Everyone has some amazing things to say this week!
Stacking the Shelves is a weekly meme hosted by Tynga's Reviews. It gives us a chance to share with readers what we bought, borrowed, swapped, won or got for review each week. Because I love books, and you love books, so let's see the books!
The Books
For Review
Thanks to Penguin Teen:
Forbidden Wish by Jessica Khoury (I am seriously giddy about this one!)
Thanks to Merit Press: 
The Heir and the Spare by Emily Albright
Identity Crisis by Melissa Schorr
e-ARCs
Via Edelweiss, thanks to HarperTeen!
Purchased:
The Impostor Queen by Sarah Fine
Won:
South of Sunshine by Dana Elmendorf thanks to YABC!
---
Weekly Shenanigans
December 26- January 1
 The Girl From Everywhere. Holy crap, I loved this book. Talk about the best possible way to start the new year!
Posts this Week:
January 2-8
 Banished. But these books are all good. I am honestly scared at how good my start to the year is. Is it a jinx?
Giveaways:
Posts this Week:
---
Blogosphere Bulletin: The One with ALL the Posts
---
Random Musings:
::Shrugs:: I am tired. This has been a long week. All the time I had planned to devote to blog hopping and scheduling and commenting and just anything related was derailed by the catfishing, and the fact that I spent a ton of time playing around on Twitter. Damn you, Twitter. But also I love you.
Things we need to talk about this week:
The 5th Wave movie comes out this month! Do you plan on seeing it? Did you read the book? I bought my mom the book for Christmas so she can be prepared. 
Are you kiiind of jealous of all the people at ALA right now? Are you one of the people at ALA right now? 
What is one fun thing you are looking forward to in 2016? 
Have a fabulous week, loves!