Who is excited about The Forbidden Wish by Jessica Khoury? ::Raises hand:: Seriously, this has been one of my absolute most anticipated books of the year, so when I was asked if I wanted to make a bookish wish post, um, YES, yes I did. 
I mean, I like books. I like wishes. I like giveaways. This sounds like a good plan, basically. Now, I was asked for one book wish but… I'm pretty sure you get three, no? I mean, in legend and such, you'd get three, so I am absolutely giving myself three. Because who knows what my mood will be. 
Wish 1: Beach Reading
The key to this one is that it cannot be too hot, but hot enough for me to play in the ocean if I so choose. Without the book, of course. Do you think me a monster? Also, cocktails. Super fruity, beachy ones. If you'll notice, I even have a backup. 
Wish #2: A Cozy, Comfy Home Library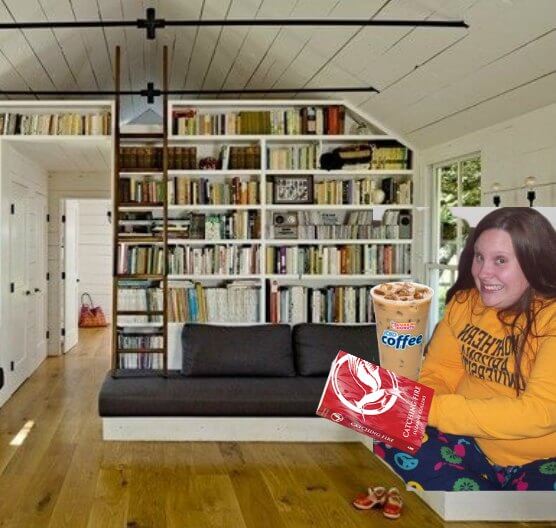 Clearly, this one needs iced coffee. And me somehow winning the lottery, basically, but since this is a wish, I win! Also, I would wish for these editions, because I do not have them, and I want the pretty! 
Wish #3: Travel with Books!
This one is kind of cheating, because it is actually me in Morocco, but it was easier than looking up another image that was public domain. Don't judge! I would still go back to Morocco though, I wish I had been able to see more things. I mean, they probs don't have iced coffee, but they should. Also, this is the Arabic edition of The Hunger Games. I want it, even though the cover is kind of weird. Close up? Sure! 
Why does it look like Katniss is at "Da Club"? 
 5 winners will receive a hardcover of THE FORBIDDEN WISH and 2 addition Penguin Young Readers books of their choice. Readers may choose from backlist, frontlist, and future titles if ARCs are available and there are no additional restrictions.
Do share: What would be your bookish wish?