Top Ten Tuesday is a feature hosted by The Broke and the Bookish. This week's theme is: Top Ten Resolutions We Have For 2015 (can be bookish, personal resolutions, "I resolve to finally read these 10 books, series I resolve to finish in 2015, etc.)
Ah, resolution time. The time of year when gyms flourish, self-help books fly off the shelves, and planners are purchased in droves. Let's get something straight: Every year I have several of the same resolutions/goals. I am sure you know them well. Get in shape, Figure out my life plan, and try not to be a complete miserable mess this year, too! all top my personal list.
But this is bookish/blog focused, because you have heard the personal ones before, from like, all the people. Hell, you very well may have heard most of these, at least from all the book people. We'll give it a shot anyway, okay?
Read a few books on my shelves- or at least the ones I pre ordered
Ah, I do love book hoarding. But you know what would be even more fun? Actually reading a few of the books I buy! If I had to guess, I'd say I read less than 30 books that I bought myself- even though I have literal shelves of them! Between review books and BEA books, Secret Sister books, and even some giveaway wins, those poor, neglected pre-orders haunt me.

Not to request a shit ton of ARCs before BEA
Why would someone do this? Why? I told myself not to last year, and then I went ahead and did it anyway, because I was afraid that by not requesting them, I was jinxing their presence at BEA. These are not the actions of a sane person.

Speaking of BEA, maybe not break my suitcase this year
Good news: The airline will not let me drag around a 150 lb bag. Bad news: The airline will not let me drag around a 150 lb bag.
Also, RIP adorable green flower suitcase I bought in Hawaii and can never have back.
Shattering Stigmas. Bigger and better.
I loved that I actually was able to get it off the ground last year! And that my co-hosts were so amazingly wonderful, and the authors and bloggers who shared their stories and their time were so amazing too. But I am hoping to come up with something new and fun this year- don't know what yet- to add to the mix. And definitely add more interactive events- you guys blew me away with your willingness to jump into the discussion!
Come up with something new. This is incredibly vague, but if I knew what to do I wouldn't need the resolution.
I just want to do something… different. I didn't really introduce much in the way of new big stuff last year, and I would love to do something big this year.
Write more stuff/Finish Old Stuff
Self-explanatory. But I don't want winning one NaNo to be as far as I go. Nopety nope.

Deal with my shelf "situation"
The situation is basically that I have run out of room on my shelves. I also have run out of space to put more shelves. See the complications? Hence a giveaway, and giving books to friends, and I don't even know what else I will do. Donate some, maybe. Sell some? I have no idea yet.
Do more random stuff
What does this even mean? Well. Kind of like, maybe I will say to you on Twitter "Happy Birthday! ? Hope you have a great day ?" See how that doesn't make sense? But it makes me entertained. Also, I want to respond more to spambots. Because why not? I once had a long conversation with a Mars bar- it turned out to be an actual human behind the account, and he seemed quite nice!

Meet ALL the people
Amber can't hide her face anymore. We will know whether she is or is not the girl from the Free to Fall cover. And then I can meet other people too, after we know if we've been Catfished. I want to meet every person I can at BEA, and then I would love to meet some of the more local bloggers too- hopefully at Nori's event, if that happens this year!
Something Hunger Games
Also vague, right? Well see… there is nothing new happening with THG for the first time in like, I don't know, 7 years or so? That is depressing, as you might assume. So I hope to do something, or tell you something about THG because I feel like that is at least half my usefulness around here. Also, if you hadn't heard, I love that series.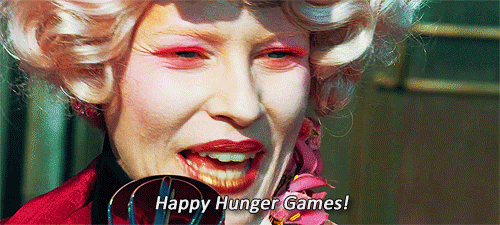 No, seriously,  calm down.  The world will not stop turning if I miss a post or forget a few comments. 
I said this last year, and failed. I said it again this year, and am already failing three days into the year. I don't want to get so wrapped up in all the things I "have" to do that I forget that it is supposed to be fun. I also don't want to be a zombie. But, I also want to keep everything going smoothly, and keep visiting blogs, and all that other jazz. We should probably just go ahead and mark this one as a failure from the start.
What are some of your resolutions and/or goals for the new year?