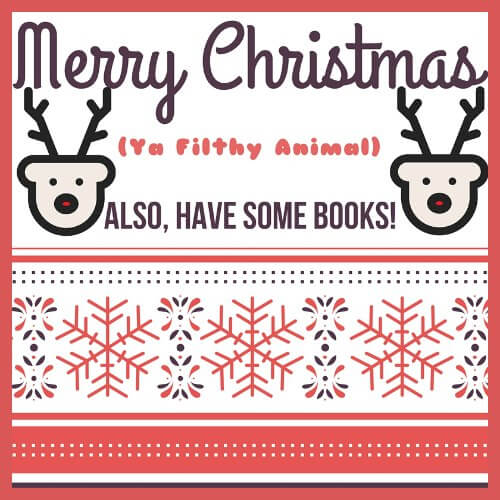 If you do not know this reference… well, I am sad. But also, know that I don't think you are, in fact, filthy animals. I think you are fabulous, and I think you are fabulous enough to get a solid Home Alone reference 🙂
Obviously, I am going to give you books, because I am nice like that 😉 Here is how this is going to work: I have literally no room on my shelves anymore. And since it's Christmas, why not give stuff to you, my lovely readers? The stacks of books will be US only, because I am poor. These are just a bunch of books that I have duplicates of, or already read but don't need to keep, or whatever. The Hunger Games I saw on Amazon for $2.13. I bought it simply because I could not believe that they would send me a book for $2.13. I was wrong.
**I totally forgot to add before (it is in the Rafflecopter but that isn't really good enough!) that you can list multiple books, and I am going to select winners until all the books have gone to loving homes!!

And info about the books:

But then I felt like a jerk not doing something that everyone can enter. And then I thought, let's spice this post up, and add some actual bookish talk into it. So these are the books that were released in 2015 that I think were fabulous and need more love and attention. So, these are some books that came out (in the US, anyway) in 2015. I love them, and one of you can love them too! I am giving away one of these to an international winner, from Book Depository. In paperback, because of the aforementioned poverty, mmmkay?
So my dears, whether you celebrate Christmas or not, I want to take a second to thank you all for this amazing, wonderful year! I hope that no matter what you are doing today, whether it be celebratory or just another Friday, that you have a simply fabulous day! MUAH 🙂