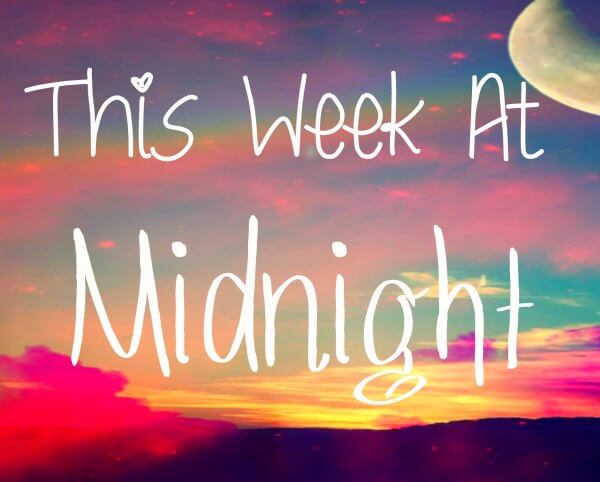 Stacking the Shelves is a weekly meme hosted by Tynga's Reviews. It gives us a chance to share with readers what we bought, borrowed, swapped, won or got for review each week. Because I love books, and you love books, so let's see the books!
The Books
I literally just noticed that seriously half of these are by Jennifer Donnelly. Strange coincidence!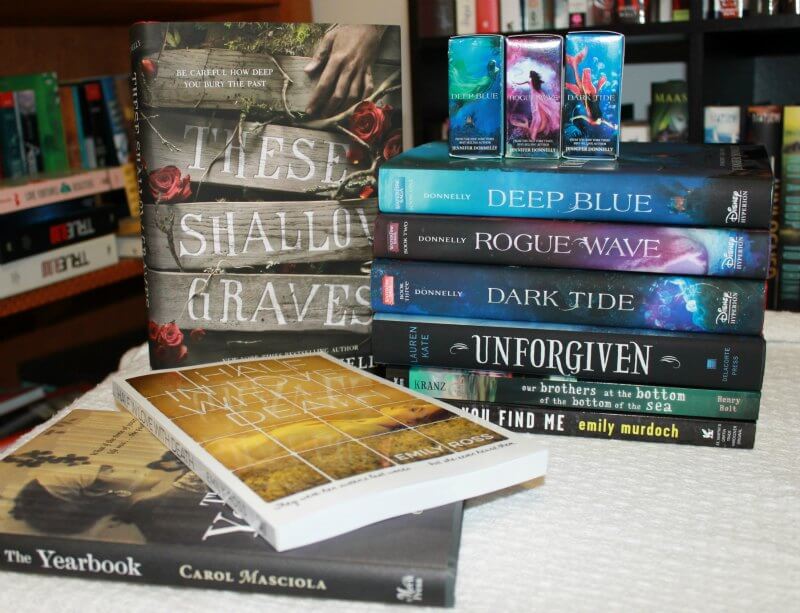 These Shallow Graves by Jennifer Donnelly and Unforgiven by Lauren Kate Thanks to Random House Delacorte!
The Yearbook by Carol Masciola Thanks to Merit Press
Half in Love with Death by Emily Ross Won, thanks to YA Books Central & Merit Press
Deep Blue, Rogue Wave, and Dark Tide by Jennifer Donnelly + insanely pretty nail polish Won, thanks to Leanna @ Daisy Chain Reviews and Disney 
Our Brothers at the Bottom of the Sea by Jonathan David Kranz & If You Find Me by Emily Murdoch Thanks to Gabrielle @ The Mod Podge Bookshelf!  
 
via Edelweiss & Netgalley, thanks to Margaret K. McElderry Books, HarperTeen, and Chronicle Books!
---
Weekly Shenanigans
I read three books, which kind of surprised me because I am currently reading three at a time, to get my 10th Hunger Games re-read started! And I am almost done with another book that Holly made me read. I like it, but it is slow. I'll tell you about it next week 😉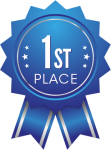 Bwhahahah. Really? You need to ask? Fine, outside of The Hunger Games, which wins life, I guess I'd give the edge to Young Widows Club
Giveaways:
Posts this Week:
(Yeah, I brought it back. I felt bad for not considering my mobile-using friends.)
---
Blogosphere Bulletin
---
Random Musings:
Well. I haven't done a very good job at keeping up this week. I blame NaNo. Somehow, I am actually not failing at it so far, but it has meant that my blogging is a mess. I haven't even caught up on last week's weekly recap comments. I am trying, I really am. It has been a rough week. The children have been replaced with some sort of demon spawns. I haven't slept more than two hours on any given night. Things have just been rough. Bear with me, for I promise I will catch up! Oh, and a promised small human/demon Halloween picture!
A Tiger baby, me, and Rainbow Dash. Or three of the four horsemen of the apocalypse?
Things we need to talk about this week:
I was going to not talk about The Hunger Games because it is making me sad. BUT. THEME PARK. I die of happy.
BEA is in SIX MONTHS. Are you going? If you are, are you planning like mad? I wish I could book all the things already.
How do you prioritize posting? For example, I had a fun post that I tried to get up by last night. It didn't work, and by 2am, I called it quits and scheduled it for Monday. When do you know it's just not going to happen on time?
NaNo. Are you participating? If so, how goes it? I am at… I don't know 12,311 words. A vast improvement over last year's 400.  I am here, if you want to follow along/be pals.
Have a fabulous week, loves!