Hello, hello! So, you know we don't do a whole lot of cover reveals around here, right? And that the only time I do is when I am so excited about the book that I basically cannot contain the flails. Earth's End is absolutely that book. You may recall that I really, really liked Air Awakens, yes? Or perhaps how Fire Falling nearly destroyed me and all my feels? Well, I am so excited about Earth's End, to say the least! And of course, the covers for the first two books have been beyond gorgeous. Here's a refresher, if your eyes need to stare at them again:
So. Freaking. Gorgeous.
And if you'd like to buy Air Awakens (and trust me, you do), you can do so here:
And if you'd like to pre-order Fire Falling, you can do that too! It comes out on my birthday, so it's just a good day for it!
Oh, and you can still win copies of these right here!!
So of course, you probably want to see book three's cover, right? That is what you came here for, after all 🙂
A woman awoken in air, a soldier forged by fire, a weapon risen from blood.

Vhalla Yarl has made it to the warfront in the North. Forged by blood and fire, she has steeled her heart for the final battle of the Solaris Empire's conquest. The choices before Vhalla are no longer servitude or freedom, they are servitude or death. The stakes have never been higher as the Emperor maintains his iron grip on her fate, holding everything Vhalla still has left to lose in the balance.
If you want more info about the creation of these beauties, and about their insanely talented designer Merilliza Chan, including a Q&A with Elise and Meril, check out Meril's blog post here! 
And the lovely Elise has a special giveaway for you! I am basically drooling over this. And it is International!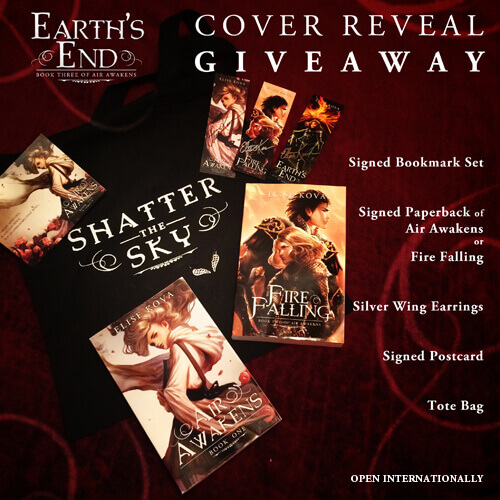 Earth's End releases on February 11, 2016. You can add it to your Goodreads shelves here! What do you think of the cover? Leave Elise and Meril some love 🙂