I don't know if other countries have stuff like this (I know the UK, Canada, and a whole slew of other countries have Boxing Day, but that is in December, and for most of my childhood I thought that it was celebrating the sport of boxing- like, they were really huge fans of Muhammad Ali or something?) but here in the U.S., we have Black Friday. But let's be real: It isn't even just on Friday anymore. Stores were open on Thanksgiving. Amazon has been shoving "deals" in my face for three weeks (none of them exciting, I might add). There's Cyber Monday, Small Business Saturday, and like… Fiscal Friday, and uhh Warehouse Wednesday, and don't forget Thrift Store Thursday. Okay, maybe I made those last three up, but still. 
Anyway. Books are rarely on sale during these events, it seems. Sure, you have a few Kindle deals here and there, and maybe a store will be nice and throw a coupon your way. But otherwise? Not so much. I don't really see anyone lining up outside of Barnes & Noble at 5am. Because it will be closed. Because they don't have bookish deals. You see?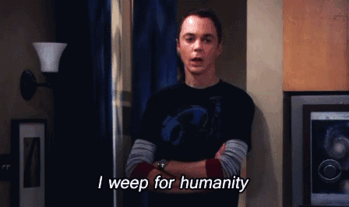 Obviously, this doesn't deter the average bookworm/hoarder, and we go along our merry way finding whatever book deals do exist, and just shell out all the money we don't have anyway.
And this may just be me, but do your families and friends shy away from buying books as gifts? Even when you beg, plead, grovel, and swear that it's what you want? They just don't seem to understand.
So. I propose we share our bookish love! What is it that you wish for this holiday season? I am going to give you a chance to win whatever bookish thing your beautiful little fanperson heart desires. Would you like to see some of the things that my fanperson heart desires? Of course you. Perhaps you need ideas!
I shall link to it all, for I am nice like that.
Here's the deal: I want you to have whatever you want this holiday season! Any bookish item is game. You want a book-to-movie? Great. A mug with a quote? You got it! Just a regular old book? Sky's the limit, my friends! This is international, but shipping either has to be free, or included in the cost of your choice. Because bookish people (read: me) also tend to be poor, it seems 😉
So basically, I need to know a few things: What bookish gift(s) are you dying for this holiday season? Does your family do the same thing mine does? And for the love of literacy, why do people think that books don't make good gifts?!