True story: I'd be an awful villain.

I am incompetent in villainy in general, I assume. I can't fight, or shoot, or raid, or stealthily pillage, or whatever else villains do. As a rule, I am pretty non-confrontational. But, I want to conquer the universe and everyone in it my foes just as much as the next girl, so I have decided that I shall be Delegatrix, Queen of the Villains.
As Delegatrix, I will assemble my team of villains and make them do the dirty work. I will sit in a comfortable chair and look pretty, while my villain squad will come in and scare all the others away, until we have taken over the world.
Meet Queen Delegatrix (De-luh-GAY-trix). See my shiny crown and dress? That means that I am not planning on getting dirty. And my scepter shoots out fire grenades, a la Katniss's bow. 


Who is in my ragtag squadron? Glad you asked!
First is Valerie, the Cunning Centaur. She's obviously one of our modes of transportation, and a mistress/horsetress of deception.
Holly the Rabid Fox, will be a tool in taking down our enemies. Giving rabies to others is quite obviously the quickest way to decrease our enemies' numbers, and you know, freak them out while we're at it. Would you want this biting you? Didn't think so.
Romber, the evil version of Amber/the Free to Fall cover, will distract everyone with her worrisome looks while Val swoops Holly in to bite everyone. I haven't decided if cover model Romber will show up, or we'll just pass out copies of this:
Killing off the stragglers that Holly doesn't manage to infect is Greg, the Gorilla from The 100. I obviously knew Greg would be a part of my team from the start. Granted, a gorilla doesn't leave much room for a sneak attack, but that's okay because most of the opposing squad will be rabid at this point. Leftovers will be Greg lunch.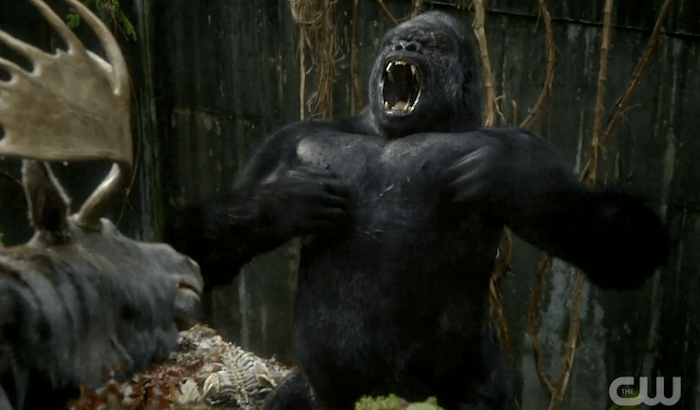 We need a doctor or nurse at the ready to make sure Greg (or any of the rest of us, really)doesn't get rabies. I'll tag in Primrose Everdeen, pre-parachutes of course. Because she was basically a doctor in training, and she even comes with her very own District 13 Hospital Bed. Score one for Team Delegatrix!
And finally, I think we need a good old fashioned consultant, someone who's spent a lot of time planning to take over the world. The first person who likely comes to all of our minds? Cait from Paper Fury, of course. There have been villains in books who think they might take over the world, but I don't believe that anyone but Cait actually can. Hopefully she'll help me on my quest. In return, I shall give her cake and access to all the books. Win-win. Plus she just got a new blog design, and it has an arrow, so she's clearly already prepped for battle.
And YOU! Are you joining my squad? I do hope so. We need bodies great fighters like you.
---
Wondering what inspired all the villainy? Why, it's the upcoming release of The Rose Society by Marie Lu, of course! Penguin (and everyone else basically) is all sorts of excited about the release, and are going to give away an ARC of The Rose Society!! I am jealous of the winner already! Have you somehow not heard of the wondrous world of Adelina Amentreu? Please, let me introduce you!
The Young Elites (#1)
The Young Elites
by Marie Lu
on October 7th 2014
Pages: 355

I am tired of being used, hurt, and cast aside.
Adelina Amouteru is a survivor of the blood fever. A decade ago, the deadly illness swept through her nation. Most of the infected perished, while many of the children who survived were left with strange markings. Adelina's black hair turned silver, her lashes went pale, and now she has only a jagged scar where her left eye once was. Her cruel father believes she is a malfetto, an abomination, ruining their family's good name and standing in the way of their fortune. But some of the fever's survivors are rumored to possess more than just scars—they are believed to have mysterious and powerful gifts, and though their identities remain secret, they have come to be called the Young Elites.

Teren Santoro works for the king. As Leader of the Inquisition Axis, it is his job to seek out the Young Elites, to destroy them before they destroy the nation. He believes the Young Elites to be dangerous and vengeful, but it's Teren who may possess the darkest secret of all.

Enzo Valenciano is a member of the Dagger Society. This secret sect of Young Elites seeks out others like them before the Inquisition Axis can. But when the Daggers find Adelina, they discover someone with powers like they've never seen.
Adelina wants to believe Enzo is on her side, and that Teren is the true enemy. But the lives of these three will collide in unexpected ways, as each fights a very different and personal battle. But of one thing they are all certain: Adelina has abilities that shouldn't belong in this world. A vengeful blackness in her heart. And a desire to destroy all who dare to cross her.
It is my turn to use. My turn to hurt.
The Rose Society (#2)
The Rose Society
by Marie Lu
Published by G.P. Putnam's Sons Books for Young Readers
on October 13th 2015
Pages: 416

From New York Times bestselling author Marie Lu comes the second book in the exhilarating Young Elites series

Once upon a time, a girl had a father, a prince, a society of friends. Then they betrayed her, and she destroyed them all.

Adelina Amouteru's heart has suffered at the hands of both family and friends, turning her down the bitter path of revenge. Now known and feared as the White Wolf, she and her sister flee Kenettra to find other Young Elites in the hopes of building her own army of allies. Her goal: to strike down the Inquisition Axis, the white-cloaked soldiers that murdered her love, the Crown Prince Enzo Valenciano.

But Adelina is no heroine. Her powers, fed only by fear and hate, have started to grow beyond her control. She does not trust her newfound Elite friends. Teren Santoro, leader of the Inquisition, wants her dead. And her former friends, Raffaele and the Dagger Society, want to stop her thirst for vengeance. Adelina struggles to cling to the good within her. But how can someone be good, when her very existence depends on darkness?
The Giveaway!!
a Rafflecopter giveaway

  So, are you joining my villainous brigade or what? Remember, books and cake when we win!