Some people are just, by nature, good at turning down things they aren't interested in, don't have time for, whatever. I am not one of those people. And as it turns out, I am even worse at doing it while blogging than I am in real life, which I didn't even think was possible. But good news! I have gotten better since my newbie days. 
But like anything, it's a process. So let's talk about that process for me, and then you know, quiz time! 
The Extreme Newbie Phase
In this phase, I thought I had to say yes to everything, just so I could get somewhere. That meant that even the most off the wall review requests, I said yes to my first few months of blogging. I had exactly zero followers, and well, I figured I had to start somewhere! In those first two months I accepted an adult memoir about a dude with cancer, and some kind of adult space opera. Eventually, I realized that I was basically ending up reading books I had no interest in, and that this behavior had to stop immediately.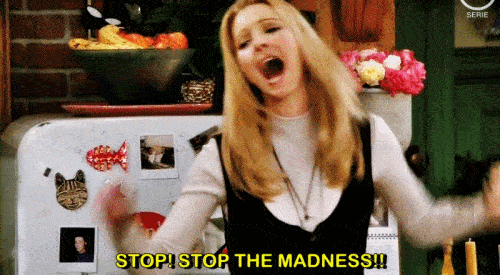 The "How Can I Say No, it's in My Preferred Genre?" Phase
Seriously, this was a long phase for me.  I felt like if I said I liked Young Adult, and someone had sent me an email about reviewing a Young Adult book, how could I even say no? Because likely, the reason I would have said no was that I was not interested and that seemed like it would hurt someone's feelings. So, I said yes. Which only hurt my feelings when I felt like I was stuck reading a bunch of books I wasn't that interested in. This lasted so much longer than it should have. In fact, this lasted until I finally allowed myself to stop being afraid to request books.
The Can't Say No to Finishing the Book Phase
Now, I have requested things. And maybe have even been approved for a thing or two. What is one to do when that book that sounded good bombs? Well, a normal-ish person would probably put the book down, explain why in the review, and move on. But not the "can't say no" blogger. Instead, I suffered through books just because I felt like I had to, when in truth, I was the only one who had decided it. Now, I know better. Sometimes.
The Joining in Every Bookish Event Ever Phase
See, once you've gotten over your newbie ways, you start to make friends, and contacts, and whatever. And when you like to say yes to all the things, you certainly want to say yes to the people you like. The problem is, maybe you like a lot of people. And maybe you don't have time for every event, chat, tour, promo, whatever, that comes down the line. Because maybe you're human. Maybe you even have small humans who use your small reserve of energy as their lifefuel. Point is, you cannot do all the things, as much as you'd like. But is that something I admitted and prioritized for? NOPE. I just did everything, and wondered why I could barely keep my eyes open. It was a fabulous life choice. 
The Avoidance Phase
This one is easy, but awful. You just pretend you never heard anyone ask for anything, and run away before they catch on. I don't recommend this phase. Though it can lead to some fun Twitter conversations.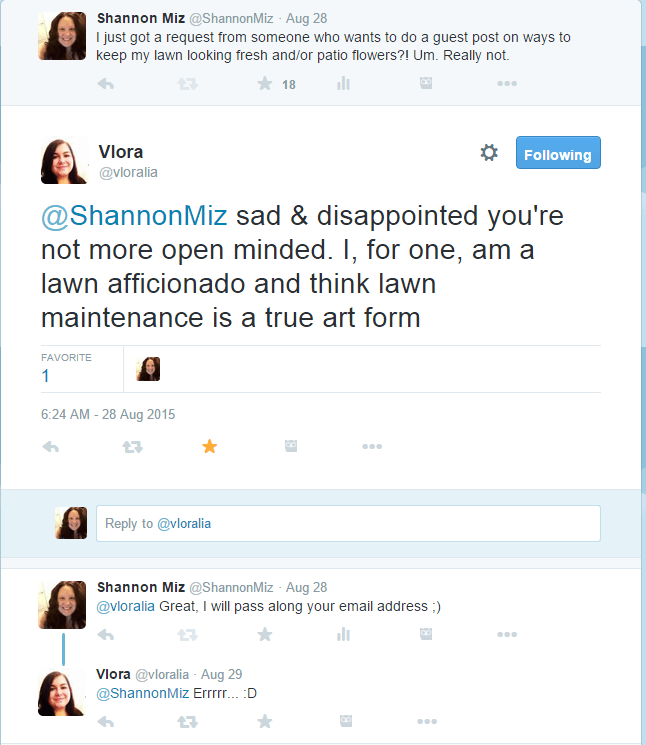 The Balanced Phase
I don't know what this one is yet. I am getting there, slowly. I have actually turned things down because I simply didn't have time. I have sadly had to say no to things because I had no energy left for them. And I have even said no to things because I really just wasn't interested. This is progress, people! But, I have a long way to go.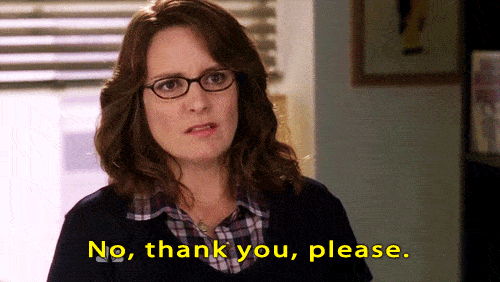 Bonus: The Crotchety Old Man Phase
Hopefully I have several decades before I get there, but this is the person who unabashedly does not care who he or she says no to. Little kid in tears?? "NOPE!" Nun collecting money for an orphanage? "Pass, lady." These people are also prone to stealing sugar packets from restaurants and ketchup packets during hospital stays.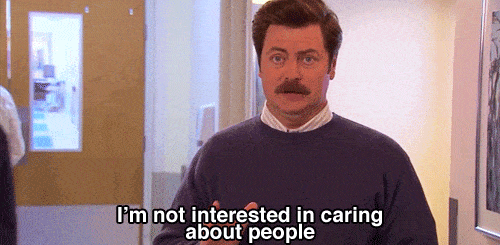 Now… let's see if you can say no!
 Are you good at being able to turn things down when necessary? What did the quiz sayeth?