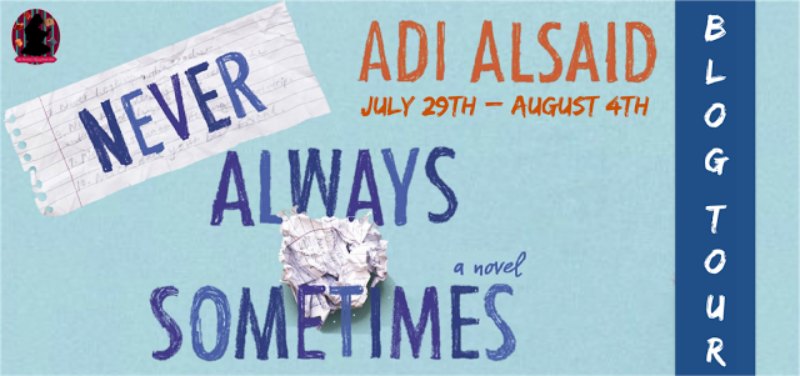 Welcome to my stop on the Never Always Sometimes Blog Tour! I shall be reviewing this lovely book, and of course there will be info and a really great giveaway too! Shall we?
Never Always Sometimes
by Adi Alsaid
Published by Harlequin Teen
on August 4th 2015
Pages: 320

Never date your best friend Always be original Sometimes rules are meant to be broken Best friends Dave and Julia were determined to never be cliché high school kids—the ones who sit at the same lunch table every day, dissecting the drama from homeroom and plotting their campaigns for prom king and queen. They even wrote their own Never List of everything they vowed they'd never, ever do in high school. Some of the rules have been easy to follow, like #5, never die your hair a color of the rainbow, or #7, never hook up with a teacher. But Dave has a secret: he's broken rule #8, never pine silently after someone for the entirety of high school. It's either that or break rule #10, never date your best friend. Dave has loved Julia for as long as he can remember. Julia is beautiful, wild and impetuous. So when she suggests they do every Never on the list, Dave is happy to play along. He even dyes his hair an unfortunate shade of green. It starts as a joke, but then a funny thing happens: Dave and Julia discover that by skipping the clichés, they've actually been missing out on high school. And maybe even on love.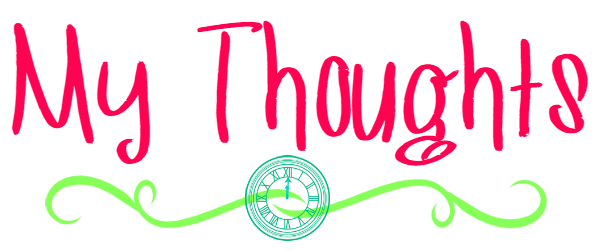 I really quite adored this book. I may be long past my high school days, but there is a pretty huge part of me that wishes I had made a list like this. I didn't do any of the cliches myself, but that was more out of fear that a longing for originality. I digress. With graduation looming, Dave and Julia are going to basically embrace the cliches that they've done their best to avoid, and have a big old high school experience.
Some of the things they do are absolutely hilarious, like their adventures in hair dye, and going to a popular kid's "beer party". And then there are more serious list items relating to life and love and some teacher seduction that you're just going to have to read for yourself. My point is, there are moments that are light hearted, sweet, and fun; and there are moments that are poignant, heartbreaking, and all too real. Never Always Sometimes provides the perfect blend of both, which is fabulous, because isn't that how life really is?
So, what did I love? How about another list!
Dave and Julia. Goodness, Dave was a sweetheart. At first, I thought I would not relate to Julia, that she was a little too free spirited for me to understand, but when we reached her POV, I realized how much substance she really had. She does some things that are absolutely frustrating, and sometimes downright shitty, but I really felt like she never meant anyone harm. So if you don't like her at the very start, give her a chance to grow on you. I doubt you'll have any issues liking Dave. 🙂
Reversing the "Never"s was quite a journey. For both Dave and Julia, letting go of these things they vowed not to do proved harder than it seemed. While performing these "tasks", they learned a lot about themselves- some of it good, and some of it not so good. This time in their lives is so full of doubt and change and upheaval as it is, and they kind of threw a lot more onto the pile, with mixed results. It was an emotionally diverse journey though, and kept me engaged the whole time.
Family is a big part of the story. Especially in Julia's story, she lives with her two adoptive fathers, who are basically the best ever. She loves them and they have an awesome relationship, but Julia still longs for a place in her birth mother's life. The birth mom is basically a mess, but Julia never stops wanting that relationship. Dave's relationship with his family, and especially his brother, does play a part but a much smaller one.
It's just plain charming. The relationship between Dave and Julia is so, so sweet. They are funny, and witty, and smart, but they still make mistakes and have a very flawed side. I think the realism of all the characters really did this book justice. No one was perfect, no one was a monster. There weren't "good guys" or "bad guys" just… people. It was incredibly real, and kept me extremely engaged in the book.
The stuff I didn't love:
Oh look, just the one bullet point? YEP. I liked this book so much. I think I can honestly say it was on its way to immediate 5-star land. The ending. I know there are people who absolutely loved it, thought it was perfect, etc. So maybe I am the black sheep here. I will tell you what I didn't like in a spoiler tag, even though it isn't technically a spoiler, you might be able to guess? I don't know: View Spoiler »My ship sank. I am not over it. I may never be over it. Can I get an alternate ending or something? Great. « Hide Spoiler
Bottom Line: Overall, a really solid book! I loved the characters and I loved how much it made me reminisce about my own high school experiences. It was well written, funny and charming, and also very heartfelt. Definitely a win.
Purchase:
Let's talk high school! Do you think you were/are a cliche? Super original? Somewhere in between? (I was definitely in between!)