Welcome, welcome, my lovelies, to another fabulous guest on #ShatteringStigmas!! Today I am so lucky to have had the opportunity to interview Francesca Zappia, who just so happens to be the author of one of my all-time favorite books Made You Up! If you haven't read this one yet, I insist that you do, for it is amazing. I flail about it right here. So here it is, my interview with Francesca! Her answers are bold and black, my questions are blue, just to differentiate!
---
Hi Francesca! First, I want to thank you so, so much for taking time to be a part of this event! It's a cause that Kayla, Inge, and myself are quite invested in, so we are absolutely thrilled that you are participating.
Thank you so much for having me! I'm so happy to be here.
Being a debut author must be incredibly challenging, but writing from the perspective of a teen with schizophrenia sounds exceedingly so! Did you pull from any personal experiences while writing Made You Up?
Interestingly enough, my personal experience came in while writing about every other aspect of the book. Because I don't have paranoid schizophrenia, and at the time didn't know anyone else who had it or any way to interview someone who did, I had to do a lot of research to make sure I wasn't getting things completely wrong. Alex and her illness took a lot of work, but Miles, who is neuroatypical in his own way, came much more from my own experience.
One of my favorite aspects about the book was that we're not just reading about an illness, we're reading about Alex, and her entire life. Yes, her schizophrenia plays a role, but it doesn't define her, which I found so refreshing in a book that includes mental health. How were you able to find that balance so well?
That was the thing for me — I was always only writing about Alex. I was never writing about schizophrenia, not entirely. Alex has paranoid schizophrenia, and it has shaped who she is, how she sees the world, and how she interacts with other people, but it isn't the only thing she focuses on in her life and it shouldn't be the only thing the reader focuses on, either. Keeping all these things in mind was what let me find the balance, I think. It was seeing Alex as a person, rather than an illness.
There's always been a stigma surrounding mental illness, but it feels like some of the stigma is lifted every time a positive and appropriate book like Made You Up is released.  That said, I feel like schizophrenia is especially stigmatized in our society. Readers being able to view a teen like Alex as a person and not an illness is a huge step in the right direction. Is there anything else you would love to see more of in YA literature in terms of mental health discussion?
Some stigma is definitely lifted every time a story portraying a mental illness in a positive light is released, and I'm glad so many people see Made You Up as one of those stories. What I think people like about Made You Up is also what I'd like to see in other mental health books–lightheartedness. Not lightheartedness about mental illness itself, but scenes in which the characters suffering mental illnesses can be lighthearted. Alex has a lot of fun in this book. She makes jokes. Silly things happen. When this is mixed in with the heavier, darker material, it creates a juxtaposition that does a better job of opening people's eyes.
What do you hope readers are able to take away from Made You Up?
There will always be someone willing to help you. They might come to you; you might have to find them. But they're there, and they're ready to listen.
I have seen your amazing artwork, and am pretty much blown away! Some people find art incredibly therapeutic, has it been so for you? (Sidenote: You can find Francesca's fabulous work here: http://www.francescazappia.com/p/artwork.html ) 
Haha thank you! I do find art therapeutic at times. It helps me work through ideas for stories, and when I'm drawing I'm able to relax and let go of the stress I've built up throughout the day. It really helped in high school, when I spent far too much of my time angry because I was cooped up in a building with 800 other teenagers for seven hours a day.
Are you able to talk about any future writing plans at this time? Do you think you'll ever do another book involving mental health?
Whether or not I'll do another book with a character who is already diagnosed is up in the air, but I am interested in exploring undiagnosed characters, and characters who may not even realize that something is wrong. There's something to be said for that important first step–accepting that there is a problem and understanding that it's not a defect in you as a person–and I'd like to explore that. (That first part happened a little in Made You Up, when Alex had to come to terms with the fact that her coping strategies were no longer working, but I'd like to see it from someone who doesn't know there's something to cope with.)
I would also like to explore mental illness more in sci-fi and fantasy books. I think a lot of SF/F have characters that could be diagnosed with mental illnesses, but like the horror and thriller genres, they're never acknowledged as mental illnesses and they usually only serve to make those characters villains.
So, let's end on a fun note with a little Getting-to-Know-You Lightning Round!
If you could only eat one food for the rest of time, what would it be?

Lettuce!

Dream vacation destination?

The Bavarian Alps!

Cat or Dog person?

Both, except if I have to keep one as a pet, then cat!

Coffee or Tea?

Milk!

Best book you've read so far this year?

Do graphic novels count? If so, Saga!

Latest TV or movie obsession?

*weeps silently over lost TV and movie watching time*

Song of the moment?

Oh No! by Marina and the Diamonds! Fits perfectly with one of the stories I'm working on.
Thanks again for participating in our event!
Thank YOU!
---
About Made You Up
Made You Up by Francesca Zappia
Published by Greenwillow Books on May 19th 2015
Pages: 448


Reality, it turns out, is often not what you perceive it to be—sometimes, there really is someone out to get you. Made You Up tells the story of Alex, a high school senior unable to tell the difference between real life and delusion. This is a compelling and provoking literary debut that will appeal to fans of Wes Anderson, Silver Linings Playbook, and Liar.

Alex fights a daily battle to figure out the difference between reality and delusion. Armed with a take-no-prisoners attitude, her camera, a Magic 8-Ball, and her only ally (her little sister), Alex wages a war against her schizophrenia, determined to stay sane long enough to get into college. She's pretty optimistic about her chances until classes begin, and she runs into Miles. Didn't she imagine him? Before she knows it, Alex is making friends, going to parties, falling in love, and experiencing all the usual rites of passage for teenagers. But Alex is used to being crazy. She's not prepared for normal.

Funny, provoking, and ultimately moving, this debut novel featuring the quintessential unreliable narrator will have readers turning the pages and trying to figure out what is real and what is made up.
I absolutely cannot thank Francesca enough for joining us! I love the idea of a person with a mental health issue in a sci-fi/fantasy world, that is one thing I have always wanted to read about! And what Francesca touched on about lighthearted moments is my favorite part of Made You Up because it shows that Alex is a person first and foremost. Yeah, she has a mental illness, but she is always Alex.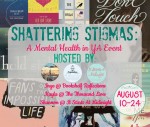 Is there any particular genre that you'd like to see deal with mental health more? Or perhaps a specific mental health condition that you'd like to see addressed more in general?